A big thank you to Discover Corps for providing this moving voluntourism opportunity so we can share their good work. As always, all opinions are our own.
DAY NINE: Harvesting for our school, making serious progess in our classroom
Morning: Learning to pick corn with our students
The kids from the Longuo Primary School are all harvesting corn on a donated plot of land today.
We head out to visit the farm and join them before heading back over to resume our classroom renovations.
The Discover Corps crew fans out, each of us joining one of the many teams of two kids that are shucking and bagging cobs row by row.
Once the corn is picked, it will be stripped off of the cobs, dried in the sun, and ground into flour.
This corn meal is mixed with water to make the staple dish ugali, which serves as a huge part of the kid's lunches for the next year.
This is served with stew or beans and is sometimes supplemented with vegetables from the school garden.
However, most of the produce that the kids help grow is sold to raise funds for the school's operation.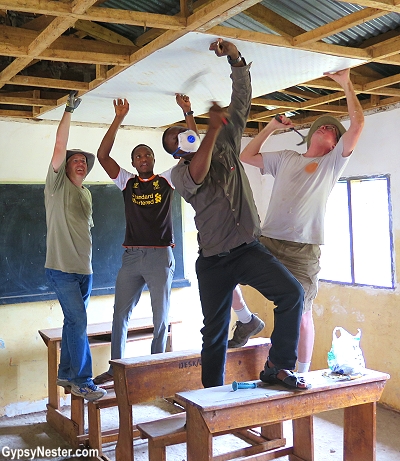 Back at the school we are all excited for a big day as we start putting up the ceiling panels and painting inside and out of the classroom.
At last we feel like we are making some real progress, not that the prep work we did before wasn't necessary, but today's work is much more visible.
Just as we are getting ready to leave the truck with all of the corn that the children harvested arrives and the excited little workers boisterously unload their cargo.
See more about our time working at the school!
Late Afternoon: Fun time at the orphanage
After some serious cleaning up and chowing down on Mama D's good cooking, we are free to spend the rest of the day socializing, checking out the town of Moshi, or visiting The Tuleeni Orphans Home again.
We manage a quick run into town, and then an early evening return to the orphanage.
Some treats are passed around before a makeshift game combining soccer (football in these parts), keep away, and dodgeball breaks out.
After three visits we have become very friendly with several of the residents so we exchanged information with a few of the older kids and hope to keep in touch.
DAY TEN: Head and shoulders above it all, raising the roof, and a gorgous hot spring!
Morning: Teachers are hilarious!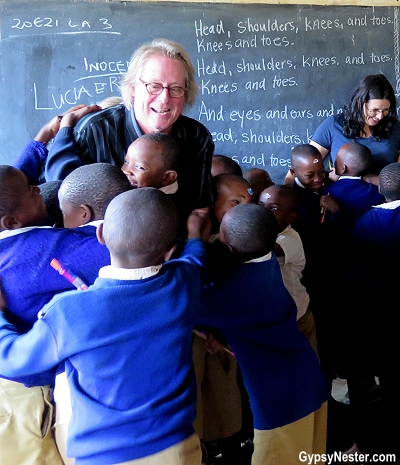 The kids are back in the classrooms this morning so we get to don our teaching caps again and try our best to impart a bit of English while adding a dash of fun. Head, Shoulders, Knees & Toes is a big hit.
We start by making sure that everyone knows all of the body parts, then sing the song slowly while touching each bit of anatomy.
After a couple of choruses the kids seem to have it down pretty well so we start to speed up.
We go faster and faster until the kids, and certainly us old teachers, are panting for breath.
Desperate for a breather, Veronica comes up with the notion to do it in slow motion.
The kids think that is hilarious!
A little bit slower now, a little bit slower now… then, a little bit faster now, a little bit faster now, and everyone is grinning ear to ear while gasping for air.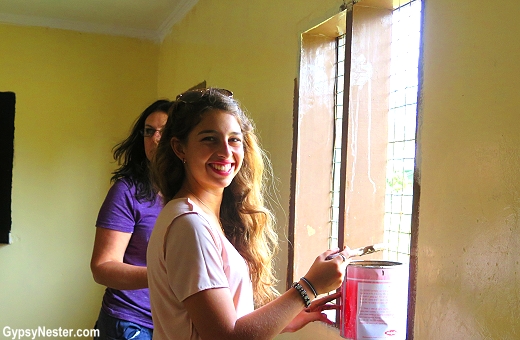 We change clothes and head back to our classroom project.
With the first coat of paint dry from yesterday it is time to finish the main part of the painting. Our team members attack it with a vengeance.
We've nicknamed our one hired carpenter "Nail Gun" because we have never seen such a machine when it comes to driving a nail. Without him we might never finish.
Late Afternoon: A glorious hot spring
We feel confident enough that we will finish our classroom renovation to take the afternoon off for a swim in the Chemka Hot Spring.
It is fairly remote, hidden away down a sloshy, sandy road, but that makes it a perfect secluded getaway – a true oasis.
After the dusty drive, the impossibly blue water looked way too inviting to pass up and almost everyone is in the pool within minutes.
The water is not exactly hot, more like warm, but in the heat of the day that's a welcome misnomer for the spring.
We bob and splash in the luxurious natural spa for about an hour, but don't dare dally longer because we want to get home before dark. Mama D has dinner waiting.
On the way back to basecamp we are treated to one of those African sunsets that heretofore we could only dream about.
DAY ELEVEN: A bittersweet day at our school, and an obese Massai
Morning: Bittersweet emotions and a job well done
We enter into our last day of teaching with a bittersweet combination of emotions, sad to be leaving, but glad to have had the opportunity to meet and get to know these bright, fun-loving youngsters.
We are all certain that we learned more from them than they did from us in our stint as teachers.
Perhaps our biggest lesson: appreciate the simple things. These little guys absolutely light up when receiving the simplest gifts. A colorful pencil, a pen, or some cute little stickers bring smiles that would rival any Christmas morning grin on other children.
Our throats are lumpy and eyes moist as we say goodbye to the students and teachers, but we still have a few tasks left to complete before our project is finished.
So one last time we slip into our grubby work clothes and head over to our nearly renovated classroom project.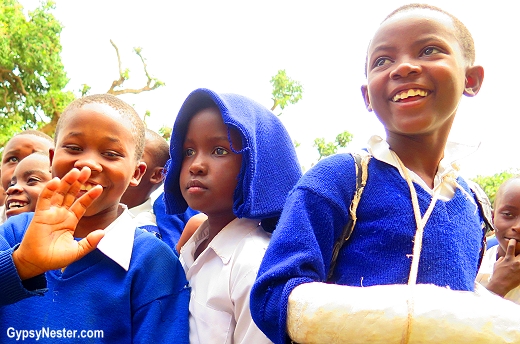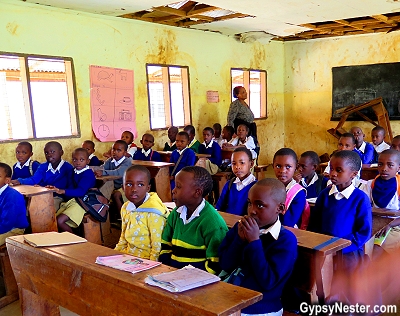 Our classroom "before"
The Discover Corps-ers fans out to put on the final touches.
With brushes in hand we spread the last of the paint on the windows and… oh, wait, don't forget the door!
The last thing we do is put up a couple of maps that Jeff found in Moshi. They give the room a dash of color and offset the blackboards that we renewed with special blackboard paint.
We take our "after" photos with big smiles.
Afternoon: Attempting art in Moshi
We hit Moshi town again this afternoon to take a stab at painting.
Our teacher is the artist Secy, whose paintings capture African life and wildlife in vibrant colors.
The idea is for us to choose one of his works and do our best to recreate it.

Like with our batik lesson, we start off rather unsure we can pull this off!
David chooses a Maasai man in red on a vivid blue background, mostly because he thinks that it is the only thing he has any chance of pulling off without total embarrassment.
His finished product looks a bit obese for a Maasai, but we are posting his effort without comment for all to judge whether he was successful or not.
Next door to Secy's studio is a shop filled with ebony carvings, knick-knacks, and traditional African musical instruments.
David is intrigued with an intrument he has never seen, a kayamba, a rhythm shaker made from reeds and filled with seeds. Trying it out leads to an impromptu drum jam session with Secy and his drum teacher.
We head back to homebase for an early night… for tomorrow we go on safari…
DAY TWELVE: Tarangire National Park has sooooo many elephants!
Early Morning: An early start, a scary looking guy and life at the watering hole
Boarding Mama Simba's bus bright and early for our trip to Tarangire National Park and Ngorongoro Conservation Area, we are filled with excitement at the hope of seeing lions, and tigers, and bears, oh my! Not really, there are no tigers or bears there, but we do hope to see elephants, zebras, giraffes, and especially lions.
We stop in the city of Arusha to meet our guides and transfer over to the safari wagons that will be our transportation for the next two days.
The Discover Corps crew splits into two groups, with Alan guiding ours, Felix the other, and Raymond serving as team leader.
Along the road we see several young Maasai men dressed all in black.
A closer look reveals that they have painted their faces too.
Alan, who is Maasai, explains that this is the ritual after circumcision and initiation into manhood ceremony to dress this way for several months as they heal. The face paint is to ward off the evil eye.
We enter Tarangire and almost immediately come upon a watering hole where impalas and wildebeests are getting a drink.
There is a bit of scuffling for position, with the wildebeests running off the others, but it looks as though everyone at least gets a sip.
Rounding a bend we come up on about twenty elephants.
They have also found a water source, but it looks as though socializing and cooling down is more the order of the day than drinking.
We watch mesmerized for quite a while, until one of the young calves does something that the elders don't approve of and gets a quick chastisement.
The minor ruckus puts the entire herd on the move.
Allen explains that the punishment might not have come from a parent since, with elephants, any adult can discipline any baby in the group.
WATCH: Watch as this little guy gets in trouble – and how the herd responds!

Morning: And the hits just keep on coming
Our next close encounter is of the zebra kind.

We LOVE how their manes stick straight up!
A couple of questions pop into our heads upon being so near to them.
Are they more like horses or donkeys?
Are they black with white stripes or white with black stripes?
WATCH: Cutest thing ever! This baby, fuzzy zebra has lunch and a romp!

We decide on donkeys and, upon viewing them from behind where the black strips don't quite meet up, black on white. Mystery solved.
As we make our way deeper into the park, we notice a couple of warthogs rooting in the ground for bugs and grubs. They are such odd looking creatures, we're finding it hard to wrap our minds around what we are seeing.
There is a vast variety of birds in the park. Along the way we see a lilac-breasted roller, a crown crane, a superb starling, and brown snake eagle.
Throughout the park we are intrigued by the huge baobab trees. They look dead this time of year, because it is the dry season so the branches are all bare.
They can't afford to waste the water involved in producing leaves, but as soon as the rains come their foliage will burst forth.
Many of the trees have big scars where elephants have been eating the bark. It is a good source of water this time of year and the gnawing doesn't harm the trees.
Afternoon: The stars of today's safari
As the day goes on, it becomes very apparent that elephants are the stars of Tarangire.
They are everywhere!
Not so much with giraffes, but we do find one lurking in the trees as we are turning back toward the entrance.
Of course a large pachyderm is also nearby.
As a day ending bonus, a large herd of the giants walk right in front of us just before we exit the park.
We never in a million years imagined that we would get this close to these mammoth creatures in the wild.
We spend the night in the town of Karatu, so we can be close to the Ngorongoro Conservation Area and get an early start in the morning.
Early in the day is the best time to see lions and we are certainly hoping for a sighting…
DAY THIRTEEN: Ngorongoro Conservation Area is chuck full of wildlife!
Early Morning: You ask for lions – you get… lions
We enter the refuge just as a foggy dawn is breaking, and begin the climb up to the rim of the Ngorongoro Crater.
This is a huge volcanic caldera, about fifteen miles across, which serves as a natural enclosure for many species of animals, concentrating them into a fairly small area.
In the morning mist at the top of the crater Alan spots a lioness in the brush along the side of the red dirt road.
We hoped to see a lion, but had no idea it would be the very first sighting of the day!
We watch in stunned silence, and another appears behind her, and then another.
The trio walks through the bush, and then pops out onto the road directly behind the safari wagon.
Wow, this day is already high on our list of best ever, and it just started…
To see our African journey from the very beginning, click here
Morning: Some serious wild kingdom action!
As we descend into the crater, we pass several herds of cape buffalo, along with many zebras.
They graze comfortably, seemingly without a thought about the many predators nearby.
In fact, several times we see hyenas walking very close to zebras, gazzelles, wildebeests, and birds with the prey paying no mind to the hunter whatsoever.
Alan says that they can tell when the hyenas are hungry and in hunting mode.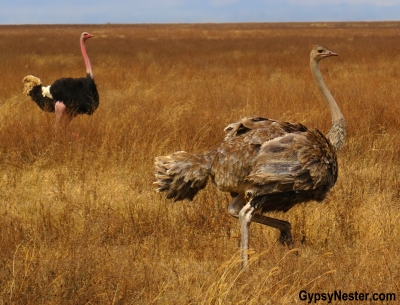 Next we find something unexpected, an ostrich. For some reason we didn't think about the big birds as something we would see here, but there are a few.
This particular male, Alan identified him as such because of his black feathers as opposed to the grey of the females, has a very red neck.
This shows that he is ready to mate, and as if on cue, here comes a female doing her dance.
It is easy to see the obvious difference in the plumage.
The two do their thing, very quickly we might add, and then go their separate ways.
To see our African journey from the very beginning, click here

p> Not for long though, as we learn when we see a mommy ostrich sitting on her nest.
Alan explains that the mother will sit on the egg all day, then it is dad's turn at night.
Just beyond the ostrich lovefest we come to a hippopotamus pool and, as if that's not cool enough, there are also five lions hanging out.
After a few minutes one of the hippos decides that three of the lions are too close, so he climbs out of the water, no easy task for the big boy, and chases them off.
They retreat about a hundred yards and then lay back down, which is great for us because it put them right next to the road.
We pull up a bit and are within just a few feet of the big cats.
Incredible!
The lions keep watch and decide to go back to their original spot, in a move that most certainly looks to have a "we'll show those hippos who's boss around here" attitude. The hippos pretend not to notice.
We finally tear ourselves away from this scene, confident that something equally exciting must be up ahead. We are not disappointed either, as Alan spots a black rhino way off in the distance. Even though the rare creature, there are only about five thousand left in existence, was too far away to photograph, we did get a pretty good look at it through the binoculars.
The kori bustard, however, was not so shy. As the largest bird in the world that can fly, we suppose he wouldn't have to be!
Afternoon: Where there's water, there's wildlife!
We spot a group of safari vans in the distance and go to check out what they are up to.
It is a large herd, or bloat, of around twenty or thirty hippopotamuses.
The hippopotami are doing what they always do when the sun is out, hiding in the water.
Their skin is very sensitive, so all day they stay in the pool and come out to feed on grass at night.
This behavior made us think that we were not going to see the group walking on land, but for some unknown reason one decides to climb out and walk over to another pool. Next thing we know the whole bloat is following.
We are amazed as we watch the three thousand pound beasts lumber across. It is somewhat like watching whales, which happen to be a close relative, take to the land.
Often birds hang out near, or sometimes on, the bigger animals and this pond is no exception with egrets and ibis all around.
We also see a new feathered friend for us, the yellow-billed stork. Their humorous walking style has us humming Puttin' on the Ritz.
A little top hat would have completed the scene nicely!
Another of Ngorongoro's most common residents are the zebras.
We see them everywhere and have been able to observe many of their behaviors.
As a herd crosses in front of us watch one after another rolls around in the dirt for a good scratching, and to get rid of parasites such as fleas and ticks.
After lunch, a ginormous bull elephant decides to walk right through the area where we were eating.
From the dung scattered around, obviously this is not something unusual.
Elephants pretty much go where ever they want, with no concern for humans, lions, or anything else.
With this absolutely amazing morning behind us, we load back into the safari wagons and begin to make way for the climb back up the crater rim.
As with yesterday though, we get an incredible bonus just before leaving, a big male lion completely laid out in the shade of a small tree.
Like the elephant, this guy obviously has absolutely no fear from any predators and can sleep peacefully out in the open.
As we approach the rim the habitat changes, it is no longer grassland.
The forest thickens until it becomes more like jungle.
A large troop of olive baboons finds this to be a perfect place to do a little snacking, picking at the trees for a bit of sap.
They don't stop long though, and neither do we.
The time has come to say our farewell to these two phenomenal wildlife sanctuaries, Tarangire National Park and Ngorongoro Conservation Area.
To see our African journey from the very beginning, click here
DAY FOURTEEN: A Day of reflection… and goodbyes
At the beginning of this Discover Corps program, Mama Simba welcomed us by saying that we are all one family.
We're pretty sure that most of us thought that this was just a nice way to greet us and make us feel welcome, but over the past couple of weeks our way of thinking changed.
Now that we are bidding adieu to all of these wonderful people that we have lived, learned, worked, and explored with for the last fortnight, it really does feel like saying goodbye to family.
We have the same lumps rising up in our throats, the same desire to find a way to get back to see them as soon as we can, and the same lingering for one last hug before we go.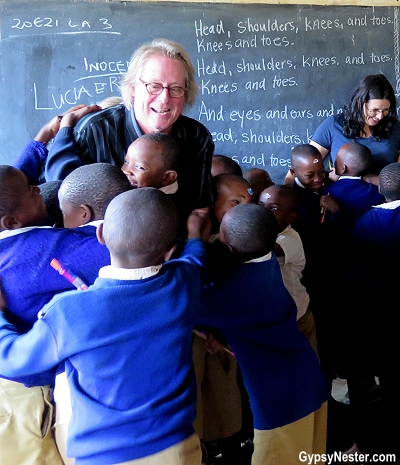 Even though it feels like we could never do enough, everyone assures us that we had an impact on the kids at the Longuo Primary School and The Tuleeni Orphans Home.
We certainly hope so, but we know beyond a shadow of a doubt that they certainly left a life-changing impression on us.
We also know that our Discover Corps teammates will be a part of our lives for years to come. They are people with giving spirits that make them fun to be around.
People who see a need and look for ways to address it.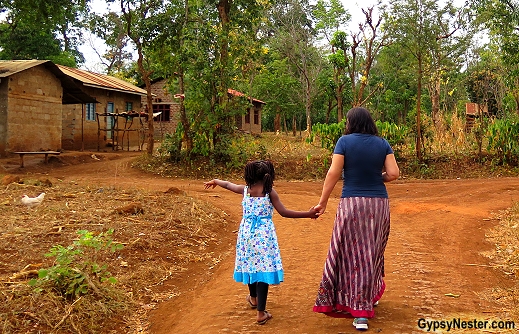 The engaging and openhearted people of homebase and the village of Rau captured our hearts and we will carry them with us forever, and the experiences of Tanzania they shared with us can never be forgotten.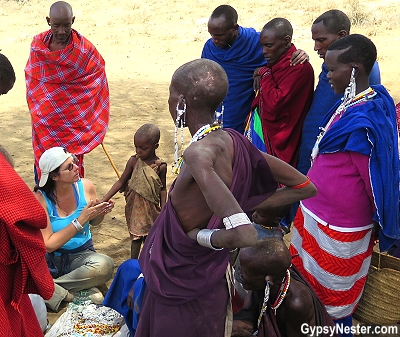 We have become a part of a select few who have ever tracked a giraffe with the Maasai.
We've danced with the Chagga, climbed on the slopes of Kilimanjaro, and have seen that massive mountain throw off its cloak of clouds and gleam in the African sun.
How could our minds ever let go of the thrill of coming within a few feet of a pride of lions and then having a hippo chase them away, or watching dozens of elephants parade across a crater, or feeling the hoof beats of running zebras?
These experiences, and countless more, have left mental imprints that we won't need photographs to recall.
Let's just hope that the folks back home don't get too exasperated with our telling and retelling of the myriad of memories that we are bringing back with us.
To see our African journey from the very beginning, click here
David & Veronica, GypsyNester.com
A big thank you to Discover Corps for providing this moving voluntourism opportunity so we can share their good work. As always, all opinions are our own.
Delve Deeper:
Click to see all of our adventures in Africa!
YOUR TURN: What are you most excited to see about this adventure? Let us know and we'll do our best to report about it! Have you taken a volunteer vacation? Tell us about it!