We continue our series of social distance friendly travel ideas with a look at our trip along The Mississippi Blues Trail several years ago. Markers highlight the history of blues pioneers and stars from the delta to Chicago.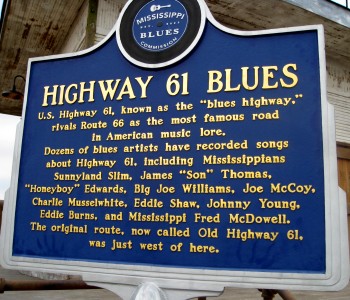 Our first finds were near Tunica, with the official visitors center for the trail and markers for Son House and Robert Johnson. (click here to see our full story on the Mississippi Blues Trail!)
Johnson is sometimes called "The Father of The Blues," but the elder House was a mentor to him (does that make him the grandfather?) and perhaps the source for the legend of the crossroads. The story goes something like this:
A young Robert Johnson was hanging around the locally renowned bluesman Son House and the elder musician told the kid he needed to do some serious practicing if he was going to be any good.
Johnson disappeared for a while, when he returned House supposedly said that he must have made a deal the devil at the crossroads to get so good so fast.
This crossroads has generally been assumed to be the intersection of Highways 61 and 49, but just before he passed away Son House indicated that it was somewhere else, adding a bit more intrigue to the story. Ah, something else to add to our quest.
(click here to continue down the Mississippi Blues Trail!)
Bonus Time: The marker for Harold "Hardface" Clanton, Muddy Waters, James Cotton, Sam Cooke and Ike Turner.
(click here to see more of the Robert Johnson story)
David & Veronica, GypsyNester.com
YOUR TURN: Are you a blues fan? Did you learn anything new? Is this a roadtrip you'd consider taking?