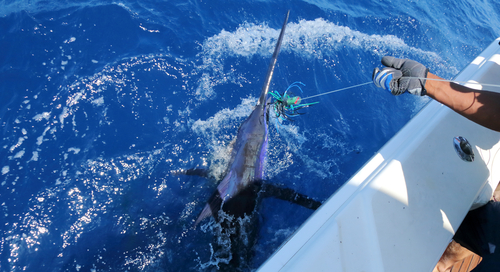 An island nation surrounded by the Indian Ocean, Mauritius is famous for its fishing spots. Deep sea fishing is a favorite tourist activity in the area. The island nation is particularly renowned for its seabed topography ideal for deep sea fishing. The tropical weather on the island and the warm water makes Mauritius ideal for outdoor adventure and a home for many different species of marine life. Here, you may be able to catch big game fish like tuna, mackerel, marlin, sailfish, dorado, tiger shark, and others too.
If you plan to visit this beautiful island for a fishing trip or for something to write about on your travel blog, here are the best fishing spots you can try:
Le Morne
On the Southwest coast of Mauritius, Le Morne is the best spot for deep sea fishing. You don't even have to go too far with your boat because the deep sea is only about five minutes from the coast. Make sure that you have prepared your body for the possibility of battle with the big game fish you may catch here. Well as long as you know what you are doing, then you'll probably be okay.
Poste Lafayette
Just off the coast of the Poste Lafayette public beach, there is another fishing spot you may want to visit. This is the best spot where you will find giant trevallies as well as barracudas and snappers. Other water activities are also fun to do here if you want to do more than just fish. Kitesurfing, surfing, or even having a picnic while on the picturesque coastline of the beach are also options to explore during your Mauritius holiday.
Black River
The west coast waters in Mauritius are much calmer than the east coast. So, even if you are a beginner, the water here would be easier for you to handle. The Black River is an excellent spot for deep sea fishing. It is where fishing competitions are held. The Black River is neighbors with Le Morne, which is why both are great for deep sea fishing.
Trou aux Biches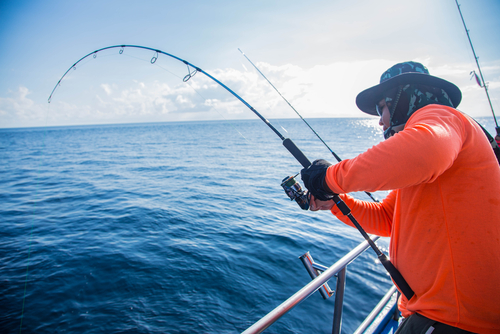 The water here is abundant with marine life. You'll find different kinds of fish like Dorado, Sailfish, Wahoo, Bonito, Blue, Black Marlin, and Yellow Fin Tuna. Located in the Northwest part of the island nation, your eyes will be graced by the vast blue ocean — and all the sea life that call it home.
Trou d'eau Douce
Another spot for big game fishing is Trou d'eau Douce in the east coast of Mauritius. The name translates to Sweet Water Hole in French. It is a great fishing spot as well as the place to go when you want to go snorkeling. You will find a wide variety of marine life here, including a coral reef. So if you love both fishing and snorkeling, visit this part of the island.
Mauritius also boasts many fishing banks that are rarely visited by anglers. You'll find great catches here while being able to enjoy the peace and serenity of a more secluded area. Some of the banks you can visit are:
Saya de Malha Bank
Saya de Malha is composed of two structures which are the North and South Bank. It is considered the world's largest bank that is submerged.
Nazareth Bank
Although it is also a large submerged bank, the Nazareth Bank is not as large as the Saya de Malha. It is part of the Mascarene Plateau and is south of Saya de Malha.
Hawkins Bank
This is also part of the Mascarene Plateau which makes it a dependency of Mauritius. You will also find these waters filled with marine life including wahoo and bass.
Mauritius is truly blessed when it comes to fishing spots. They have plenty of places where people can fish, whether it's in the deep sea or the shallower parts of the water. What are you waiting for? If these sport fishing spots are calling out to you, you can use Mauritius Discovery Tours to bring you to the beautiful spots around the island nation.
Just remember that these places have rules when it comes to who takes the fish. Make sure that you obtain the necessary permission from authorities first before you bring the fish home for dinner. If not, then respect the catch and release policy.
We are happy to present this collaborative post to offer valuable information to our readers.