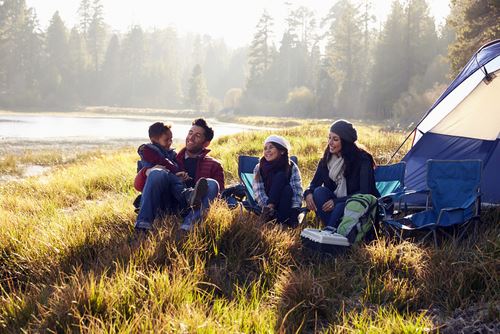 Camping is a cool way to bond with the family while enjoying the great outdoors. You can go hiking, fishing, swimming, and hunting or simply marvel at the beauty of nature. All of these camping activities sound fun, but when you add cooking into the picture, it becomes an easy recipe for disaster.
Now, what if there are cook set options to help make camp cooking stress-free? You will have more time for fun (and less work) with these food ideas to prepare while camping.
1. Pancakes. If pancakes for breakfast are a hit with your family, take this food idea to camp.
• On the night before you leave home, whip up your favorite pancake recipe.
• Place it inside a Ziploc bag and lay it flat inside the freezer for easy packing in the cooler once you are ready to go.
• When you need to cook your pancakes, they are already thawed and ready for cooking.
• Cut the pointed end of the bag, and you can quickly pour batter out to make the perfect pancakes.
• Bring along your favorite syrup to top these yummies!
2. Egg sandwiches. This recipe can be enjoyed with minimal preparation time.
• Prepare your sandwiches ahead of time and wrap them in foil.
• Freeze them overnight and stack in your cooler before going.
• Warm the sandwiches on a grill or over the coals.
• In a bit of time, they'll be ready for eating.
• Consider preparing individual portions so that all of you will get a good meal even when you eat at different times.
3. Omelets. You will need boiling water and Ziploc bags for this meal.
• Crack two eggs per person into individual bags.
• Add your desired toppings – onions, peppers, sausage, ham, or cheese.
• Place the bags in the cooler and when you're ready to cook this, boil water in a large pot.
• Drop the bags into boiling water and leave for 12 to 13 minutes.
• Carefully take the bags out and slide the meal into your plates.
4. Pizza Log. Pizza is a rare commodity when camping, so it's bound to be a hit. Enjoying nature and eating pizza are surely wonderful reasons why camping is cool!
• Roll out your choice of pizza dough into a rectangle.
• You can use refrigerated pizza dough or make one using your own recipe.
• Add a half cup of tomato sauce, toppings of your choice, and mozzarella cheese. You can also use this chance to use up the meats and veggies in your fridge.
• Start rolling one end of the dough until you create a log.
• Pinch the ends to lock in the pizza log, wrap in foil, and freeze.
• Cook it over the coals or on a grill for around 25 minutes flipping the log frequently.
• Cut or pull apart when done and gobble up!
5. Taco Soup. This tasty soup can be made while camping! Prepare ahead the soup to freeze and pack in your cooler.
• Put 1 pound cooked ground beef, 2 cups canned or homemade beans, 1 cup canned or frozen corn, and one packet taco seasoning into one pot and cook together.
• Cool before freezing into resealable freezer bags.
• Once it has frozen, pack into your cooler.
• When you want this for your meal, take the contents into a pot and simmer for at least 2 minutes.
6. Campfire Sandwiches. You'll need cheese slices, ham, mustard, butter, and a loaf of French bread. You may also choose your own cheese and meats to use for this camping food.
• To make six sandwiches, cut your loaf into twelve slices being careful not to cut all the way through.
• Combine a tablespoon of mustard and three tablespoons of butter and spread this to every other slice of bread.
• Add the ham and cheese slices (or your choice of meat and cheese) into the slots.
• Wrap this in foil and freeze or pack into the cooler.
• When ready to prepare this meal, place on a grill or in the coils.
• You need to turn it frequently until about 20 minutes or when the cheese has melted.
• Remove from the loaf and pull the sandwiches apart.
7. Curly Dogs. You'll need one pack of crescent rolls and hot dogs for this meal. This is definitely a new take on your regular hot dog meal.
• Wrap a crescent roll around a hot dog and roast until the hot dog is warm and the dough cooked.
• It will take around 10minutes for the dough to be cooked thoroughly.
8. Roasted Apples. For this easy-to-make dessert, you will need butter, sugar, cinnamon, and apples.
• Core and slice the apples so that they can still form their apple shape.
• Transfer the apple into a foil to keep its shape later.
• Sprinkle cinnamon and sugar to the apple slices.
• Add a tablespoon of butter slices to the center.
• Wrap the foil around the apple.
• Place the apples on the coals, turning sides every 5 minutes.
• Allow the apples to cool for 2 minutes before digging in!
Final Thoughts
Using these stress-free recipes will give you more time to have fun with your family or camping buddies without anyone getting hungry. Do take note that most of these food ideas require some preparation ahead of time so that all you have to do is cook them at camp. The best thing about these recipes is the minimal cleanup time and you have the rest of the time to play games, drink beer, and do more outdoor activities. Happy camping!
We are happy to present this collaborative post to offer valuable information to our readers.