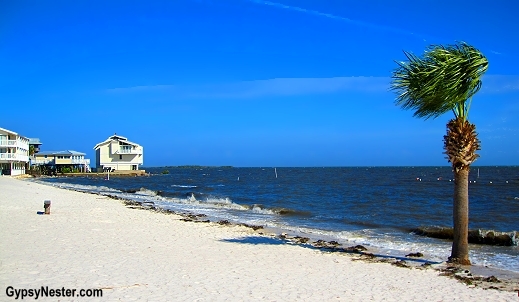 While it is a key, and it is in Florida, it is most decidedly not a Florida Key.
Cedar Key sits just off the coast in the northwest corner of the Gulf of Mexico, clear across the state from the well-known chain of islands down south.
This location has given the island a personality that is much different from that more famous archipelago, much more Gulf Coast than Caribbean.
The locals like to call it the "Island That Time Forgot," and it certainly does have an endearing, timeless character.
Taking advantage of the opportunity to soak up some sun while surveying the sights, and since everything is within easy riding distance, we mounted our trusty bikes and set out to absorb some of the personality.
After our initial spin along the waterfront, we decided to stop in at the Chamber of Commerce for some info for forming a plan as to where to go and what to see.
They recommended beginning at the Cedar Key Historical Society on Second Street.
Their museum is in the heart of the Historic District, and the perfect place to get the lowdown on the background of the key.
In the 1800s, the island was a supplier of wood from its namesake cedar trees, which was used to make pencils.
But a huge hurricane in 1896 wiped out most of the trees and the island looked to the sea, fishing and oystering, to support the economy.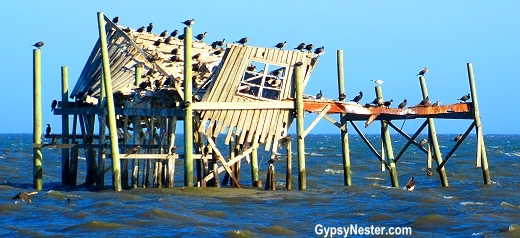 After the oyster beds were exhausted, and a state ban on net fishing took effect, the resilient Cedar Key became all about the clams.
Photos and artifacts chronicled the island's journey through time, which gave us a clear picture of its history. Then we came upon an exhibit that decidedly didn't clarify a thing. In fact, it turned our brains upside down — bottoms up, so to speak.
For no apparent reason, a horrifying collection of old-fashioned medical implements was on display, by far the scariest being a box of rectal dilators.
These claimed to aid in relieving constipation and nervousness.
Certainly seems like they would have the exact opposite effect.
We were nervous wrecks just thinking about it. The museum was very quiet, and it is likely that our consternation had been a little loud, so we made an uneasy exit out into the safety of the street.
The time had come to clam up.
How handy that Tony's Seafood Restaurant, the three-time winner of the Great Chowder Cook-Off in Newport, Rhode Island, was a few doors down.
After winning three titles in a row, it was decided that their chocked full o' clams chowder may have been too good to be fair. To give someone else a chance at the crown, the recipe was retired into the Great Chowder Cook-off Hall of Fame.
The championship chowder is still served up at Tony's though, and canned to take home too.
No need to look at a menu ma'am, just bring us two steaming bowls.
Watching bowl after bowl come out of the kitchen got us to wondering, all those clams must come from somewhere. It wasn't too hard to find the source, Southern Cross Sea Farms.
They are one of the few clam hatcheries in the state and give fascinating tours that show the entire process of breeding, growing, and harvesting clams.
Our introduction to Clams 101 began in a big barn type building, it is a farm after all, but the livestock were all under water and looked more like sand than seafood.
Scott Moots, Director of Aquaculture for the farm, showed us millions upon millions of tiny clams growing in row after row of shallow, rectangular tanks.
At this point in their lives, it took some fairly close inspection to recognize the tiny creatures.
What we had seen was actually the third stage of the process, first there had to be some breeding going on.
Scott gave us quite a detailed explanation, very scientific at times, but also flat-out hilarious as he described how he sets the mood for making clam whoopee.
Moots is a hoot!
Once the eggs have hatched they have arrived at stage two, which could only be seen by looking through a microscope.
A seemingly ordinary, single drop of water contained thousands of newly hatched clams, perfect microscopic replicas of their parents – shells and all.
All of those babies need food, and growing the grub for them is a big part of the operation at Southern Cross.
Scott keeps a close eye on a battery of bottles that grow a nutrient-rich phytoplankton of cultured algae he likes to call the Soup of Life.
While it may not have won any chowder championships, it certainly keeps these tiny tykes happy as a clam.
After about a month on the soup diet, they are big enough to see the sea for the first time.
When they get about fingernail-sized they are put in mesh bags and laid out on the ocean floor.
Southern Cross has acres of "farmland" like this offshore, but they also sell the little guys as "seeds" to many other producers. Nearly ninety percent of all the clams in Florida started in one of Scott's tanks.
Once the seeds are happily settled in on the sea floor, they spend a couple of years growing in the gulf.
Then the clams are brought in, sorted by size, and sold to hungry seafood lovers, restaurants, and distributers in bags of one hundred.
We didn't feel up to devouring a hundred clams, but we were ready to consume a few more, so off we pedaled toward the bevy of restaurants on the waterfront.
Dock Street is the place to be when the sun starts sinking low.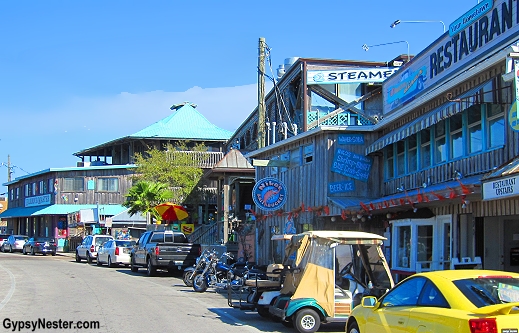 There's no better way to end the day than to snag a spot on a deck overlooking the gulf with a sundowner and something on the half shell.
So that's exactly what we did at Steamers Clam Bar & Grill.
Seemed right to have some clams straight up, just steamed in white wine and garlic, and they were certainly fresh and delicious, but sometimes a little flair can be good too.
So with that in mind, we ordered the Clams Casino, with bacon, peppers, and bubbling cheese baked in their shells.
Clam-tastic!
David & Veronica, GypsyNester.com
See all of our adventures in Florida!
This post may contain sponsored links.