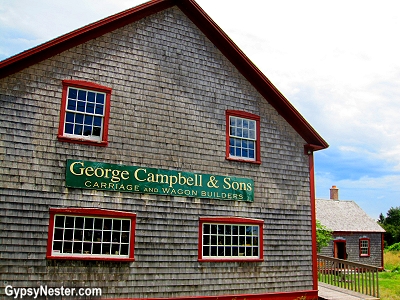 The Campbell Carriage Factory dates back 1855, and the site represents one of last surviving pre-industrial businesses in Canada.
The main factory building, which became a museum in 2003, is typical of a small nineteenth century shop.
The brief tour gave us a start-to-finish look at the construction of horse-drawn carriages and sleighs.
Everything from the making of the wheels to the final paint job was done on site.
See our entire journey through the Canadian Maritimes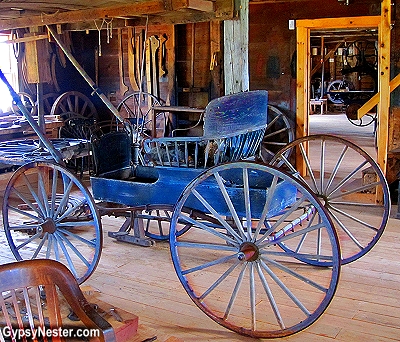 The main building, constructed in 1838, was first used as a tannery.
Its woodworking and machinery rooms showcase the tools and worktables that were necessary to create each component of the Campbell's carriages.
When it was initially decided to renovate the dilapidated building for the museum, over six thousand artifacts were discovered on the grounds alone.
Since the museum's opening many carriages have been donated by private citizens.
These are now creatively displayed without taking away the feel of the factory that existed before.
We found the process of creating the wheels to be fascinating, and our guide cheerfully walked us through the steps of manufacturing wooden hubs, spokes and rims.
See more beautiful New Brunswick!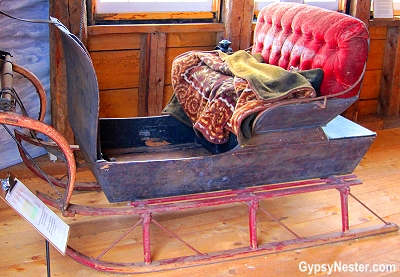 The most common type of sleigh built by the Campbell were called pungs.
The name comes from the Algonquin-speaking native people (deriving from tom-pung from tobaggan), and the original pungs were simply made by affixing a box atop a sled. They evolved over time to a sleigh with a sleeker design.
Caskets were also built on site and we marveled at the intricate designs of the accoutrements used in their making.
Members of the Campbell family were also undertakers and made themselves of use when the bodies of the dead of the Titanic were brought to Halifax.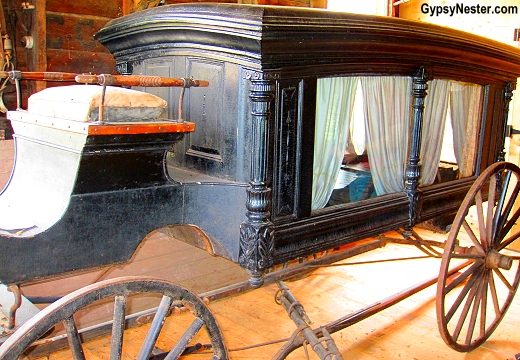 See our entire journey through the Canadian Maritimes
In the blacksmith shop, our guide used the still-functioning forge to demonstrate how tools and metalwork were created.
By branching out into farm equipment, furniture and caskets, the factory managed to survive the advent of the automobile and continued business until 1949.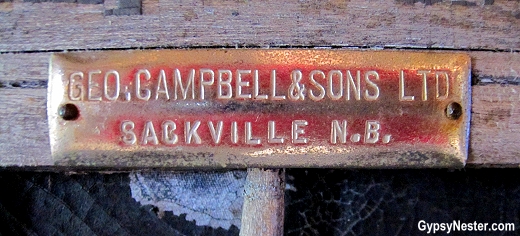 The museum was designated in 2006 as a Historic Place on the Canadian Register.
David & Veronica, GypsyNester.com
Delve Deeper:
Explore more of beautiful New Brunswick
The Titanic Cemetery in Halifax
See our entire adventure in The Canadian Maritimes
See all of our adventures in Canada
Thanks to Road Scholar for providing this lifelong learning adventure through Prince Edward Island, Nova Scotia and New Brunswick! As always, all opinions are our own.