Thanks to Viking River Cruises for inviting us along and providing this adventure through the tulips and windmills of Holland and Belgium with stops in Amsterdam, Kinderdijk, Antwerp, Bruges, Veere, Hoorn, and Arnhem.
One of our favorite things about traveling is finding unknown gems. It is always a thrill for us to discover a city that is not famous as a tourist destination and explore its charms.
Finding so much to see in Arnhem had it certainly capturing that mindset and made us wish we had more time.
We docked near the site of some of the fiercest fighting in the Netherlands during World War II, the bridge over the Rhine River. In September of 1944, Allied paratroopers were dropped into the occupied territory with the task of securing the bridge.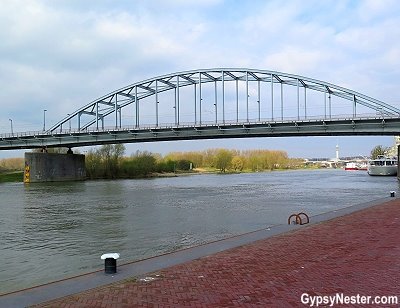 Many were off course and landed too far away to help the mission, but a small band succeeded in taking one side of the bridge.  Without reinforcements, they could only hold it for a few days and ultimately had to surrender. The struggle was immortalized in the 1977 movie A Bridge Too Far.
A few months later, the Allies returned to liberate the city and destroyed the bridge to keep the enemy from crossing the river. When it was rebuilt it was named the John Frost Bridge in honor of Major-General John Dutton Frost, the commander of the paratroopers.
We walked under the bridge on our way into town and stopped at The Jacob Groenewoud Park, named for the only Dutch officer involved in the operation, and lingered for a few minutes over the photos and relics from those two attempts to free Arnhem.
Near the park we spotted a Winged Diesel Man-Headed Turbo Chicken (shockingly, that is not its proper name). We could only assume that the artist intended this as a metaphorical piece to represent something.
After asking numerous guides, and attempting multiple failed Google searches, all we learned was that it is relatively new.
The lack of answers created a great deal of speculation on our part. Does the wing represent paratroopers? Perhaps the diesel engine signifies rebuilding.
Could be, but why the contraption was given a man's head and put in the shape of a turbo chicken was beyond our comprehension. There's nothing like how art can prompt conversation… and we loved it!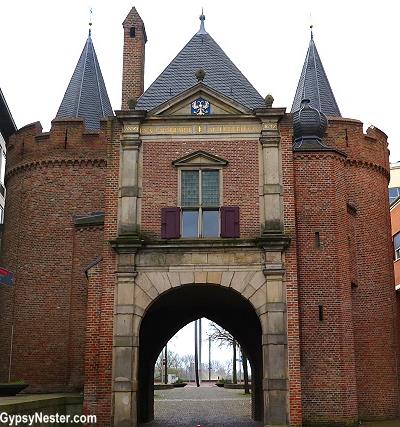 Continuing along the river, we came to the old city gate and hung a right into town. This is the only remaining gate of the original four in the old walls, and it has been superbly restored.
It felt like we were walking through a portal into the Middle Ages.
Unfortunately, not much else is left in Arnhem from that era. Wars have ravaged the town, so most of the buildings are relatively modern, but the lack of landmarks didn't dampen our day at all. The main square was buzzing with the weekly market in full swing.
As usual, within minutes we were wishing we had access to a kitchen so that we could cook up some of the fantastic looking meats, seafood, sausages, and vegetables offered at the dozens of booths.
We had to settle for some cheese. Settle is probably not the right word, because the Dutch make some of the best cheese in the world.
We sampled several varieties and chose an herb seasoned goat cheese, along with a classic Gouda named for the nearby town.
As we wandered deeper into the city we found a little shop with stroopwaffles being made in the front window.
Our new friend and waffle master, Betta, was kind enough to demonstrate the process for us from start to finish. She began with a small ball of dough, pressed it in an iron, and in minutes created a delicious treat.
The final result is more of a cookie than a breakfast item, with caramel spread between two crispy waffle layers, that easily puts the average sandwich cookie to shame.
Watch Betta making stroopwaffles.
Oreos won't even dare to venture out of the bag in the presence of these babies.
Turns out that these amazing tongue ticklers originated in Gouda too, a couple of hundred years ago. Time was, if you wanted a stroopwafel you had to go to Gouda, because for nearly one hundred years that was the only place they were made.
Cheese and stroopwafels, Gouda must be Dutch for heaven.
In the afternoon we headed inland a few miles to Paleis Het Loo, which means The Woods Palace. From 1684 until 1962 the House of Orange-Nassau, the Dutch royal family, used this as a residence and summer retreat. It is a museum now, but there are still official functions held from time to time.
The design is classic European country palace, bringing to mind Versailles, but on a smaller scale. Before going inside we walked around the garden, which is also laid out in the typical royal residence style.
The main difference we noticed from other imperial back yards that we have visited was the hedges forming the patterns are all very low. Our guide explained that a blight recently took a terrible toll on the plants, so they all had to be replaced.
The early spring weather we enjoyed the past few days gave them a good start, but they still had a long way to go before anyone would be getting lost wandering among the hedgerows.
Inside the palace we found ourselves walking through what felt like a time capsule. The rooms are perfectly preserved and, unlike Versailles, the furnishings were not destroyed or stolen away during a revolution, so opulent seventeenth century life is well represented.
Many of the rooms show a working residence; the business of running the kingdom was addressed not only in studies and libraries, but even from the bedroom. King Willhem III often suffered with ill health so he held meetings and did much of his ruling from his chamber.
As we proceeded, we seemed to be moving forward in time. The rooms began to show some modern conveniences, such as indoor plumbing, with a shower and tub, and even heated towel holders in Queen Wilhelmina's bathroom from 1904.
From the house we made our way to the old coach house next to the stables and discovered some of the most interesting items on the tour.
There were, of course, several very nice horse drawn carriages, including one that looks like Cinderella should be stepping out any second before it turns into a pumpkin, along with sleighs.  Once again moving forward in time, we found a collection of automobiles.
The cars date back nearly a hundred years, but surprisingly they are all very practical models. There's not a fancy luxury car in the assortment, instead it was mostly Fords, with a Fiat and Volvo or two.
Right next to the cars we found a big surprise, two anti-gas kinderwagens. The baby buggies were set up to protect child passengers in case of a gas attack.
These were made during World War II because of the fear that gas would be used again, as it was in the first World War.
Happily, they were never put to the ultimate test.
David & Veronica, Gypsynester.com
See all of our adventures in Holland.
Thanks to Viking River Cruises for inviting us along and providing this adventure through the tulips and windmills of Holland and Belgium with stops in Amsterdam, Kinderdijk, Antwerp, Bruges, Veere, Hoorn, and Arnhem.
This post contains sponsored links.