Who knew America has two West Coasts?
Well now we do, after discovering Florida's hundreds of miles of beautiful coastline facing west onto the Gulf of Mexico.
Sometimes called The Sunset Coast, most of it is much less crowded than the East Coast, and retains a good bit of old Florida charm.
We made our way out of the Everglades by driving down to the southern edge of this eastern version of the West Coast, the ritzy enclave of Marco Island, and then followed the shoreline north to Naples.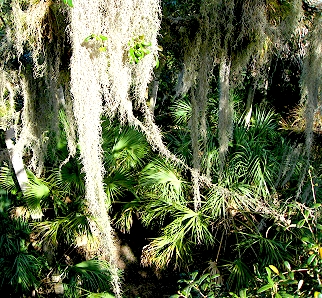 While this Floridian version of Napoli is plenty picturesque, at no time did we mistake ourselves for being in Italy. This Naples is about a million times more laid back.
Continuing up the coast took us through places with great names like Pelican Bay, Barefoot Beach and Bonita Springs, places where Spanish moss and palm trees coexist.
We were psyched up at the prospect of taking to kayaks for exploring, hoping to spot some fish and wildlife, especially manatees and gators.
The possibility of kayaking with manatees landed us in Fort Myers. This was certainly something we were jazzed up about, and the next day we headed a few miles east of town to the aptly named Manatee Park.
The park lies on a power plant canal, just the kind of place manatees love to come to warm up in the cooler months, but unfortunately no sea cows were lounging on the summer-like day that we arrived.
It was getting a little too late in the year, and water temperatures had warmed to the point where the manatees were heading out to sea.
But we were not giving up so easily. The park ranger said that there might be a chance a few of the manatees would still be hanging out in the Orange River, which connects to the canal.
So we headed over to Calusa Blueway Outfitters, they rent kayaks and canoes right at the park, and picked out a two-man kayak.
We thought this would be the perfect way to rustle up some sea cattle. Turned out that the boat we picked wasn't so perfect, however.
Before we got a hundred yards offshore we were sinking… fast! Good thing we hadn't made it out of the shallow water.
So we abadoned ship, jumped in the muddy water, and waded back to dry land, dragging our waterlogged kayak behind us.
Our next vessel proved to be seaworthy, and we paddled out through jungle-y terrain to the Orange River to begin our scouting for manatees.
We didn't see hide nor hair of one. Possibly because they had all left, but also, the low-to- the-surface vantage point of the kayak didn't seem to be optimal for for sea cow spotting.
It turned out to be great for watching water fowl though, and even better for an up close encounter with an alligator on his home turf.
When gators are warming themselves in the sun they don't move much, so we silently glided right up on one, just trying to see how close we could get.
We were feeling quite bold, right up till he slid into the water and started swimming our way, that is.
Then we basically freaked out and attempted to set a new kayak speed record.
Ready for more of the natural wonders that Florida offers, we drove up through Port Charlotte and Venice (still didn't feel like we were in the old country), to Sarasota where we headed inland a few miles to Myakka River State Park.
While the park has two lakes and a river, we chose to do our exploring as land lubbers.
We weren't up for invading any more alligator's personal space, so we broke out our trusty bicycles and set out upon the park's many miles of trails. Our two main destinations were the birdwalk that juts out into Upper Myakka Lake, and the Canopy Walkway through the treetops.
We hit the birdwalk first, but with the dry weather the water level of the lake was so low that instead of being a boardwalk out into the lake's shallows, where the waterfowl frolic, it was just a walkway over a bunch of mud.
We did spot a few birds from afar, but mostly we got a really beautiful bike ride.
On the other hand, the Canopy Walkway beat any and all of our expectations. Built in 2000, this is the first of its kind in North America, and provides easy access to the oak/palm hammock canopy.
We began by climbing stairs twenty-five feet up to the beginning of the walkway. From there a hanging trail leads one hundred feet across, directly through the canopy growth.
At the end of the walkway an observation tower rises another seventy-five feet up for an incredible view. The land is very flat so we could see for miles and miles across the top of the forest.
This jungle-like area is just one of the many varied landscapes that Florida has to offer, and perhaps one of its least known. But our next destination could never claim that distinction.
It was time to head even further south to cross a time zone into island-time.
See you in The Keys!
David & Veronica, GypsyNester.com
This post contains sponsored links.