It was the best of planes, it was the worst of planes, that was our feeling after spending nearly thirty hours on two non-stop flights.
The first one, United flight 895, from Chicago to Hong Kong clocked in at sixteen hours. Back when this route started it was the was the longest scheduled flight by any U.S. airline.
To make the 7,788 miles a Boeing 747 had to be specially modified to carry 386,000 pounds of fuel, including several thousand pounds in extra tanks above the passenger cabin.
An aviation marvel back in the 1990s, but two decades later we found ourselves climbing aboard what seemed like an antique.
The coach seats were packed in ten across, with the leg room of an average commuter flight, and we can't even remember the last time we were on an airplane that just had one big movie screen in the front of the cabin… or stranger yet, ashtrays.
Yup, this baby dates back to the days of smoking or non-smoking tickets. A "don't call me Shirley" joke sprang to mind. No personal in-flight entertainment options on this marathon journey, everybody's watching the same flick. Or, actually four flicks, with time to spare.
Oh well, maybe we won't mind since the food will take our minds off of it.
Ah yes, airline food, but isn't it usually better on international flights?
While that certainly used to be the case, now international flights are pretty much the only ones that serve food. While nothing to write home about, the food on good old flight 895 was edible.
They made a stab at Chinese cuisine by putting the meat on a bed of rice, and it did give us something to occupy a bit of our sixteen hours.
We were given dinner, a snack, and then another dinner, because this crazy flight went right over the north pole and across the International Dateline meaning we never saw any darkness, even though we arrived in Hong Kong a day and a half later than when we left Chicago.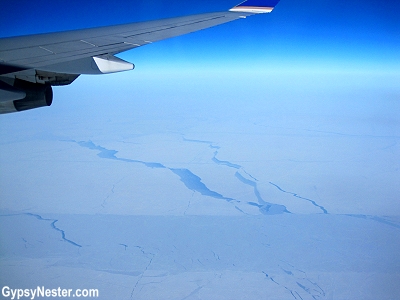 The highlight for most of the passengers came about mid-flight when, while looking down at the ice floes cracking in the Arctic Ocean, we suddenly flew directly over another airliner.
Don't get to see the top of a jumbo jet from 39,000 feet everyday.
All in all the flight turned out to be not quite as bad as we were dreading. Perhaps we shouldn't have read the article Mommy, Make It Stop; Sorry, but United 895, the Nation's Longest Scheduled Flight, Won't Land for 16 Hours before the trip.
But nothing about this flight had us looking forward to repeating the experience any time soon, so we were hopeful that the return would be better.
On our flight back to Chicago, we left out of Tokyo on All Nippon Airlines flight 12 in a Boeing 777.
This was a slightly shorter trip, only twelve hours, but it gave us a perfect opportunity to contrast and compare, not just the difference between one of the oldest and one of the newest airplanes in service, but also between a U.S. carrier and a Japanese one.
As anyone who has flown in The States the past few years already knows, customer service is fast becoming a thing of the past on our airlines.
Greyhound bus with wings springs to mind. Not so much on most foreign carriers.
We were greeted with hot towels at our spacious seats, which had one less in each row and what felt like a foot more leg room.
It is amazing what a few inches can do to improve comfort.
Each seat had its own video screen with dozens of choices for on-demand entertainment, featuring popular movies, television shows, games, news, music, and, our personal favorite, the map with a giant airplane showing our current location.
We were apparently covering about half of Japan just before takeoff.
Dinner on All Nippon had some flair too. It came with a cold plate containing noodles with sauce, lotus root, and a mystery salad that we had no idea of its content, but was quite good.
We were then offered miso soup, and a hot dish of meat, rice and egg. Not quite on a par with the food we found in Osaka, but still one of the better airline meals we've had.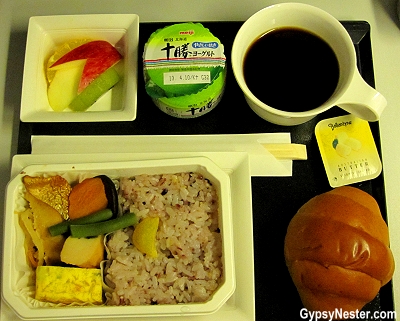 Before we landed we were served a Japanese breakfast, which consisted mostly of rice that didn't go snap, crackle, or pop, and beautifully prepared morsels of goodness.
Breakfast was served because on this flight it actually got dark for a few hours, giving us at least the illusion of getting a night's sleep. But an illusion was certainly all it was.
We left Tokyo at 10:45 AM and arrived in Chicago at 8:20 AM… on the same morning! Yes, we landed an hour and a half BEFORE we took off. That wacky International Dateline is a tough thing to wrap a mind around, and made for the worst case of jet lag in the history of the world.
Even in our time warped fog, we much preferred the return trip on All Nippon airlines. But both were executed professionally, and safely, which is after all the most important thing.
We should also point out that a few days after our flight on April 2, 2013, United Airlines retired the aging 747 that we flew aboard and began using the same model Boeing 777 aircraft as All Nippon.
Perhaps that will help to retire the mantra "mommy make it stop" as well.
David & Veronica, GypsyNester.com
Learn about how we pack and our always-adhered-to "One Trip Rule"!
YOUR TURN: Tell us your best (and worst) flight experiences!