Just in time for St. Patrick's Day, your GypsyNesters take a look at some real Irish pubs, you know, the kind actually in Ireland—where we suppose that they are simply called pubs.
Pubs in Ireland have been around for a thousand years and the name derives from "public houses" —the average joe's drinking spot, as opposed to a private bar where folks were charged to get in.
Pubs are truly the places that Irish go "where everybody knows your name," and that was quickly proved to us. Though we found ourselves in areas where tourists frequent, every bartender welcomed the locals with a warm greeting—by name—and pint of their favorite brew or spirit. Over the years many have sung the praises of bending an elbow, with some of these quotes becoming quite famous.
We're guessing none of these public houses would ever dare to ruin a perfectly good pint by turning it green, St. Patrick's Day or not.
Starting at the Source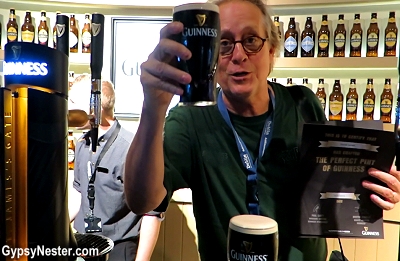 Speaking of perfectly good pints, what better place to start our adventure than at the Perfect Pint Bar inside the Guinness brewery at St. James Gate in Dublin?
Not only did we get to indulge in Uncle Arthur's world famous stout, we also received detailed instructions in the art of properly pouring the perfect pint.
From there we needed only to walk up a few flights of stairs for a visit to the Gravity Bar, high atop the Guinness Storehouse.
The panoramic windows provide some of the best views of Dublin anywhere, and they also look like the head on a giant pint of Guinness when seen from the outside.
See more about our visit to the Guinness Storehouse—including our video on how to pour the perfect pint!
Sticking with Tradition
Our next stop was McCanns Bar, just outside of St. James's Gate.
The pub has a long history dating back to 1759, when it was opened by Paddy Hannan, but even after all of these years its main claim to fame is that McCanns is the closest bar to the Guinness's Brewery.
Location, location, location.
Inside, we were less than surprised to see which brand o' brew was most prominent.
But McCanns was also proudly advertising a new beer, Hop House Lager 13, which is also made by Guinness and only available in select pubs in Ireland.
Of course we had to try one, and found it night-and-day different from their renowned stout.
Made with Irish barley and double-hopped with aromatic hops, we would call it bright and lively, and definitely not green.
Layering in Some Good Irish Grub
When pub crawling, one needs to layer in a booze mop.
So we were glad to find that any pub worth its salt doesn't only serve up the suds. In the fine old public house tradition they will feed a hungry traveler a rib-sticking meal as well.
For that we chose M.J. O'Niell's in the Temple Bar section of Dublin. They came highly recommended, and lived up to their reputation.
We ordered lamb stew and a slab of corned beef, both with plenty of Irish potatoes, and of course, a couple o' pints.
Picking our poison was no easy task at O'Neill's, since they pour forty-five different brews on tap, and a bunch more in bottles, from all over the world.
For comparison sake we should mention that we also had a meal at the Turks Head Pub (established 1760) a few days later.
The food, Beef and Guinness casserole and fish & chips, was classic Irish fare, while the decor was a wild mix of Turkish Bazaar and corner bar.
For a change of pace, we tried a Bulmer's Cider to wash it down.
A Hero's Beer
Leaving Dublin, we drove across the Emerald Isle to the Wild Atlantic Way for a stay in the small town of Dingle.
On the edge of the village, we visited a little brewery that has recently created a crisp, clean lager and named it after a true Irish hero, the Antarctic explorer Tom Crean.
Even though Crean's has only been around since 2011, it was a favorite, at least of the lagers we tried.
We voted it a fitting tribute to Tom, who during the Terra Nova Expedition in 1913 walked thirty-five miles across the Ross Ice Shelf to save the life of his fellow explorer, Edward Evans.
Our speculation was that the idea of naming it after him must have been because he would have wanted a refreshing drink after a trek like that.
Since we like both a beer and a good story, we set about asking for a Crean's in every pub we popped into after that.
At The Dingle Pub, right in the middle of Main Street, they were proudly serving it, although Veronica opted for a retesting of the Hop House Lager 13. She felt it was important in the name of science.
This was our most rousing neighborhood pub experience of the trip, since a big hurling match was on the tube.
The 3,000-year-old game is hugely popular in Ireland and basically unknown elsewhere.
It looked to be a sort of cross between hockey and soccer, played on grass, where the players use sticks to try and hurl the small ball into the opposing team's goal.
Much more study—and Crean's—would have been necessary to begin to decipher the rules.
Sometimes the guys could run with the ball, and other times they seemed required to hit it, and sometimes players were allowed to completely knock silly the guy with the ball, but not most of the time.
Content that we had no idea what was happening on the field, the match gave the bar a raucous air that was good fun on a Saturday afternoon.
Drinkin' in the Hardware Store
Across the street we discovered a very unique establishment.
On several occasions we had walked by Foxy John's during the daylight hours and thought nothing of it, other than that it struck us as an odd name for a hardware store.
Then that evening we happened by and the joint was jumping.
The humble little vendor of housewares and hammers had transformed into one of Dingle's hottest nightspots after the sun went down.
We went inside and the place was not only packed, but the crowd continued back through three rooms.
The little storefront occupied only about a quarter of the total drinking space.
As far as we could tell John had the most popular pub in town for locals to converse—and consume a pint or three.
Since our hotel was only a few doors down, we stayed for a nightcap before walking back. Later, we got to enjoy a number of tipsy serenades as the patrons filed out after closing time.
That'll teach us to sleep with the windows open next door to an Irish pub… er, pub.
David & Veronica, GypsyNester.com
See all of our adventures in Ireland!
A big thank you to Ireland.com for providing this yummy adventure. As always, all opinions are our own.
YOUR TURN: Are you game for a pub crawl in Ireland?