With the good ole summertime upon us, we take a fond look back at those road trips as kids in the way back of the station wagon. Remember the excitement as a dot on the horizon slowly transformed into a giant dinosaur, buffalo, or human?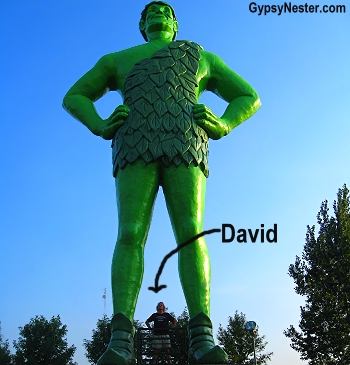 Nothing lifts the spirits while traveling through America quite like the sight of a fiberglass colossus looming in the distance. On a summertime roadtrip, through the shimmering  heat from the highway, a form begins to take shape…
A sky-scraping Abe Lincoln, a Paul Bunyan the size of a small office building, a life-sized brontosaurus or a fish that could swallow an airliner
— all have great power to inspire, or at least attract attention.
As any seasoned voyager trekking throughout the heartland of America will tell you, spotting giant steakhouse steers, cheese haus bessies, liquor store pink elephants, muffler shop gorillas
will garner excited oohs and ahhs.
In many communities, opening a business without a fiberglass
mascot is the kiss of retail death.
In the course of our travels we have interviewed several business owners about their colossal fiberglass attention-grabbers and learned of a place in Wisconsin that is the Mecca of campy creatures, the motherland of molded monstrosities–F.A.S.T. (Fiberglass Animals, Shapes & Trademarks Corporation).
So we set out on a pilgrimage to Sparta, Wisconsin and the giant fiberglass mold field of dreams.
Entering the site, we spied the mold field and began to get that need-to-pee feeling of a kid on Christmas morning.
There were acres of molds scattered about – leaping dolphins, dragons, Vikings, religious relics, Yogi and Boo Boo bears of all shapes and sizes.
All waiting outside for a return trip to the shop and a new life drawing attention to kitschy stores, booster clubs, benevolent orders and backyards.
But then attracting attention is what F.A.S.T. is all about.
Snooping around the artists' workshop, and drawn in by the blaring rock music, we met Corey, one of the sculptors, who was shaping a man-sized ornamental frog.
Corey holds a fine arts degree and had learned of F.A.S.T. through one of her favorite professors. Toward the end of her senior year the professor asked her if she was planning on using her art degree for "serving coffee" or if she was serious about her craft. Knowing that Corey loved to work with "big things" as she put it, he pointed her in the direction of F.A.S.T.. Boy did she find the right place!
Corey was kind enough to show us her process.
It all starts with a drawing. Corey had been provided a rendition of the frog she was sculpting from the client who commissioned the work.
Starting off with quick setting polyurethane foam, Corey fashions the design with filet knives, sandpaper and a blow torch. More foam is squeezed out as needed, to fill hollow spots or attach large appendages. Lather, rinse, repeat.
Every item that F.A.S.T. produces begins as a hand-sculpted original creation. The biggest behemoths, the friendly little and flamingos – even beloved icons like the Budweiser Clydesdales and the hamburger-holding Big Boy start as a twinkle in the artist's
eye.
Once the artist has a finished piece, it's time to make a mold. Corey pointed us toward the workshop where the fiberglass is applied.
Inside we met Lupe, a fiberglass technician, who demonstrated how the polyurethane figures are coated with a releasing agent before multiple layers of fiberglass are sprayed on.
The glass sets in a matter of minutes, creating a mold that's a perfect negative image of the prototype. The finished mold is then removed from the original polyurethane sculpture.
Then, the process is flipped and fiberglass is put inside the mold. Lupe explained that once the concoction has set, the mold is opened and gives birth to an exact replica of the original sculpture.
Lupe is proud of the prominent places around the world where his work is displayed and loves to hear from family and friends when they spot one.
The naked newborn is then sent back to the artists for the finishing touches.
What happens the molds? They are set out in the field, waiting for another client to choose them as an attraction.
Pre-molded choices include a full-sized nativity scene, an eight foot swirl ice cream cone, or one (or several) of the seven dwarves.
If an original creation is desired, it can get very pricey, sometimes into the hundreds of thousands of dollars.

See how this Abe Lincoln turned out – and where he ended up!
Back in the artists' workshop, the sanding and painting begins. Automotive paint and clear-coat help bring to life a strikingly realistic likeness or a humorous cartoon critters.
Corey took us to a second studio where a ginormous moose was nearing completion. Stoic and substantial, we could imagine him standing in front of a hunters' supply store, an Alaskan jerky factory, or maybe one of your antler clubs (a Moose lodge, perhaps?). (Not that we believe in moose!)
Without a doubt, the true masterwork for F.A.S.T., their magnum opus, is the 145-foot muskie outside of the Fresh Water Fishing Hall of Fame in Hayward, Wisconsin.
Billed as a "walk-thru fish one-half city block long, four and a half stories tall, hand-sculpted into the likeness of a leaping muskellunge" — this guy does not disappoint. His gaping, open jaw accommodates more than twenty people as an observation platform.
Wanting to get it straight from the fish's mouth, we left Sparta and headed to Hayward that very day.
What a beaut.
Has to be the biggest fish story ever.
David & Veronica, GypsyNester.com