When we learned that we were heading to Cancún, Mexico, we proceeded to do our usual pre-travel investigation and discovered that the thriving tropical resort destination is made up of two distinctly different districts.
It is also the perfect starting point for a visit to the Mayan ruins just down the coast at Tulum. This can be an easy day trip by taking a shuttle in the morning and returning that afternoon.
Another good option is to rent a car in Cancun and make the short drive yourself.
Of course there are many fun day trips in Cancun, so be sure to plan several days for a visit.
The real estate along the narrow strip of beachfront on the island that the Mayan people called Kankun, meaning nest of snakes.
This area is almost exclusively hotels and resorts, with a smattering of beach bars, restaurants, and tourist traps sprinkled in.
The bulk of the city — the part where people live — is onshore.
This was by design; the entire development was planned by the Mexican government.
Just over forty years ago, there was nothing but jungle and sand along this isolated stretch of Caribbean shoreline.
In 1970, as an economic engine for the new state of Quintana Roo, the Cancún project began. At the time Isla Cancún had only three residents and the nearby port on the mainland, Puerto Juarez, had just over one hundred.
The idea to build luxurious, high-end resorts along the water and bridge them to a city providing services and employees was by all accounts wildly successful.
Cancún is now home to over half a million residents and welcomes over four million visitors a year.
However, the huge majority of those tourists never venture off of the island into Cancún City, known locally as El Centro.
We wanted to break that habit and experience both Cancúns.
We spent our first three days in one of the all-inclusive, walled-off resorts along the beach, and it would be preposterous to pretend that it wasn't beautiful, and didn't cater our every possible need.
It's no wonder so many vacationers come. Who doesn't like total relaxation in an exclusive and elegant setting? We thoroughly enjoyed our stay.
Still, something seemed to be missing – authenticity. It occurred to us that we could have been almost anywhere that has beaches and tropical weather. There was nothing particularly Mexican about it, not even the food.
Headed to El Centro
So we decided that spending a few days in what we came to call "the real Cancún" was in order. A fellow traveler, longtime expat in Mexico, expert on all things Yucatan, and new friend, Tim Anderson, filled us in on the hot spots and we headed into town.
There are buses and taxis that run back an forth, but renting a car in Cancun can be easy and great way to see everything without the worry of a schedule.
We had been lamenting the resort's lack of local food with Tim, so the first of his recommendations was Tacos Rigo.
Once he explained that they specialize in tacos cabeza, head tacos, we knew where we were headed.
It was practically a dare.
Preparation involves steaming a whole cow's head and removing certain parts.
Most common are Sesos (brains), Trompa (lips), Cachete (cheek), Lengua (tongue), and Ojo (eyes), adding a little onion and cilantro, and filling corn tortillas to make these traditional tacos.
We ordered the tongue and cheek (though we were serious about this – no tongue in cheek for us!), confident that these would be perfectly palatable, and were not disappointed.
However, we were reasonably reluctant about the eyeballs, and rightly so… let's just say they were not a pretty sight.
With a few off-handed remarks such as "watch this," and "we should watch what we eat," we managed to consume a fair amount of the serving, but jeepers, creepers, we won't be ordering any more bovine peepers!
See more about the food in this region of Mexico!
Another of Tim's suggestions was the Parque de las Palapas, which just happened to be directly behind our hotel.
The park is named for the palapas, or thatched roofed huts, that encircle it and served as Cancún's first town square.  It has become a central meeting place for the city's citizens.
As evening approached we walked the two blocks over to the park and happened upon what looked to be a street fair.
Dozens of kids were driving electric cars every which way, mostly managing to dodge the bulk of the crowd that was mostly ignoring them.
Attention was instead focused on a dance demonstration, or perhaps contest, in progress on the big stage that dominates the plaza.
Booths selling food and craft items lined the edges of the grounds, and larger tents with open-air cooking and seating filled a large section.
Grabbing a snack, we took a seat and watched the couples whirling and twirling across the stage.
The difference between this community celebration and the well-rehearsed performances we encountered in the hotel zone was stark.
That's not to say that the talent, or entertainment value of one is superior to the other, it is just that they are coming from entirely dissimilar points of view.
In the city, both the performers and the audience seemed to be having an equally good time.
Back at our hotel, we could hear the festivities carrying on until well into the night, providing a happy musical lullaby to drift off to sleep by.
The next day we explored the city on foot and began to notice a very interesting — and unique — aspect of the mainland municipality.
We had never before seen a city where nothing is over forty years old.
All of the traditional locations exist — churches, government buildings, monuments, and squares — but everything is modern. None of them are historic.
We ended up back at the Parque de las Palapas and, just as the night before, a party was in full swing.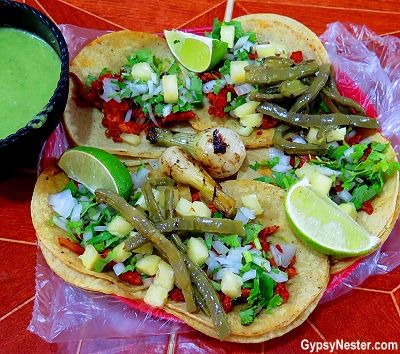 This time traditional Mayan dancers were on stage and the crowd was loving it.
We mingled and wandered, grabbing some tacos al pastor from one vendor, and esquites, a regional version of elote with the corn cut off of the cob, from another.
See more about the food in this region of Mexico!
You didn't think we'd not try some REALLY weird food, did ya?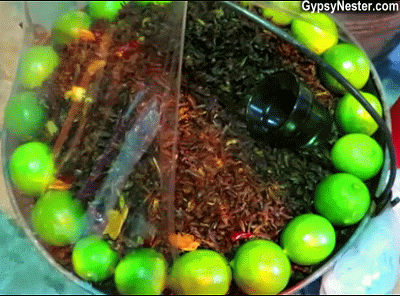 Feeling frisky, we even tried the delicacy of chapulines, which are crickets.
They are common in the nearby state of Oaxaca, where many residents of Cancún came from, so several vendors had large buckets of them at the ready.
We passed on buying a big bag for all night snacking, instead opting for a small scoop just for tasting, and popped a couple in our mouths.
Because they were fried with plenty of spices, it was easy to overlook the fact that we were eating bugs, but as with consuming the eyeball tacos, it helped if we kept our eyes closed.
WATCH: We eat our way through the Yucatan – calorie count not included, for your guilt-free viewing pleasure!

See more about the food in this region of Mexico!
Back to the beach!
On our last day in Cancún, we hopped on a bus back out to the hotel zone. While the two districts feel completely different, there is some population crossover.
A couple of the beaches intermingled among the private resorts are public and have become popular with the residents from the mainland.
We chose Playa Tortugas, Turtle Beach, for our afternoon hangout.
Much more than a sandy swimming spot, the Turtle sports a huge bungee jumping platform (that no force on heaven or Earth could have compelled us to jump off) along with a pier and marina providing ferry service to nearby Isla Mujeres.
This little island, meaning the Island of Women, is just off the coast and can be a destination in its own right. The Mayan temple at Punta Sur Isla Mujeres was dedicated to Ixchel, the Goddess of the Moon, who was the wife of the Sun. She was also a goddess of fertility and healing so this is an amazing spot to catch the sunrise.
For a bit more adventure and underwater action Snorkel Tours at Isla Mujeres offer incredible views of the coral reef that are easily accessible.
And for a truly unique experience it is hard to beat swimming with dolphins cancun. These friendly marine mammals make for a memorable day in the water.
But we were content with just getting our feet wet in the surf and sitting with an ice cold cerveza… dos por favor.
Looking out over the blue Caribbean it was easy to see why people from near and far flock to spend their vacations in these two Cancúns.
It doesn't suck.
David & Veronica, GypsyNester.com
See all of our adventures in Mexico!
YOUR TURN: We found that both sides of Cancun have their merits, which one is YOUR cup of tea?
This post contains sponsored links.