Just in time for Christmas here is a look back at our holiday visit to Catalina a few years ago. We are also thrilled to let you know about a special inflation busting offer. Now through March 17, 2023, Catalina Express and hotel partners are featuring combination boat and accommodations packages at more than 10 hotels in Avalon as part of its popular annual "Best of Winter" offering.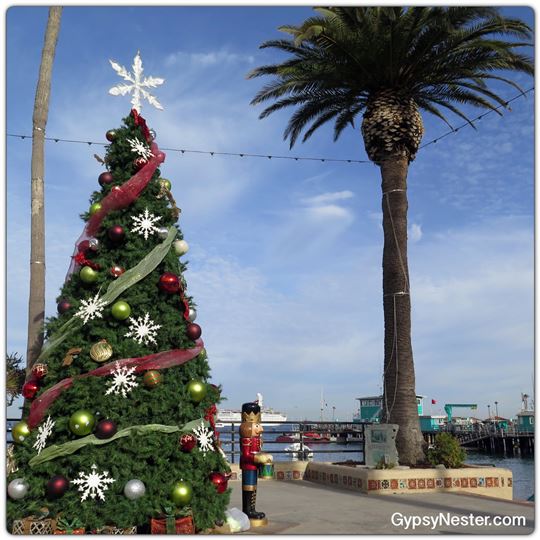 For most of us, thinking about Christmas conjures up Currier & Ives scenes of snow covered cottages nestled among frosty flocked evergreens.
It's a lovely image, but overlooks the freezing reality of bone chilling blizzards and inevitable travel delays left in their wake.
With that in mind we decided to celebrate the holiday by leaving behind a much different wake. Cruising across the waves on the Catalina Express fast ferry may not be dashing through the snow in a one horse open sleigh, but we could learn to embrace it as a yuletide tradition.
And after our quick jaunt across the Pacific, we found Santa Catalina properly decked out for the season…  island style.
That laid back pace made for a perfect getaway.
To begin with, we had the ultimate home base at The Avalon Hotel, one of the many fantastic Select Registry hotels.
Our spacious home for the holidays offered not one, but two balconies overlooking the harbor and the town. And what to our wondering eyes should appear, everything else we could want to see was awaiting from the rooftop patio's full 360° panoramic view.
We also enjoyed all the comforts of home, such as a fridge, microwave, coffee maker, and then some, like a huge tub for lounging in an indulgent bubble bath.
Foamy fake Santa beard anyone?
After a long winter's nap we were ready for some exploring.
In order to help preserve the natural beauty of the island, vehicles are extremely limited on Catalina.
It can take fifteen years or more to get to the top of the list for owning a car, probably even longer for flying reindeer, no matter how naughty or nice you've been.
This has led to a unique preferred method of transportation, golf carts. So, when in Rome and all that jazz, we rented a cart and set out to do some serious sightseeing.
It was not an epic trek, since there are only about twenty miles of roads available to roam by cart. The little mini mobiles are not allowed to wander into the interior of the island, which is a protected nature reserve and only accessible by permit.
Still, there was plenty to see in a compact area.
We began along the harbor where we found Old Ben sunning himself on a rock in Old Ben Park. The famous sea lion is now immortalized in bronze, but one hundred years ago he could almost always be found along the waterfront begging for fish.
Often he would even climb out of the water and follow fishermen until they would oblige him with a freshly caught snack.
Just a few blocks away we had to get a glimpse of another small park, just to make sure the name made any sense. Machine Gun Park, yup, that's the name, actually does have a machine gun prominently displayed among the jungle gym and swing sets.
The weapon, captured from the Germans during World War I, was donated to the city of Avalon by the Catalina Island Post 137 of the American Legion in 1925.
Next we ascended Mount Ada for a closer look at the former home of William Wrigley Jr. and his wife Ada. The mansion overlooks the town and is now a bed and breakfast.
Wrigley almost single handedly developed the island as it is today. He had a vision of Catalina becoming a thriving tourist destination and made his dream come true.
Throughout the early nineteen hundreds the chewing gum magnate not only built almost all of the island's attractions, he also owned the ships that ferried folks back and forth from the mainland.
In 1921, as a way to get publicity for the team and the island, he brought his beloved Chicago Cubs here for spring training, making Catalina the first Southern California home of major league baseball. The Cubbies stayed until 1951 before moving their training camp to Arizona.
After Wrigley passed away in 1932 a 130-foot high memorial was built in his honor, along with thirty-eight acres set aside as a botanical garden.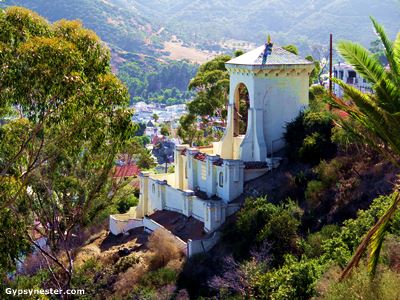 As we followed the road around the perimeter of Avalon we came to the Chimes Tower. For nearly one hundred years since Ada Wrigley brought these bells from Chicago, they have been ringing the hours. This time of year we also got a carol or two thrown in.
How's that for Jingle Bells?
Completing our circumnavigation of the town, we stopped for a look at the Casino. This fantastic circular entertainment center has been the signature landmark of the island since it was erected in 1929. Wrigley, always with an eye on drawing attention to his undertakings, built the world's largest dance floor.
Tours of the facility are available, but we were getting hungry and opted to come back later for a movie in the beautiful twelve hundred seat Avalon Theater.
So what does one eat for a holiday feast on an island? A seafood Christmas dinner of course.
That meant a trip to the lobster trap where we dined on fresh caught local lobster and pasta with clams. The California spiny lobsters pulled from these waters don't have claws, but boy do they have flavor. We'd bet even Santa would prefer it… certainly over milk and cookies.
For art deco aficionados the theater, one of the first designed for talking movies, was everything we had hoped for. The murals by John Gabriel Beckman are still vibrant and stunning. Plus, we got a special seasons greetings in a performance on the original pipe organ built by the Page Organ Company.
The following morning, we had time to stop in for a quick history lesson at the Catalina Island Museum.
The beautiful new gallery has plenty about Wrigley, and the island's long relationship with Hollywood. Three hundred movies used the island for locations and many stars chose to use it as a hideaway.
Most famously Charlie Chaplin and Johnny Weismuller spent tons of time here. There was also a young girl named Norma Jeane Mortenson, who lived in Avalon as a teen, that grew up to be perhaps the most famous starlet ever, Marilyn Monroe.
In addition to those displays, we were really thrilled to find an exhibit on José Guadalupe Posada.
His famous engraving, the Calavera de la Catrina, has become almost synonymous with Día de Muertos, the Day of the Dead celebrations November 1st. This tied in perfectly with the movie we had seen the night before, Coco.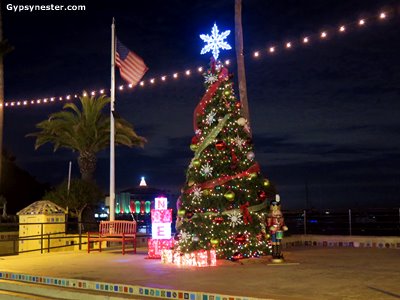 Feeling the synergy, we were not too surprised to see a jolly bearded man getting off of the ferry as we waited to get on.
Could it be him?
Was St. Nick arriving on Catalina for a well-earned vacation?
David & Veronica, GypsyNester.com
A big thank you to the Avalon Hotel, Select Registry hotels, and Catalina Express for providing this adventure, as always, all opinions are our own.