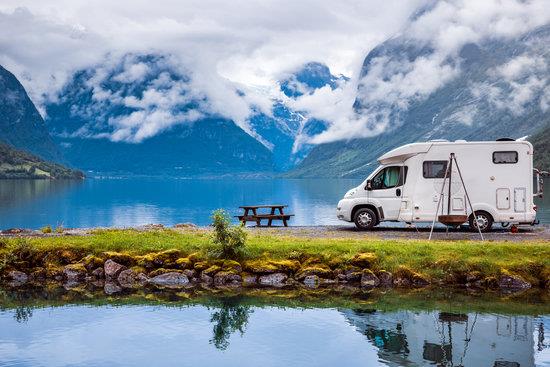 When people think of RVing, they often think of cruising down an open road during the boiling hot summer months.
While there's no doubt that summer is a great time to go RV camping, going RVing in the winter also has its perks.
For one, state and national parks are a lot less crowded during the winter months. Although you may not be able to traverse all of the trails you'd like to because of snow levels, you'll find that the trails you do hike on are much less populated during this time of year.
RV parks also tend to offer huge discounts during the winter months, which means that you have more money for food and adventuring.
But, before you go winter RV camping, there are some things you should know.
Check out this guide to discover the top winter RV camping tips that will help you stay warm and preserve your RV.
1. Insulate Your Windows and Floors 
Insulating your windows and floors is one of the best ways to beat the cold during those long winter months.
By adding thermal curtains and rugs to your RV, you'll help keep the heat trapped inside.
Windows are perhaps the biggest culprits when it comes to letting warm air out and letting cold air in, which is why we also suggest insulating your windows with foam or bubble wrapping them.
Then, to add extra warmth, you can hang thermal curtains on top of the insulated windows.
Also, on sunny days, we suggest leaving the windows uncovered so that your RV can soak in the heat from the sun.
2. Invest in an Electric Space Heater 
An electric space heater can make a world of a difference for your winter RV life.
In general, the propane furnaces that come installed in RVs are inefficient. The blower uses a lot of electricity, and the heater uses a lot of propane due to the fact that a lot of the hot air is exhausted outside of the RV (just touch your hand to the exterior of your RV in the cold winter months and you'll see what we mean!).
If you plan to stay in places a few days at a time and you're choosing campgrounds that have unlimited electricity built into their overnight camping fee, then it makes sense to invest in an electric space heater.
3. Use Vent Covers  
While vents do an excellent job of ventilating the air in your RV in order to prevent mold, they're also a major source of heat loss.
This is where a vent cover comes in.
Vent covers help keep your RV warm by adding an extra layer of insulation. And, these covers still allow for ventilation to happen so that condensation and humidity build-up doesn't become a problem. This way, you can stay warm without having to worry about any mold growth.
And, if you want to be super cautious about mold growth, you can purchase a dehumidifier to deal with some of the humidity build-up from all the extra insulation.
4. Purchase or Rent a Smaller RV 
If you're still in the RV shopping process, consider sacrificing size for warmth.
Smaller spaces use less energy and warm up quicker. Plus, the less electricity and propane you use, the more money you save each month.
Unless you're traveling with a big family, sacrificing space in your RV shouldn't be a huge issue.
Plus, with the money you'll save by purchasing a smaller one, you'll be able to splurge on the occasional hotel room when you feel like you need some extra space.
5. Invest in Thermal Sleeping Bags 
Another way to ensure you stay cozy in your RV during those cold winter months is to invest in thermal sleeping bags.
When choosing a thermal sleeping bag, it's best to choose one that has a lower temperature rating than you actually expect to encounter. For example, if you don't expect to encounter weather colder than 30 degrees, we still suggest you get a sleeping bag that can warm you up in 20 degrees.
This way, if you become too warm, all you have to do is shed a few extra layers of clothing.
Some thermal sleeping bags even come with hoods, which great, as we tend to lose a lot of heat through our heads.
6. Prepare Your Pipes 
Preparing your pipes for the winter months is essential if you want to keep your RV running smoothly.
By preparing your RV plumbing system, you'll increase the longevity of your pipes and hoses.
During the cold winter months, pipes, hoses, and tanks receive a beating if they're not protected from the elements. To get your plumbing ready for the winter months, here's what you should do:
• Keep your fresh air water tank empty and instead use bottled water for drinking, dishes, and brushing your teeth (this will eliminate the issue of the freshwater freezing)
• If you do decide to use freshwater, insulate your pipes beforehand
• To prevent black waste from freezing, pour antifreeze down the drain and toilets
7. Insulate Your Water Heater
Last but not least, you should insulate your water heater during the winter months.
Insulating your water heater will help keep your freshwater at higher temperatures. Even though the entire purpose of the water heater is to keep your freshwater warm, in extremely cold environments, even the best water heater has the potential to freeze.
When water is in a frozen state, it expands, which can then result in cracked and burst pipes. You should also check out this guide to learn how to keep RV water hose from freezing.
Are You Ready to Go Winter RV Camping? 
Now that you've read this guide, you should be ready to go winter RV camping.
Now, all you need to do is select your destination and hit the road.
And, if you liked this article, be sure to check back in with our blog for more RVing tips and tricks.
We are happy to present this collaborative post to offer valuable information to our readers.