To see Part One of this live-blog, click here
DAY FIVE– Belize City, Belize, formerly British Honduras, Centro America
8:20 AM We have decided on a leisurely approach today, so we have some time to lounge around the room, get all coffeed up and, of course, stuff yet more food down our gullets this morning before we even think about heading ashore.
10:30 AM We are anchored a few miles offshore, there's no port for ships this size in Belize City, so we head down to deck 3 to board a tender to take us to the mainland.
The tenders are hired from on shore so our first encounter with Belizeans is our crew. The young deck hand, James (he says we can call him King James), gives us the brief safety talk with humor and panache.
10:50 AM We climb off our tender at the "Tourist Village" which completely lives up to its name.
It is crap shop Nirvana, but we find an internet cafe here that has real live high speed internet.
After four days at sea this is a luxury. The WiFi on board the ship is extremely slow, but it makes up for it by being very expensive.
12:00 PM After using every second of our hour of internet time we are ready to wade into the city.
As soon as we exit the confines of the tourist village we are accosted by locals wanting to braid Veronica's hair, take us on tours or sell us various crafts, local items or ganja.
We pass.
12:20 PM The farther from the dreaded tourist village we get, the less sales pitches we receive, so now we can check out the town in peace.
The first point of interest we come upon is the semi-famous Belize City Swing Bridge. This is the only hand operated swing bridge in the world that is still functioning.
1:15 PM We have worked up an appetite walking and follow our noses to about a half dozen makeshift stands set up in the park.
Local ladies are cooking up all kinds of interesting dishes. The first offering is a selection of tamales, some wrapped in the Mexican-style corn husks but others in banana leaves.
We opt for chicken filling in banana leaf. It varies from the Mexican variety in more ways than the wrapping, the corn meal is ground much finer giving the masa a different, smoother texture, and the chicken filling is whole pieces of bird, bones and all.
A bit more work, but well worth the effort.
In the next booth over a lady has several large pots going with rice, beans, chicken, stew meat and something she calls stew beans and pig tails.
What the heck, we're game, so she dishes us up a bunch, complete with a large chunk of tail, on a bed of rice and we dig in.
While we eat, she offers us some "onion sauce" to go with it, which looks to be just onions and habeñero peppers in vinegar. Oh yeah, that's the ticket, street food at its finest.
We sit under an umbrella with the locals, chatting them up.
To a person, each tells us that we should come next time by plane so we could stay longer.
We laughingly ask if we could stay in their homes and, touching our hearts, they said of course.
One man even offered up his mother up to cook for us! This sparked a lively debate on whose mother was the best cook and which would be the most happy to have us as guests.
The people of Belize are among the most gracious we've met.
2:00 PM Even though this is the largest city in Belize, it has a small town Caribbean feel, no skyscrapers here, but many colonial era churches, houses and government buildings catch our eyes. The clock tower an the Supreme Court is especially interesting.
Click here to see more of our antics in Belize
3:00 PM It's getting pretty hot out so we duck into a little bar on the river by the swing bridge for a cold beverage, Biliken, the local brew.
A young lady at the next table, Melissa, strikes up a conversation and fills us in on some of the history and customs of Belize.
She tells us how there used to be quite a hootenanny when six men would manually open the swing bridge twice a day.
Every morning and evening a crowd would gather to watch the spectacle as the
fishing boats would head out to sea and then back up the river.
Unfortunately, now the bridge is only opened to let boats run upstream to seek shelter from hurricanes.
She also mentions that stew beans and rice with pig tails is the favorite local food.
Feeling pretty good about accidentally stumbling onto that, we head back toward the dreaded tourist village to catch a ride back to the ship.
3:30 PM Back at the tender dock and just by luck we get King James again.
He greets us with "How was your day? Was it un – Belize – able?" He knows how to work it, and the tips flow.
Click here to see more of our antics in Belize
10:30 PM Norwegian Cruise Line's signature chocolate buffet. Holy crap this is the most chocolate ever assembled in one place!
Cakes, pies, pastries, bars, tarts, cheese cakes, mousse, fondue, brownies… it's sensory overload with ice sculptures.
Hold on, there's something else, giant chocolate artwork. Spanish fans, a four foot Eiffel Tower, even the sign at the entrance is made of chocolate.
The passengers have gone insane, piling enough cocoa-based desserts onto their plates to feed the entire Guatemalan army.
The chum's in the water and this is starting to get scary, we've got to get out of here before someone loses a limb in the feeding frenzy.
WATCH:

We grab a chocolate-covered chocolate bar dipped in chocolate fountain chocolate topped with chocolate ice cream and chocolate sprinkles as we dash for the door.
It's coma time.
7:30 PM The entertainment tonight is Romano Frediani, billed as an "Action Comic," combining spectacular juggling feats with humor and audience participation.
Mr. Frediani comes from a long line, seven generations, of circus performers and jugglers and is top-notch.
Guess he would have to be to stay working as a juggler these days.
11:00 PM We are greeted by another of Florence the Fabulous Steward's creations.
A fuzzy towel cat.
How will we ever learn to live without Florence?
Who will make our fuzzy towel animals?
DAY SIX – Yet another "Fun Day at Sea." It's all fun & games
9:15 AM With no port to visit we sleep in and simply lay about. Honestly, we're exhausted.
12:00 PM Lunch buffet. Yes, exactly noon, Capt. Borg just announced it on the intercom, along with our position (21 degrees north in the Yucatan straits) and the weather (sunny and 26 Celsius) which is gorgeous. Thanks captain. David proceeds to eat enough for any three people, using the excuse that we missed breakfast. Oink.
1:15 PM We just walked by a passenger using a walky-talky to keep up with his family while on the ship. Wicked smart.
GypsyNester Note – Electronics at sea:
We have been on board long enough now to have some ideas that might be helpful for using electronics on a cruise. Some of these may vary from ship to ship. Our cabin only has one U.S. Style 110 volt outlet and a "for razors only" plug in the bathroom. With two computers, two phones, camera battery charger, curling iron and razor, this takes some finagling. The "razor only" plug can only handle low wattage items but it seems fine for the phones and camera. We have managed fine with rotating items in and out of the cable outlet but for future reference, it wouldn't be a bad idea to bring a multi-plug extension cord or adapter.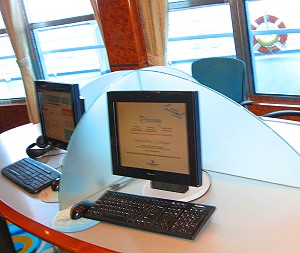 The internet on board is slow and expensive, about fifty cents a minute depending on the amount of time bought. It comes from satellite feeds which are slower than the high speed we are used to.
They have blocked sights that suck up large amounts of band width, like YouTube, in an effort to keep things moving better, but there is no way video would load at the speeds involved anyway.
Computer stations are set up, as well as Wifi for laptops and smart phones. Internet cafes are available at many ports, this would depend on the cruise and the destinations. We have been able to use our AT&T Connect USB card when we have been close enough to shore in the U.S. (parts of the first and last day).
3:00 PM "Afternoon Showtime: International Crew Show" Our cabin steward and Towel Animal Rembrandt, Florence, invited us to this production for our last big day at sea, as she is dancing in the show. It looks like a lot of fun for the crew, mostly the younger members. Several singers, a dance team and a magician get the chance to show off their talents in a great theater in front of a big crowd.
We think this is an excellent time to thank our favorite crew members by showcasing them to you with this video. They really are incredible people. Not only was every one of our needs met, they were anticipated – almost to the point of freaking us out a bit. Be sure to watch, as quite a few questions you might have about cruising are answered by our incredible shipmates.
5:00 PM BINGO! Time to use the bingo cards we won at Jeopardy! Here's our chance to turn that prize package into $5000.00.
5:45 PM Needless to say, no one won the $5,000, but we came pretty close, only $4962.50 shy.
5:20 PM We win the very first game!
Downside, we have to split the prize with another winner and the first jackpot is the smallest.
Still, it's $37.50 we didn't have a few minutes ago.
Exactly 6:51 PM The sun disappears into The Caribbean Sea with such aplomb that it receives a hearty round of applause from the passengers gathered on the aft decks to watch. We even get a tiny taste of green at the very last instant. Not a full green flash, but more of a green blip. Gorgeous.
Exactly 6:52 PM Sports Bar for a walk-by. March Madness is going on and David needs to peek in periodically to see how his bracket is holding up. Before we left, David was concerned that he wouldn't be able to keep up, but the games go on…even in the middle of the sea. The Sports Bar is wall to wall sports, complete with made-to-order chicken wings and fish & chips, included in the base price of our tickets. No need to plan around your favorite team schedules, gentlemen.
8:30 PM Walking back to our cabin after dinner we see another walky-talky toting passenger. Maybe she's on the other end of this afternoon's dude. Still think it's pretty smart.
9:30 PM Feeling lucky, we attempt to double our winnings in the ship's casino.
We whomp down $37.50 down at the blackjack table and we soon have $87.50. Sweet. We leave the table.
Problem is, Veronica is convinced that she is a roulette savant. Yup. The biggest sucker game in the world and she's convinced that she's somehow good at it. Our winnings tumble down to $57.50 before she realizes she could be mistaken.
10:30 PM Another Fuzzy Towel Thing. The rolling of the ship has tumbled it over on the bed and messed it up a bit.
We're guessing it was a seal or maybe a ray, but, try as we may, we can't fold it back to its proper position. We're calling it a new towel art form, the space shuttle.
We decide that the shows and entertainment are WAY more fun than the casino.
Shona, our Cruise Director, has to be the hardest working woman in show business. It is a truly original cast of characters she has assembled here. We don't think she sleeps, she is everywhere.
Check out a small sampling of what our ship has to offer (there is truly something for everyone and we couldn't possibly have hit every highlight):
DAY Seven – Key West, Florida
8:00 AM Since Key West is back in the good old U S of A, we have to clear passport control before we can go ashore.
It's a pretty short stop here, we sail again at one o'clock this afternoon, so we are stuffing our faces once again at the buffet on the aft deck, overlooking the harbor and a few smaller cays.
9:30 AM Legally cleared back into the country, we head ashore.
The ship is docked a the navy pier so we are not allowed to walk anywhere.
We have to be taken off the base so we board a goofy tour "train" to take us into town.
9:45 AM Silly as the "train" is, we get a little bit of a free tour from the "engineer." He points out the ending point of US highway 1, the "Little White House" where President Harry S. Truman spent eleven vacations during his terms, and Key West's most famous resident Earnest Hemingway's house.
9:55 AM Dropped off at the corner of Duval and Front Streets, we walk up Duval to Sloppy Joe's, Hemingway's favorite watering hole. At least that's what they tell the tourists.
10:35 AM We happen upon "The Conch Republic Office of the Secretary General."
Having been to Key West before, we are somewhat familiar with this. Back in 1982 Key West declared itself the independence Conch Republic in protest over a United States Border Patrol blockade.
A seventeen mile traffic jam backed up when the Border Patrol stopped every car leaving the Keys for the mainland, supposedly searching for illegal immigrants.
The hit to tourism was huge so the people staged a nonviolent, one day revolt and celebrate their "Independence Day" on the anniversary every April 23rd. The blue Conch Republic flags can be seen all over Key West.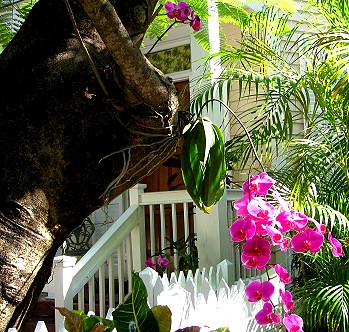 10:55 AM One of the coolest things we remembered about Key West from our previous visit were the neighborhoods of little bungalows and the gardens packed into the tiny yards, no sprawling lawns here.
We find a quintessential example of one that just happens to be for sale so we call to see what one goes for.
WOW! $795,000.00 for this one, but it does include a guest house in back.
The realtor says he has others around half a million. Looks like being eccentric can be expensive.
Click here to see more Key West
11:15 AM With our limited time, we duck into Willy T's for a quick conch chowder.
Conch is sort of the national food of The Keys ever since colonial times when the shellfish was the only food that the king didn't tax.
The chowder is tasty and Willy T's is a hoot, with hundreds, if not thousands, of dollar bills with notes scrawled on them by previous patrons stapled to every available surface.
An establishment really needs to be quirky to make it in Key West.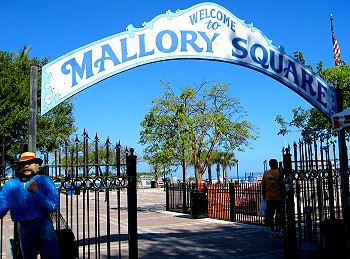 11:50 AM Back at Mallory Square by the goofy train "depot." Mallory Square is the site of the famous Sunset Celebration every evening.
We have to leave well before sunset today, but we partook in the celebration years ago and it is definitely the highlight of any day in Key West.
Trained housecats, circus acts, jugglers, clowns, psychics, musicians, artists, street performers and pretty much every kind of dog and pony show gather to entertain, ply their wares and hopefully make a little money every single day as the sun sinks slowly into the sea.
Later, many of the acts can be found in the gin mills on Duval.
Click here to see more Key West
12:25 PM Back on the ship, we've been having so much fun and there is always something to do, but today, it's nap time.
7:30 PM
Headliners Elvy Rose and Rod Long put together a big farewell extravaganza variety show. We have been pleasantly pleased with all of the entertainment on board and must say, Cruise Director Shona has done an excellent job. She is tireless.
10:30 PM Still awake and ready to rock (thanks to our naps), we decide to venture out for the first time REALLY late at night to see the more "adult" side of things.
So far we have skipped the dance parties, avoided the hot tubs at night and, other than our evening at the casino, have left the spring-breakers alone.
They were very easily avoided, as we have kept completely different hours and have wildly different goals for our cruise experiences – but tonight, we venture in with purpose, we have napped and are feeling a bit feisty.
10:45 PM "Action Comedian" Romano Frediani is hosting Adult Quest. Billed as "a little bit naughty, a little bit racy, and totally hysterical! Not for the easily offended." We've found our entertainment.
Walking in to Dazzles Disco we notice something is afoot. The very same college men we watched play dazzlingly poor drunken blackjack last night have now passed their threshold for alcohol abuse. Things are turning ugly.
An altercation is a-brewin'. Out of nowhere, before a fist can fly, security is out in force. Wow, impressive.
We look around and can't figure out from where they came. They must lurk behind hidden doors, waiting. We begin to wonder if there is a drunk tank or brig in the bowels of the ship.
The opening act over, it's time for the spring-breakers to really shine (we decide not to take any visual documentation of this extravaganza, as our website is not Girls Gone Wild – hopefully these are hard-working students blowing off a little steam).
The room is broken up into teams and Mr. Frediani starts announcing the "quests." They start off tame enough, and ARE really funny – first team to send a male to the stage with an empty female's purse wins. Contents of purses go flying everywhere, many on the stage itself.
Things start to deteriorate when the contestants are asked for false teeth – and after a few brave older passengers bolt for the stage, teeth in hand – our Emcee announces he would have been happy with a comb. The spring-breaker's groan.
Wow, OK-ay. We need to stop here – let's just say a liquored-up young lady doesn't pause a moment to shuck off her bra from under her dress and place it on a friend's head to win a contest.
That HAS to hurt the sunburn.
DAY EIGHT – Port Canaveral, Florida
7:30 AM Awake to to musical voice of Shona announcing that we are in port and cleared with the authorities so disembarking can begin. We are not in any hurry, but we haven't even considered packing yet, so we figure we might want to start stirring.
8:10 AM We discover our final bill on our door. It's stuck in the numbers on the outside where they have been putting messages throughout the cruise. It's about what we expected.
Drinks are not cheap (between $5 & $10) and a $15 per bottle corkage fee was charged for the two bottles of wine we were allowed to bring aboard with us ( be careful – you don't spend real money on the ship, you have an onboard account. It's easy to lose track!).
Internet is talked about throughout this live-blog, so we won't recap here. If you don't want to be hit with a whopper of a bill, BE ON VACATION, let the internet go.
Because we were live-blogging, our internet charges were $192.70.
8:45 AM With a quick shower under our belts and a week's worth of dirty clothes stuffed in our bags, it's time to stuff our faces one last time.
9:30 AM On our way off the ship. The entire Cruise Director Staff is on hand to extend a fond farewell to everyone as they disembark. We chat and say our good-byes with Caitlin, Fish, Rommel and, of course Shona, only find out that they are heading right back out to sea this afternoon. Yipes! No rest for this incredible team.
10:15 AM Waiting for the hotel "park & cruise" shuttle bus. Spring-breakers are looking worse than us old folks.
Maybe one day they'll learn how to have fun without feeling like they've been run over by a Guatemalan bus the next morning.
11:15 AM After a bit of a wait, we are back on BAMF and ready to resume our usual "the plan is no plans" lifestyle, but must say, NCL's "Freestyle Cruising" fits in with that attitude quite well.
To see Part One of this live-blog, click here
David & Veronica, GypsyNester.com
Your Turn: Feel free to leave a comment below or share a story about a cruise you have taken! Don't forget to add your cruising tips!