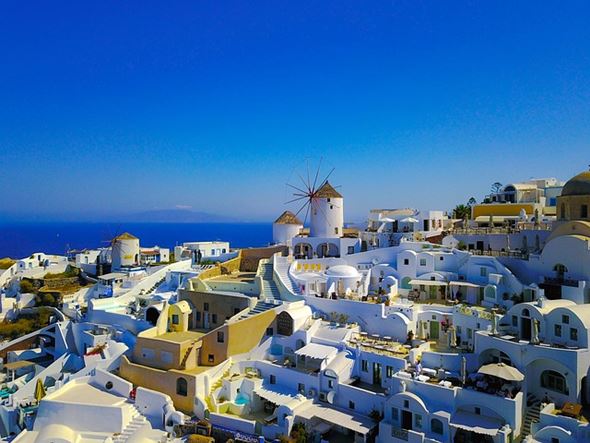 When you are officially Mr. and Mrs., you are going to leave your friends, relatives, and worries behind to have some quality time with your spouse, enjoy life a bit, and probably make the third member of the family. Are you the type of couple that wants to hang out on the world's beaches, experience culture and architecture in different parts of the world, or you only want to unwind in a new country? Whether you want all of that and or not, we have a suggestion for ten best honeymoon destinations you can feel at home.
1. Brazil
The home of soccer has some of the most beautiful beaches in the world. There are also many hotels where honeymooners can spend their time. Most of them have pools, spa, and gardens. There is so much for you to see in Brazil to make your honeymoon enjoyable.
Some of the activities you can do on this budget destination is visiting the museum and sunset viewing.
2. Greece
Greece has a fantastic history especially if the story of Achilles amazes you. They also have exceptional food, and the landscape and architecture are one of a kind.
Enjoy a leisure stroll with your spouse in the villages and busk in the white sand beaches as you unwind. Most hotels organize trips for couples as well.
3. Kenya
If you love wild safaris in the African Savannah, you can choose between, Namibia, South Africa, Zambia, Tanzania, and Kenya.  These are the African countries that have the Big Five, but Kenya is more budget friendly.
You can dine with your loved one in the middle of the jungle while giraffes are watching from a distance and the elephants passing by on their way to a water source.
4. Sri Lanka
Sri Lanka is often described as the homeland of tigers, and for big cat enthusiasts, this can be your destination.
But you won't see the wildlife alone. The country has beautiful beaches, rainforests, and fishing ports. The best way to learn more about these is by reading this Sri Lanka Travel Blog.
5. Honolulu
The first thing that comes to couples mind after they get married is Honolulu. It's one of the biggest honeymoon destinations in America.
The beaches, palm trees, and cultural events make you want to live there forever. You can enjoy a helicopter tour or snorkel with the sharks.
6. Iceland
The European nation is not as icy as its name suggests, but it's fun to visit in winter. Your wedding honeymoon can be worth to remember if you bathe in the geothermal pools of Iceland.
You can catch up with the Northern Lights from September to April and whale migration from April to October.
7. Egypt
Egypt is the land of pharaohs, pyramids, and is an excellent place to be. You can enjoy shopping along the streets of El Haram and visit the old monuments.
The best time to visit Egypt is from October to May and among the ideal places you can stay are the capital Cairo, Luxor and Alexandria.
8. Japan
Recently named as the place to go by "Travel + Leisure" in 2019, there is no doubt that the world's biggest carmaker nation is a place you would love to end up with your better half.
From the neon-lit capital, Tokyo, to the port city of Osaka and the food and culture, you won't be able to exhaust what Japan offers.
9. Dubai
A city in the desert. That's Dubai for you! It's a leading destination for people inspired by skyscrapers, dunes, and entertainment.
You can race with your ATVs in the desert, enjoy Arabian cuisine, and get entertained by belly dancers.
10. California
Tupac and Dr. Dre never told you everything about California. Apart from the fantastic cities, California has amazing coastlines with perfect climates.
It's also the home of Napa Valley, in case the mention of wine makes you restless. Make it your destination.
Conclusion
The world is a great place, and every location has excellent sites. It's all up to you to figure out which destination suits you. If you can afford, visit all the ten destinations.
We are happy to present this collaborative post to offer valuable information to our readers.