With All Hallow's Eve just around the corner, we searched for the most sincere pumpkin patch we could find for a gourd old celebration.
We couldn't have done better for pumpkin pageantry than Sycamore Illinois, and the Annual Sycamore Pumpkin Festival. (The 2023 pumpkin fest is October 25 – 29.)
We kicked off the weekend down on the courthouse lawn with the Lions Club Giant Pumpkin Weigh-in, and got to gawk at an 280 pounder. Not quite up to the new world record, set this year, of 2,032 pounds, but enormously impressive nevertheless.
Equally impressive were the thousands of Jack-o'-lanterns on display in front of the courthouse, in fact, this is how it all got started.
Wally Thurow, Sycamore's "Mr. Pumpkin," began the tradition back in 1956 when he decorated a few pumpkins and set them out in his yard. The town took to it, the numbers grew, then in 1962 the Lions Club helped out and the Sycamore Pumpkin Festival became official.
Here are some of our favorite entries!
Of course the festival also happens to coincide with Halloween, no coincidence no doubt, and that means ghosts, goblins, witches, and even some zombies.
Zombies? Yes, zombies, and playing miniature golf no less. This we had to see, so we were off to the library for a good fright, and to help raise some funds. We managed to escape with our whole brains, but no holes-in-one.
There's more reason to celebrate pumpkins in these parts than just fun and games.
Eighty percent of all the pumpkins produced commercially in the U. S. are produced in North Central Illinois.
By far the majority of those get processed into canned pumpkin, and we know what that's good for… pie!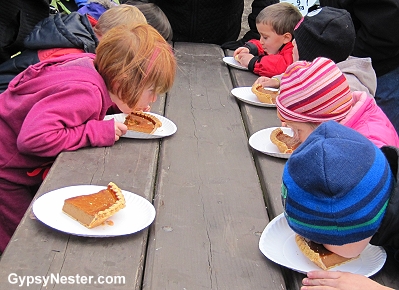 Speaking of pie, what's a festival without some good old-fashioned competitive eatin'? So it was back to The Courthouse for the Kiwanis Pie Eating Contest.
After watching kids, some no more than three years old, speed eat giant slabs of pie Veronica was ready to give it a try in the adult category. Give her an A for effort, but she was not even in the same league as some of the veteran competitors.
WATCH: Ginormous pumpkins, zombie attacks and Veronica's heroic pie eating attempt!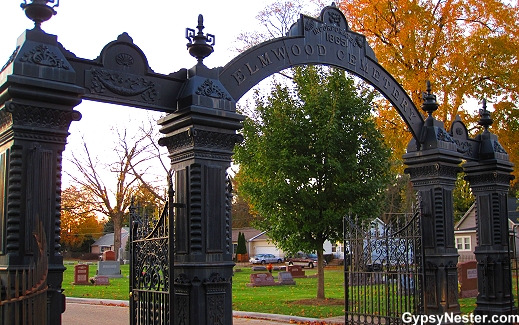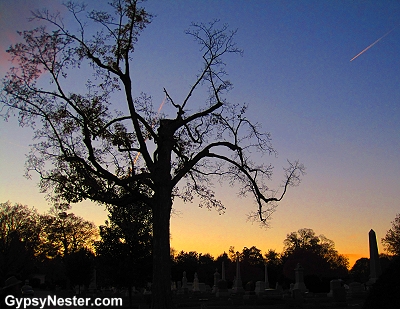 With dusk falling it was time to scare ourselves silly so we headed over to Elmwood Cemetery for some spooky storytelling.
We entered through historic gates (dated 1865, they are officially listed in the National Register of Historic Places)  that looked straight out of a Vincent Price movie.
Local residents took turns spinning yarns to tingle the spine and, as if on cue, a bat flew through the group during the second tale. When the screams subsided the stories continued.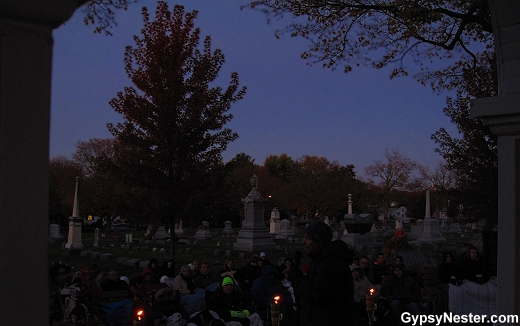 Sunday brought the grand finale of the festivities, the big Pumpkin Festival Parade. We were amazed at the crowd that gathers in little Sycamore – tailgating, dressed in costume and patronizing the non-profit-only food vendors dotting the route.
This is the big fundraiser for many of these do-gooders in the community and we were happy to part with a few dollars for some pre-parade snackage.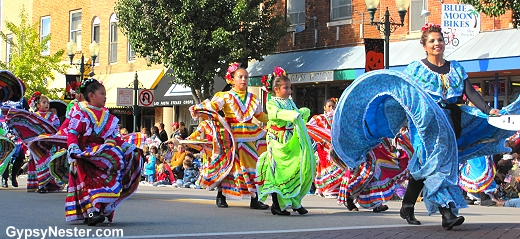 Floats, bands, clubs, politicians and businesses from Sycamore and the neighboring area were all represented in the parade – marching, tumbling, riding and waving their hearts out.
This is small-town America at her finest. With a bit of a scary edge. It is Halloween after all.
David & Veronica, GypsyNester.com
Delve Deeper:

See all of our adventures in Illinois
We LOVE festivals! See more GypsyNester festival coverage
Go to the Sycamore Pumpkin Festival Website