We love Christmas markets!
The festivities, the food, the comraderie, the glühwein – put it all together and we've got ourselves a great way to ring in the season!
But really — you ask — how different can they be? Surely one Christmas market is the same as the next?
Our reply? Not by a loooooooong shot!
Vienna, Austria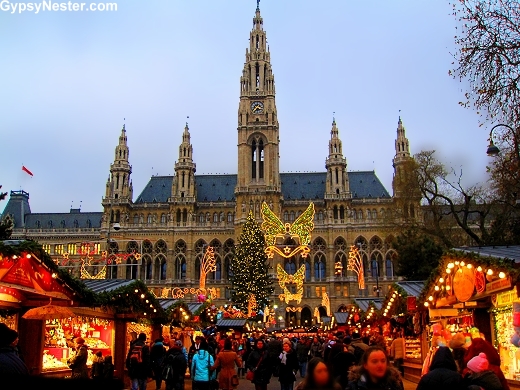 Arguably the oldest of the markets, the Vienna December advent market was the predecessor to the modern Christkindlmarkets, or Christ child markets, and is said to have started way back in 1294.
The idea spread across the Holy Roman Empire, and they remain most popular in the German-speaking regions of Europe.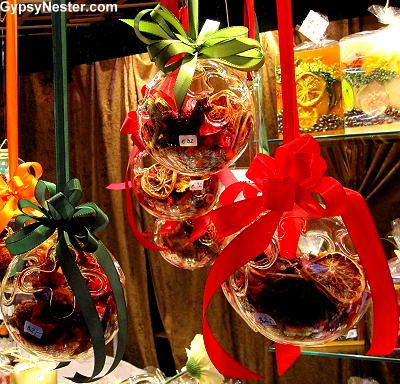 As with most of the cities we have visited there are several markets scattered about town, but the Wiener Christkindlmarkt in the Rathausplatz, the plaza in front of the town hall, is the city's main market.
We were thrilled to wander through the descendant of the world's first.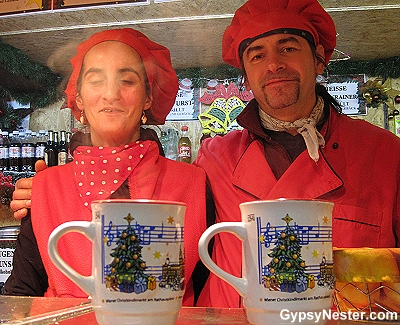 Local delicacies are a big part of experiencing the markets, so of course we had to sample some from the selection of sausages, (that makes them Vienna sausages, right?) and a steaming cup of mulled wine known as glühwein.
The name is said to come from a glowing hot iron used to warm the wine, or maybe it's because this staple at the markets really hits the spot when it comes to keeping the shoppers warm and glowing.
See more photos of the Vienna Christmas Market!
See our entire adventure in Vienna
Salzburg, Austria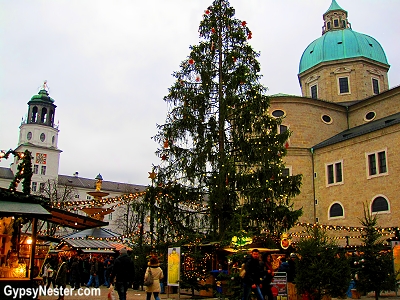 While not the oldest, like its Austrian neighbor, Salzburg has perhaps the biggest and best Christmas market we've visited in the country.
Food and drink are certainly available, but this market has much more to offer in the way of local crafts and unique gift items.
In addition to the city's famous Mozart chocolates, we bought a gewürzstrauss, the traditional spice bouquet that makes anyplace smell like Christmas.
See our entire adventure in Salzburg!
Passau, Germany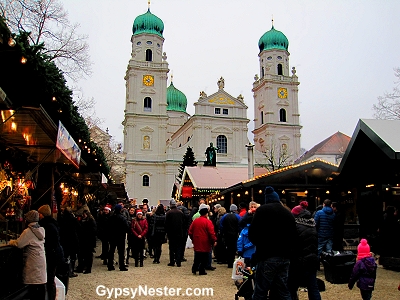 In Germany we visited the Passau Christmas market at the square in front of St. Stephen's Cathedral, a baroque church from 1688.
Here we discovered something new and truly inspired, the half-meter würst.
Wow, that's nearly two feet of sausage!
Did we (meaning David) die and go to heaven?
Unfortunately we had just eaten a huge lunch, so we had no place to put half a meter of würstle.
That minor detail was easily overcome when Sausage Boy devised a würst-case scenario, and snuck his way back a little later to partake of the best of the würst, or at least the biggest.
Sometimes he can be his own würst enemy.
The quest culminated in a legendary half-meter-würst selfie.
See more photos of the Passau Christmas Market and the full story of the infamous würst!
See our entire adventure in Passau!
Bratislava, Slovakia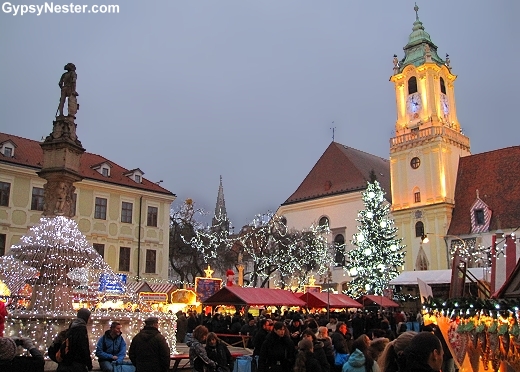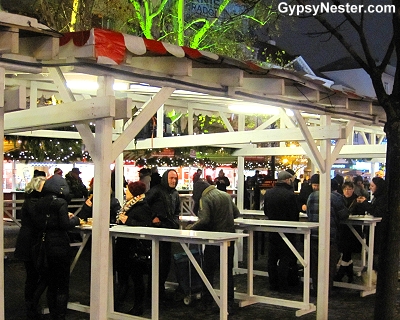 While the markets are most common in the German speaking world, we also found a fun example in Bratislava, Slovakia.
The Hlavne namestie, or main square, was filled with vendors, mostly selling food and drink, and tables under small shelters where the purchases could be enjoyed.
A very social situation and we were more than happy to jump into the middle of it.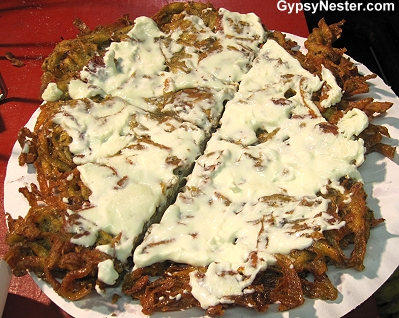 We gave zemiakové placky with cheese a try. This is a pancake made of shredded potatoes — crisp on the outside and chewy within — covered in a layer of mild, yet tangy white sheep cheese.
We gave it two gloved thumbs up, very tasty and stick-to-your-ribs on a chilly December evening.
Nearly everyone warmed themselves with varene vino, the local version of mulled wine, but in a twist we hadn't seen before, hot white wine seemed just as popular as the red.
After giving this regional variety a try, our verdict was that while delicious, it lacked the superior cockle-warming qualities of the red. But the fact that we made our purchase from a vino vender named "The Flinstones" more than made up for it.
Yaba-daba-do (we think)!?!
See more photos of the Bratislava Christmas Market!
See our entire adventure in Bratislava
Budapest, Hungary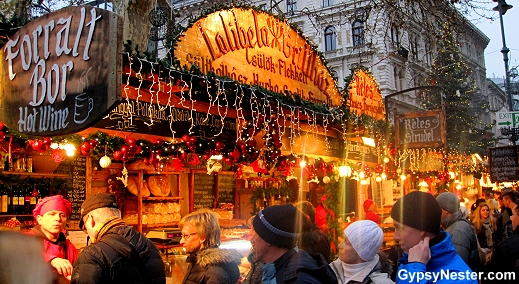 In Budapest, food also stole the spotlight.
On the Pest side of the city we checked out the main Christmas market, a large collection of stands and kiosks all decked out in holiday style.
While there were plenty of booths selling handcrafted gifts, food — lots of food — was certainly the main event.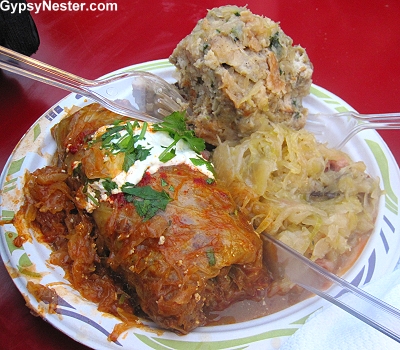 After scouting out all the offerings we ordered a töltött káposzta, that's cabbage stuffed with meat and rice, served with a paprika sauce and sour cream.
Exceedingly Hungarian!
We also couldn't resist a huge smoked meat dumpling with sauerkraut.
To wash it all down, and to stay warm too, we tried the Hungarian version of glühwein, which is called forralt bor, meaning simply "boiled wine."
See more photos of Budapest's bustling Christmas Market!
See our entire adventure in Budapest
Oslo, Norway
On our recent crazy romp across Norway up to the Arctic Circle by train, we found the Scandinavian equivalent to a Christkindlmarkt, a Julmarked, in Oslo.
The Jul, or Yule, celebration predates Christianity but, since it coincides with Christmas, the two have become intertwined.
The Norwegian market was very similar to the others we'd seen, with the exception of the preponderance of elk and reindeer based products.
Plus, what they were calling elk, or more precisely elg, sure looked like moose to us, and we all know they don't really exist.
Flying reindeer, sure, but moose?
No way. (Well, maybe we were wrong.)
See all of our adventures in Norway!
Helen, Georgia
While these European markets all have long histories behind them, the custom has spread far and wide.
Christmas markets are even becoming commonplace throughout the United States.
In fact, the first one we ever visited was a few years ago in the mountains of northern Georgia at the town of Helen.
Their Christkindlmarkt is in keeping with the town's reincarnation as an alpine Bavarian village.
It was only natural that this nearly perfect reproduction of a German town would also feature this seasonal tradition.
See our entire adventure in Helen, Georgia
New York City
New York City also hosts a number of Christmas markets throughout the city. Two of the biggest and most popular are the Winter Village at Bryant Park, and the Union Square Holiday Market.
Surrounded by soaring skyscrapers, Bryant Park's Winter Village began in 2002.
Booths offer NYCcentric wares and food (we saw everything from chimney cakes to sushi), and in lieu of glühwein, New York apple cider is standard fare.
Bryant Park boasts a huge Christmas tree and a full-sized ice skating rink that's twice as big as the rink at Rockefeller Center — and it's free to skate!
The Union Square Holiday Market may not be quite as spectacular, but it struck us as more traditional.
A veritable maze of tents are set up offering all kinds of gifts and goodies that are sure to put even the Ginchiest Grinch in the spirit of the season.
See 10 things you don't know about NYC!
See all of our adventures in New York!
David & Veronica, GypsyNester.com
YOUR TURN: Are you game to give a Christmas market a go? Have you been to a Christkindlmarkt? Tell us all about it below!