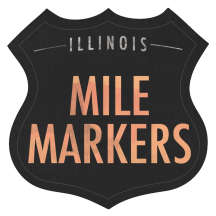 We are proud to be Illinois Mile Markers – thanks to Enjoy Illinois for making this adventure possible! Click here for our full adventure down The Great River Road.
No trip to Quincy is complete without a visit to Underbrink's Bakery, and a trip back to a simpler time when baked goods were made with care, by hand, from scratch and with really cool vintage equipment.
Since opening as a traditional German bakery in 1929, this little shop near Quincy University has been doing just that.
In 1990, the current owner and baker extraordinaire, LeRoy Rossmiller, took over with a commitment to maintain the old fashioned ways. He showed us all of the inner workings while delivering a running commentary popping fresh with humor and sarcasm.
In a nod to Seinfeld's "Soup Nazi," he calls himself The Nut Roll Nazi.
WATCH: It's all in good fun (or is it?) Get verbally abused by the Nut Roll Nazi!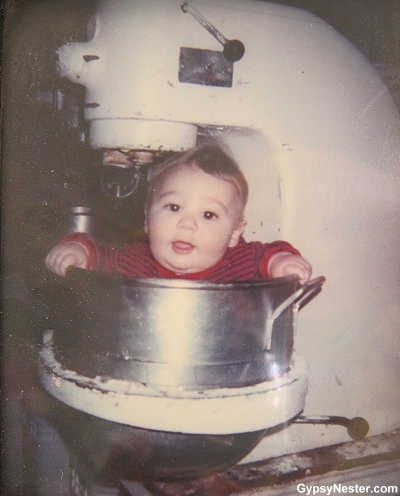 In the customer area, with its display cases that were well worn by the time we were born, LeRoy showed us some of his prized artifacts.
There are hulking antique Hobart mixers, campy trinkets and nic-nacs, and autographed pictures of stars — even a president, all with a slight dusting of flour.
Through the back of the shop we entered the kitchen, where all of the magic happens. Every surface was covered with dough, before or after baking.
There were sweet rolls and "snails" being formed, cookies getting decorated, and cakes being iced. Huge bags of flour, hundreds of eggs, and giant boxes of shortening stood at the ready.
There are no shortcuts, LeRoy explained, the dough must be prepared two days ahead of time in order to bake properly.
Next he showed us the quintessentially low-tech ordering system, a bunch of notes clothes pinned above a table, all the while muttering about dealing with customers.
Behind the character it's obvious he loves his work and it shows, not just in this phenomenal little shop, but in the outstanding cakes and pastries that come out of it.
By the end of our visit, his gruff demeanor had sweetened to the point that he let us try our hands at icing and nutting some of his famous rolls. Then he presented us with the specialty of the house, angel food cupcakes.
They are truly divine.
Click here to see our full adventure down The Great River Road
David & Veronica, GypsyNester.com
Thanks to Enjoy Illinois for making this adventure possible! Our opinions, as always, are our own.
YOUR TURN: Have we inspired you to take an Illinois Road Trip?