The phrase border town will not usually conjure up an image of anything remotely resembling the two Sault Sainte Maries (the Sault portion is pronounced Soo) that lie across from each other where Michigan's Upper Peninsula meets Ontario.
There is a distinct lack of cacti, dust and adobe, but that's not to say there isn't plenty to provide for a different type of fiesta.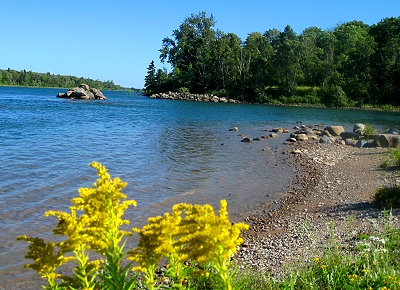 The spot has been inhabited since 1668 when French Jesuit missionaries named it Sault Sainte Marie, from the archaic French word sault, meaning tumble or jump, as in somersault, and refers to the rapids of The St. Marys River.
Soon after it became an important outpost for fur traders.

We first passed through on our way up to our northern neighbor, but on our way back down we really got to absorb the personality of these twin towns.
The Canadian sibling is the larger, but to us, the less intriguing of the two.
We aren't trying to be negative, it is a lovely, clean, and even sometimes quirky city of 75,000.
Very bike friendly, so we rode all through the outskirts, spotting this disturbing cow pile sculpture at a dairy, and then pedalled our way downtown.
The heart of the city has a feel a bit like a college town, which in a way it is.
Over ten thousand students attend Algoma University and Sault College.
But it didn't sport any of campy nostalgic atmosphere we found south of the border.
The much smaller Michigan version of Sault Ste. Marie, around 16,000 people, has kept the feel from its tourist heyday of half a century ago, especially in the old area right across from the locks.
The Soo Locks connect Lake Superior with Lake Huron by bypassing the rapids that gave the towns their name.

When the giant freighters come through to be raised or lowered the twenty one feet of elevation that separates the two sides, it is without a doubt a spectacle worth seeing.
We happened to show up just in time to see the largest ship on The Great Lakes, The Paul R. Tregurtha, make its way through.
At over a thousand feet long and a hundred feet wide, The Paul barely fits into the largest of the four locks, The Poe Lock, with just ten feet to spare.

The system of locks has been making shipping between the lakes possible since 1855, constantly being upgraded and expanded.
Of the four that exist today, only two are used with any regularity.
Still, over 10,000 ships manage to pass through every year.
Watching these big boys squeeze into the locks has been a popular attraction since they were made, and accommodating the watchers gave birth to an interesting lock-side district.

We strolled across Portage Avenue and back in time.
The motels, restaurants and tourist traps looked like pictures from those postcards our parents used to send home from their road trip getaways.
Most managed to get the word lock into their name with varying degrees of cleverness.

Having a hankerin' for some fish right out of the lake, we sauntered on in to Goetz's Lockview Restaurant.
Lucky for us the food was much better than the originality of their name.
We opted for whitefish and walleye, both right out of the water and prepared one of six ways.
We could have gone with deep fried plain or Cajun, or grilled with lemon butter or Cajun spices, but since Louisiana is a long, long way away, we chose broiled and lightly pan fried.
This was not the first time the folks at The Lockview had served up a slab of fish, and it showed. Light, flaky, and all around delicious.

Walking it off after dinner, we took a pass on dessert at the Fudge du Locke, the name just wasn't appetizing to us.
Maybe everything doesn't sound better in French.
The next day we broke out the bikes and took a ride around the rest of the town.
After passing through a neighborhood of charming Victorian houses, we made our way to the outskirts to take in the scenery along the shoreline of the river.

For the folks living along the banks of The St. Marys, it's all about the water.
Can't say we blame them considering the Hamms beer sign like views we found everywhere we looked. It was enough to get us singing, "From the land of sky blue waters…" over and over again.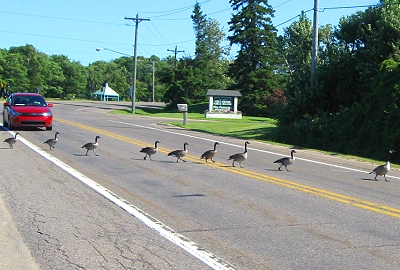 As we worked our way back into town we found that the river also provides a beautiful backdrop for watching the cargo carriers passing by.
Watching the ships seems to be the number one pastime in these parts, and one of the local's favorite spots to do it is at The Antlers Restaurant.
Our timing was perfect, we were coming up on it right as we were feeling the need for bite to eat and perhaps a chilled beverage.
All that singing about sky blue waters had made us a more than a little thirsty.

The Antlers is a classic Northwoods watering hole, completely festooned with mounted heads and stuffed carcasses from floor to ceiling.
At first glance that seemed normal enough, a moose head (or a fake one according to Veronica), a whole deer, a large muskie, a buffalo, assorted wildcats… but on closer inspection we noticed that many of these creatures would never make their home anywhere near this place, some not even on this continent.
What's that rhinoceros doing in here?…

Or a hammerhead shark…

Or a polar bear?
Well the story goes, or perhaps tall tale is a better description, thirsty backwoods types would periodically wander in and trade whatever they had for a few belts of the hard stuff.
Often that meant handing over their latest taxidermy-ed trophy.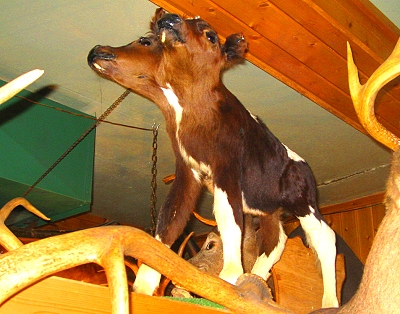 However the menagerie was acquired, it is quite a collection and provided more than enough material to keep us entertained throughout dinner and a couple cold ones.
In fact, it was enough that we were talking about it for several days after the two Ste. Maries were long gone in our rearview mirror.
David & Veronica, GypsyNester.com