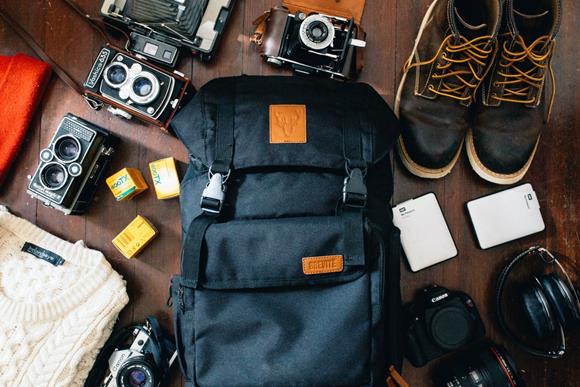 When planning travel there is a lot to think about: flights, accommodation, insurance, payments, and health and security – to name just a few!
Being well organised will avoid a raft of minor (and major) inconveniences which can mar your trip, as well as letting you get the most out of your money and your time.
If this sounds more like hard work ten a holiday, never fear: we have compiled a list of the top ten tips for an organised trip, to make everything go smoothly with as little stress as possible.
1. Set Up Flight Alerts
Although as a general rule flights will be cheaper the further you book them in advance, fares can go up or down. Set up fare alerts for the date and destination(s) you would like to travel to on sites such as Kayak or Skyscanner, and you will notified as soon as flight prices drop so you can immediately book your tickets.
2. Use Flight Booking Sites But Also Check Airlines' Sites
Sites like Kayak, Skyscanner and Expedia are great for comparing fares across different airlines and finding the best deal. However, sometimes you miss out on features or services by booking via the site rather than directly with the airline, such as upgrading your luggage allowance while booking.
For this reason the best approach is to use multi-airline sites to find the best deal, but then go to the actual airline's site to make your booking.
3. Buy Extra Luggage Allowance Online
The great thing about travel in 2018 is the range of budget airlines around offering some incredible bargains on fares, including international and intercontinental routes. However beware that many of these fares do not include any baggage allowance which will need to be purchased separately.
It is much cheaper to book extra luggage online in advance, rather than on check in. In some cases the prices to buy extra luggage are divided into three tiers: price available on booking, price when purchased online before or during online check in and price when purchased at the airport.
So be sure to check the luggage allowance included in your fare and buy any additional luggage you need well in advance.
This is also a good time to check about any rules for flying with an emotional support animal.
4. Book Luggage Storage In Advance
Storing suitcases is often necessary during a trip, for example while you explore for the day between checking out of your accommodation and moving on to your next destination, or while making the most of a stop-over on route to somewhere else.
Finding somewhere to securely store you luggage will mean you can make the most of this time and use the extra day to explore more of your destination. Save time and often money by booking your storage online in advance.
5. Investigate Vaccinations
No matter your destination, you should always check with your doctor to see if you will require vaccinations. There is nothing worse than ruining your trip by getting ill, and travel to certain parts of the world can expose to some serious illnesses! Even if you have had vaccinations for previous trips it is important to seek medical advice as most vaccines last only 2 to 5 years (which varies depending on the vaccine) so you may need a booster.
Be sure to consult your doctor at least 6 weeks before your trip, as some vaccines require a series of injections and a certain amount of time to come into effect.
6. Check Your Mobile Roaming Plan
One sure fire way to blow out your holiday budget is by racking up a sky-high mobile phone bill through international roaming charges. Make sure you know how much your phone company will charge you for phone calls, texts and data, as well as if you need to do something in particular to turn on roaming. Beware that some companies charge you to receive text messages while overseas even if they don't when you are at home.
Excessive data charges is often where people are tripped up: you may not even be realising that your phone is automatically downloading emails or performing updates until you are hit with steep data charges on your next bill. A good bet is to turn off data on your phone while you're away and use wifi, which you will find at hotels and cafes everywhere, instead.
7. Inform Your Bank
Avoid having your ATM or credit card suddenly blocked due to unusual usage by making sure you inform your bank that you will be travelling, and let them know where you will be going and when. These days most banks will let you do this online through their online  banking system so it's as easy as completing a simple form, which can save you a lot of hassle later.
8. Look Into Visas Before You Leave
Another important aspect to arrange before you go on any international trip are visas. Many countries have visa waiver programs particularly for citizens of the UK, the EU, Australia and the US, or a "visa on arrival" which simply means paying a small fee to customs and immigration after you land.
However, in other cases you must purchase a visa online before you leave and your airline will not allow you to board your plane without seeing proof of your visa. All visitors to the USA, for example, must apply for a ESTA "visa waiver" even if they are just transiting through the country and will not leaving the international terminal.
Be sure to check this in advance, and arrange and necessary visas: which can usually be done online, although sometimes you may need to go to the local Embassy. In either case, these often take a few days or more to process, so be sure to arrange this at least a week before you fly.
9. Check Other Entry Requirements
In other cases, you will not need a visa but customs and immigration will have specific requirements, so you should check this before flying and have everything prepared. The most common requirements are proof of onward travel (that is a plane booking or something else to show when you are leaving the country again), proof of vaccinations against certain diseases and sometimes even extra passport photos.
Make sure you have a copy of your return tickets on your phone – usually a screen shot of your booking is sufficient for customs officers and airlines. Also carry proof of your vaccinations with you – your doctor should give you a document for this.
10. Change or Take Out Local Currency At The Airport
You finally arrive at your destination – you've made it! You survived the long flight, got through customs, thankfully your bags arrived with you and you grab a taxi at the airport. Upon arriving at your accommodation the taxi asks to be paid and you suddenly realise you have no local currency!
In the past travellers went to the bank before heading off on a journey and changed money, along with picking up some travellers' cheques. Luckily things are a lot easier these days. Almost every airport in the world will have a currency exchange station and ATMs, so be sure you use one of these before leaving the airport.
For more travel tips, you check out TravelDepartment.com.
We are happy to present this collaborative post to offer valuable information to our readers.