Sometimes, there's just this overwhelming feeling that washes over you and you just find yourself drooling for some smoked, just-off-the-grill barbecue. You can make your own mouth-watering creations on a Watson's propane grill.
However, if you don't have time or are traveling you can still satisfy your cravings at budget-friendly barbecue restaurants. All you need to do is find the best one.
Here are beneficial tips that can assist you with your quest:
They have perfected the technique
 A good ol' BBQ restaurant should be known for how its methods deliver excellent results. One way to identify if a restaurant offers great barbecue is when other restaurateurs give them positive feedback in their site. They are, after all, the ones who know the steps it takes to achieve the most sumptuous smoked meat.
The best restaurant would offer the perfect:
• Ribs – It's easy to spot if a diner's ribs are cooked well. One red flag that means overcooking is when the meat falls off the bone. That's not what you want. It should be crusty and caramelized outside while still immaculately tender on the inside.
• Brisket – Cooking a brisket properly is one of the most challenging tasks for barbecue restaurants. To tell if the grill master has accomplished the desired technique, you just need to pick up a small portion of the meat and pull it apart. The ideal brisket has some elasticity and shouldn't be mushy in texture.
• Coleslaw – As the perfect side dish to any barbecue meal, an excellent restaurant would keep the cabbage fresh, crispy, and green on the side. Moreover, the mayonnaise sauce should blend well with the meat not fight with it.
• Barbecue Sauce – A good BBQ sauce should help enhance the flavor of the meat. However, if too much sauce masks the meat, it defeats the purpose of grilling since the smoky flavor would be drowned out.
2. They have positive reviews from customers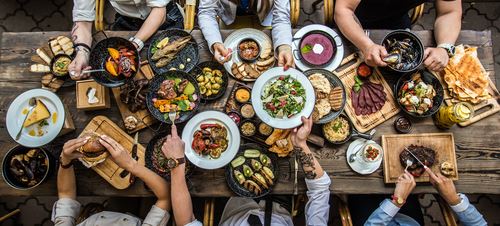 While determining delicious food from the not-so-yummy ones is undoubtedly subjective, a remarkable place should be consistent with how its food tastes. Online reviews from various websites and social media platforms can help give you an idea of how the establishment is faring regarding their product as well as service.
In an article for Forbes, Cliff Oxford noted that owners of barbecue restaurants should have two jobs. One is to cook the meat and the other one is at the cash register. That way, he or she gets to hear both the complaints and compliments.
3. They have polite and happy staff
 Entering the BBQ restaurant should evoke a feeling of warmth and coziness similar to being home. Staff must meet every customer with a sincere smile and greetings from the door to the table. This would vastly improve your dining experience and allow you to enjoy the delectable food offered to you.
Additionally, staff should know what they are offering you. A decent restaurant provides its staff with adequate training before they can approach customers. Your server should be able to answer general questions about the food and recommend items based on what you want to eat.
4. They have a delightful ambience
 Eating out should involve all your senses. It is essential that a restaurant's design and décor complement the food. Budget-friendly establishments do not necessarily have to match a five-star place's look but they should still provide you with a pleasant experience. They should at least have comfortable seats and sparkling utensils.
Cleanliness is also crucial for places where you eat your meals. It unquestionably adds points to the diner if you are taken to a spotless table. Check the shop's restrooms if they consistently keep it spick-and-span. There shouldn't be any leaks in the plumbing and fixtures. Floors should be clean and dry while door locks should be functioning well. All of these indicate that they value their customers and train their staff on proper hygiene.
5. They entice you to come back again
 Ultimately, a sign of an exceptional restaurant is when you want to keep on coming back. One of the best things you can do for the owners is to become a regular customer and bring your friends so that they can enjoy the gastronomical pleasures that this restaurant provides.
Conclusion:
 Barbecue restaurants abound in the country. A great way to widen your experience is to go on a road trip based on the different food places you want to try out. On trips, you can make friends along the way and have them recommend hole-in-the-walls that may just become your new favorite must-eats.
We are happy to present this collaborative post to offer valuable information to our readers.