Another fun post from our daughter, Charli, AKA The Piglet!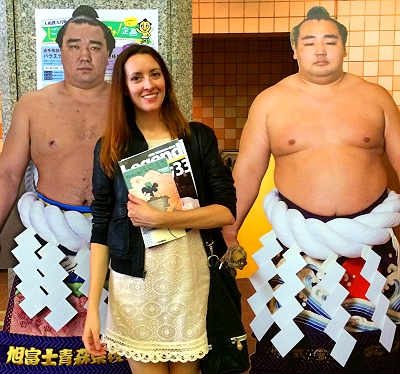 There's a misconception that sumo wresting is just a couple fat dudes bashing into each other, but there's actually a lot ritual, a lot of skill, and a lot of training that goes into those fat guys bashing into each other.
Sumo tournaments are held three times a year in Tokyo and I was lucky enough to be in town during this year's September matches.
Japan's national sport is held at Ryogoku Kokugikan where more than 11,000 spectators cheer on (and sometimes get crushed by) their favorite competitors.
​The fights are much more intense than I ever expected.
The tournament runs from morning until 6pm, with the best fighters at the end, and though each match generally lasts only a minute or less (the best go longer), you're on the edge of your seat.
Wrestlers are often hurled out of the ring, landing on the judges and fans lucky enough (and brave enough) to occupy the ringside seats.
There's a lot of ritual at the tournaments too. Wrestlers throw salt to purify spirits, announcers sing out the competitor's names to begin the match, and wrestlers peacock in the ring lifting their legs high and slapping their muscles.
The minutes in the ring before the match are when wrestlers have a chance to show their personality and intimate their opponent.
Ringside seats are Japanese box style, where you sit on a cushion on the floor; the ticket website warns "There is the danger of suffering injuries due to falls from the ring by wrestlers and other participants."
Totally worth the risk of crushing in my opinion.
I was up on the second level in the "western style" seats, similar to what is typically found in an American stadium.
While the best seats sell out far in advance, the very top level seats are reserved for the morning of the matches and only sold at the stadium.
Before going, I watched a documentary called A Normal Life. Chronicle of a Sumo Wrestler that follows Takuya Ogushi, a recent high school graduate who enters a sumo stable in Tokyo, through his first year of training and matches.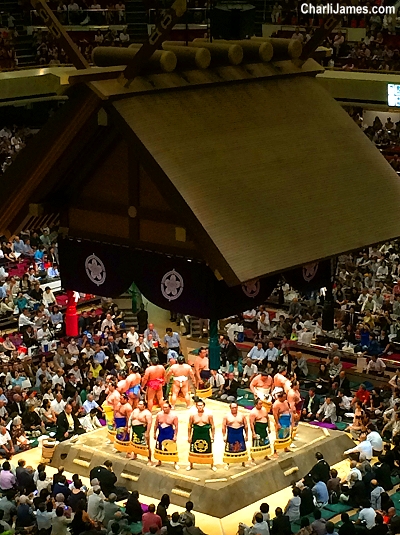 These modern warriors eat (a lot), sleep, train and play together, forming a bond more like brothers than teammates. I watched as Takuya Ogushi put on 90 pounds and gained respect for the heart it takes to make it as a sumo wrestler.
I strongly recommend you watch before going to get a background on what these athletes do to succeed.
At the match, I rented a radio that feeds English commentary for the two hours of the highest-level matches. Learning about each wrestler's background, styles and fan bases really adds to the experience.
My favorites were a 21-year-old Mongolian wrestler named Ichinojo who is kicking butt in his first season in the highest bracket. And another named Endo who, while his record isn't stellar, is apparently quite the ladies man—he draws scores of female fans who love his "sweet exterior," according to the radio commentator.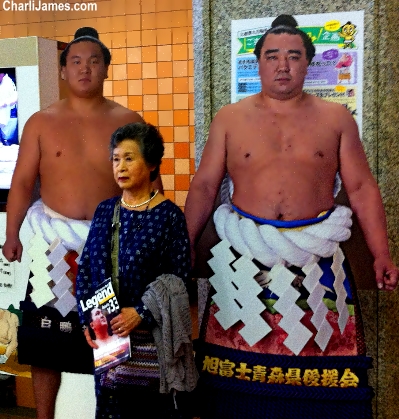 Another fun part of the experience is watching the wrestlers arrive at the stadium.
Fans line up along the route from the street to the stadium and are able to get close and root on their favorites.
Watching old ladies losing it over being close to a giant wrestler is pretty great.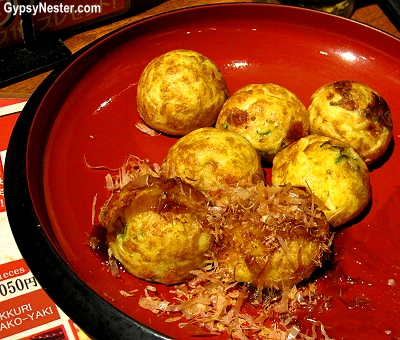 And because it wouldn't be a GypsyNester post without a mention of food, there are a few stadium treats of note. I started off with a box of Takoyaki, aka octopus balls.
Whole wheat batter surrounds minced octopus, pickled ginger and cabbage and the balls are covered in mayo and spicy sauce.
Next, I'd suggest a bowl of tasty chankonabe or sumo wrestler stew, which is a protein-heavy soup eaten by competitors in huge quantities to bulk up. Finally, I fulfilled my sumo-sized meal with a tasty green tea ice cream cone.
If you're planning a trip to Tokyo, don't miss this truly Japanese experience.
And be sure to let us know if you are lucky enough to get crushed!
Charli
Have any questions for me? You can email me, or tweet me at @charli and follow my travels too!