A big thanks to Viking Ocean Cruises for inviting us along and providing this adventure through the Viking Homelands! Sweden, Finland, Russia, Estonia, Poland, Germany, Denmark, and Norway. As always, all opinions are our own.
When we saw Stavanger on the itinerary of our Viking Homelands ocean cruise we had no idea what to expect.
This was without a doubt the least known stop among our ports of call; in fact it was the only one that we had never heard of, we were complete strangers to the city.
Birthplace of a Technology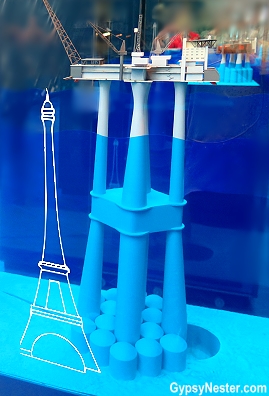 But if we were into deep water drilling it most certainly would have been familiar, since this is the birthplace of the technology.
That meant that the Norwegian Petroleum Museum, just a few steps away from where the ship docked, was the perfect place to begin our exploration.
The exhibits chronicle the history of off-shore oil operations on the Norwegian continental shelf since they began back in the mid-1960s.
We proceeded through a timeline of models showing how drilling platforms were built as the equipment progressed.
The first rigs sat on steel and concrete platforms permanently anchored to the sea floor, but over time flexible modern production ships and subsea systems were developed to allow exploration into deeper and deeper waters.
This can be dangerous work, as we learned in a couple of the displays, especially the one showing the twisted wreckage of a support pipe from a platform that had overturned.
Next to that, a real lifeboat sat opened for visitors to crawl into. We went inside and were shocked that it was meant to hold twenty-eight people in the cramped space.
After some claustrophobic thought, we decided that it might just be a good thing to be packed so tightly inside, considering the tossing this little cork of a capsule would take on the raging waves of a powerful North Sea storm.
Continuing through a walkway that juts out over the ocean, we entered a mock-up of an off shore rig.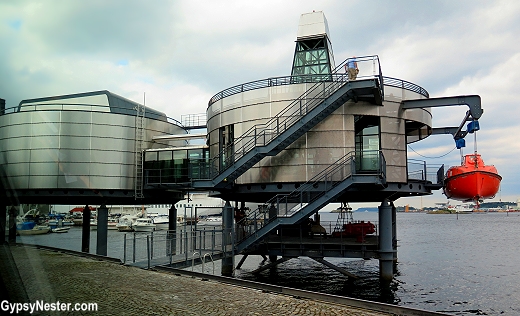 The display is a scaled down reproduction that allowed us a hands-on experience of what it would be like to be at the point-of-attack where the drilling takes place.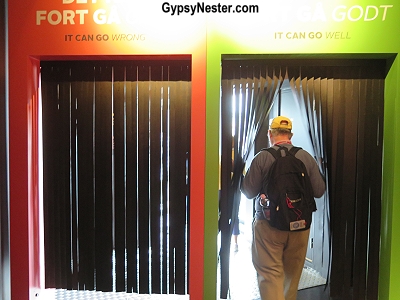 To get back on shore, we had to choose between two doors as a way to vote on whether we think that the energy industry can find a way to address and reduce carbon emissions enough to combat climate change.
We both, and most of the people with us, optimistically chose the yes door.
The "Colorful Street"

As we worked our way into the city, away from the pier, we walked up Øvre Holmegate, a narrow street lined with brightly colored buildings that has become an attraction for visitors and locals alike because the rest of the city is generally painted white.
The cuteness factor was over-the-top, and the strip has become quite a hangout with outdoor cafes being the order of the day.
When we asked what this hoppin' little area is called, our guide simply said, "the colorful street."
Next we stopped at the Stavanger Cathedral, which is Norway's oldest cathedral.
Construction is believed to have started around 1100, and finished about fifty years later.
The estimate makes sense, since it coincides with the founding of the city in 1125.
Old Stavanger
The church sits as a sort of divider between the harbor area and Gamle Stavanger, or Old Stavanger.
Unlike most of the old towns that we have visited, this is not right on the waterfront.
Instead we walked a few blocks uphill, pausing to look at a couple of whimsical statues in a small park along the way.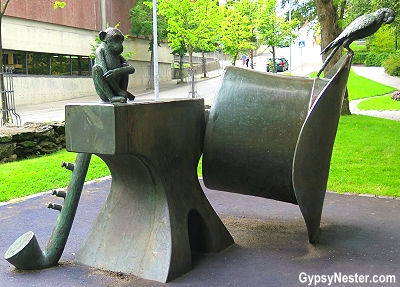 The first was a giant top hat next to an anvil, with a parrot and a monkey standing by.
Our clever guide walked ahead to the next one, a man with a pair of Shetland ponies, and asked us how we thought the two were connected.
We were completely clueless, so he soothed our curiosity and explained. The man was Lars H. Lende, who was renowned for his inventive ideas to make the world a better place for children.
His motto, "Alt for barna" roughly translates to "Anything for the children," especially pony cart rides.
David immediately jumped in next to him for a photo op with his new bronze buddy.
Heading up through the gate at the end of the park, we entered the old town.
The immaculate cobblestone streets are lined with dozens of what are considered to be the best kept old wooden houses in Northern Europe.
Adding to the unique nature of Gamle Stavanger is that even after several centuries, most all of the homes are still used as private residences.
A Huge Food Festival

From our perch up on the hill we could see that the Vågen, or inner harbor where small boats put in, was packed with people and lined with vendors.
Our timing for visiting Stavanger happened to be just about perfect.
We had a wonderful summer day and Scandinavia's biggest food festival, Gladmat, was in full swing.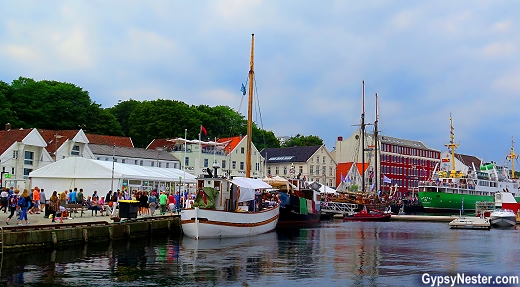 About 200,000 people – make that 200,002 including us – visit during the four days of the festival each year.
After scanning the dozens of food stands and restaurants, selling everything from gourmet fare to hotdogs, we decided to give some matjes i lompe a try.
This is a very traditional way of eating matjes, which is raw, slightly pickled herring, on lompe, a flat potato bread.
The fish is topped with sour cream, beets, and diced onions, then wrapped in the lompe.
While these Scandinavian burritos may not be David's new favorite food, Veronica loved it, and we can say it tastes better than it sounds.
Actually, we can't really say that, because we aren't exactly sure how it sounds since we never could quite get the pronunciation right.
Peace Down to our Toes

As we wandered on through the festival, we stumbled upon something completely unexpected, Al Gore's footprints.
Yup, a bronze cast of the former Vice President's bare feet are set right into the walkway along the harbor.
They are part of the Path of Peace, an ongoing project by the human rights foundation Point of Peace, which incorporates the footprints of several of Nobel Prize winners and peace advocates to form a pathway along the bay.
Word on the street was that Bishop Desmond Tutu had left some prints here too, but we couldn't find them on our way back to the Viking Star.
One thing we did find, we didn't feel like strangers in Stavanger anymore.
David & Veronica, GypsyNester.com
See all of our adventures in Norway!
A big thanks to Viking Ocean Cruises for inviting us along and providing this adventure through the Viking Homelands! Sweden, Finland, Russia, Estonia, Poland, Germany, Denmark, and Norway. As always, all opinions are our own.
---
Did you enjoy what you just read? Then you'll LOVE our book!
---