Huge thanks to Tourism and Events Queensland and Visit Sunshine Coast for providing this luxurious adventure! As always, all opinions are our own.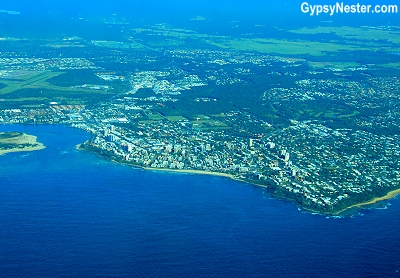 In our travels we often wonder "How did this place get its name?"
The Sunshine Coast of Queensland is most certainly not one of those places.
This stretch of Australia's eastern seaboard is situated in the prime position on the planet to provide positively perfect conditions year-round.
Having had the ultimate aerial view of the area while leaping out of a perfectly good airplane at ten thousand feet and landing on Coolum Beach, we decided on a somewhat more tranquil way to spend the next couple of days.
The Rumba Beach Resort in Caloundra offered the perfect beach setting for kicking back and soaking up some of those namesake rays.

We easily could have hung out for hours on our balcony overlooking Bulcock Beach and the northern tip of Bribie Island National Park, but then we would have missed the distinctive pool.
<– LOVED these rules (especially #5, 11 & 13!), but can't fiqure out #7, 9, & 10– leave your guesses in the comment section below!
This was a swimming situation unlike any we have ever encountered.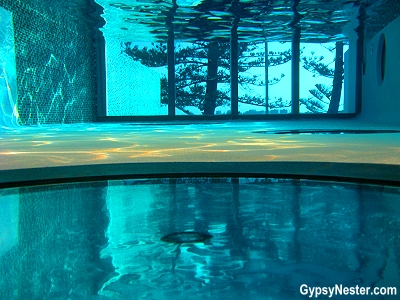 A glass wall forms a window that offers an underwater view of all of the beach activities, while other windows in the floor of the pool look down into the lobby below.
It was so cool that we had to run back up to the room to get our diving masks and water-proof camera.
Follow us into our room at Rumba Resort!

Dried off and hungry, we headed a few steps up the beach to Tides Waterfront Dining to finish watching the sun set on the Pumicestone Channel with the Glasshouse Mountains in the distance.
After toasting the day with a local riesling, we ordered some tapas, followed by Mooloolaba prawns, and a filet.

If any Australian had ever said "throw another shrimp on the barbie," (which they never have because the tasty shellfish are always called prawns Down Under) they would have been talking about these bad boys from just up the coast in Mooloolaba.
These guys bypassed the bar-b-que and were served sautéed with garlic.

The next day, we rented bikes for a leisurely ride along the Caloundra Coastal Walk.
The walkway extends over fifteen miles along the shoreline from Golden Beach, just south of Caloundra, all the way up to Mooloolaba – home of those jammin' prawns.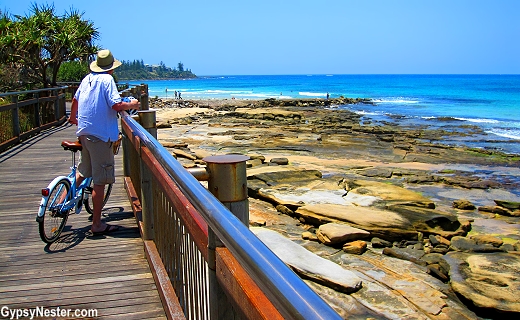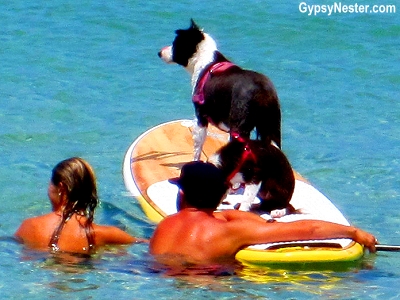 We rode the part of the trail that winds its way along the rocks of Moffat Head and through George Watson Park on our way up to Dicky Beach.
As we pedaled up from the sea and back down again, our reward for cresting each hill was a breathtaking view of the Coral Sea.
At the base of one of those hills we took a break at an aptly named seaside café, Saltwater.
Even though we grabbed a table outside, we noticed the cheeky dress code sign "no dick togs allowed."

Once again we found ourselves confused by Aussie slang, but the sign was simply asking that men not wear their togs, otherwise known as swimmers, sluggos, budgie smugglers, cossies, lolly bags, bathers, or marble bags… all meaning swimsuits, inside.

The upscale beach bar menu offered a new twist on what we had quickly discovered to be an Australian favorite (as well as one of ours), pork belly.
This is basically bacon that was never sliced.
The difference here was that Saltwater served the big hunks of deliciousness with an Asian flare, and on a salad.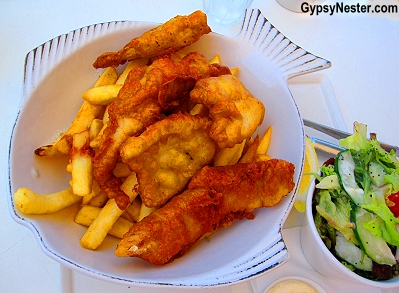 In an effort to keep either one of us from a slipping into a cholesterol induced coma, we decided to split it and share an order of traditional fish & chips too.
Usually that would offer little assistance, but luckily the fish was lightly breaded and fried to perfection, so the grease factor remained acceptably low.
We had plenty of time to work off the meal, with a good bit of riding still ahead of us to get to Dicky Beach and back.
The beach's name has nothing to do with the previously mentioned swimwear, or any other article of clothing for that matter.
It takes the name from an old iron steamboat, the SS Dicky.

The ship ran aground during heavy seas in February of 1893.
After several efforts to refloat the SS Dicky failed, a decision was made to abandon it, which led to this becoming the only public beach in the world to be named after a shipwreck.

Our take was that it was pretty cool to explore the old hull in water that was shallow enough to stand up, which is certainly not the usual situation for a shipwreck.
It was also good timing on our part because plans are in the works to move the Dicky off the beach.
No final decision has been made, but the old wreck has been deemed a hazard after over a century of being battered by the surf.
The idea is to move it to a safe spot and create a memorial with a display telling the story of the steamer's demise.
Feeling lucky to have seen the Dicky before her move to a final resting place, we climbed aboard our bikes and pedaled back down to Caloundra.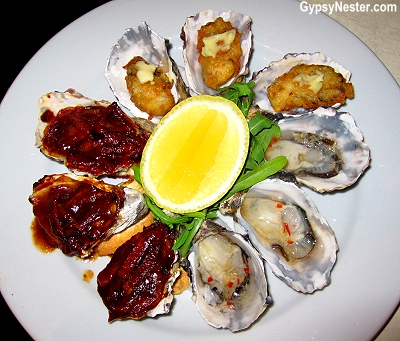 In no time at all our togs, and our throats, were dry as a dead dingo's donger.
Not to mention we were getting a tad peckish from the ride.
No worries, the restaurant, Drift, was right below our hotel, so all we had to do was change out of our cossies and head down for a schooie of grog and a bit of tucker (better known as grub to us).

With the sea breeze blowing in, the evening's special, oysters three ways, seemed ideal. The shell fish are found all along Australia's coasts, so we knew they were fresh.
For a heartier second course, and in keeping with our day of Aussie slang, we opted for heapin' helping of fancy bangers and mash. Spot on, and the perfect nightcap.
G'day mate.
David & Veronica, GypsyNester.com

Delve Deeper into Australia:
See more of our hotel in Coloundra
Bucket list check! We snorkeled the Great Barrier Reef!
Watch us skydive above beautiful Queensland – yikes!
Watch us feed crocs!
Follow us into the Australian Hinterland
Go for the Gold Coast of Queensland
Find out how we saw all of the bizarre Australian animals in one place!
Let Us Introdoos-ya to Noosa
Huge thanks to Tourism and Events Queensland for providing this adventure! As always, all opinions are our own.
Click here to see all of our adventures in Queensland!
Huge thanks to Tourism and Events Queensland and Visit Sunshine Coast for providing this luxurious adventure! As always, all opinions are our own.