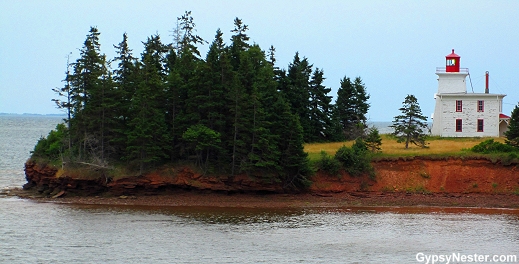 Port-la-Joye was captured in 1745 by New Englanders from the American colonies to the south, who built a new fortification called Fort Amherst.
British rule ultimately led to renaming the island in honor of Prince Edward.
Fourteen years later this was the site of a second Expulsion of the Acadians, the French settlers in the Maritimes, when three thousand were sent away during The Seven Years' War.
Perhaps even more tragic than the first expulsion, only half about half made it to France due to shipwrecks and disease.
See our entire journey through the Canadian Maritimes
Thousands of French people were forced to leave Acadia, now part of Canada, in what became known as Le Grand Dérangement, the Great Upheaval, or Great Expulsion.
The deportations took place over several years and from a number of locations, including Grand-Pré. Thousands of Acadians had their possessions confiscated, their homes and farms burned, and were shipped south to the American colonies.
But they were not welcomed there, so they were sent off and scattered across the globe winding up in Europe, Haiti, The Faulklands, Saint Pierre and Mequelon, and Guyana.
After years of exile in foreign lands, some managed to assimilate into their new surroundings, some found their way back to Canada, and many ended up migrating to Southern Louisiana where they kept much of their heritage alive.
David & Veronica, GypsyNester.com
Delve Deeper into Prince Edward Island:
See our entire adventure on Prince Edward Island
Explore Green Gables National Historic Site
Find out about the Acadian, Canadian and Cajun (Louisiana) connection
See our entire adventure in The Canadian Maritimes
See all of our adventures in Canada
Thanks to Road Scholar for providing this lifelong learning adventure through the Canadian Maritimes! As always, all opinions are our own.