Halifax has a deep connection to the sea, including history's worst maritime tragedy, the sinking of The Titanic.
When news of the disaster reached the mainland, three ships were sent out from to recover as many of the victims as possible.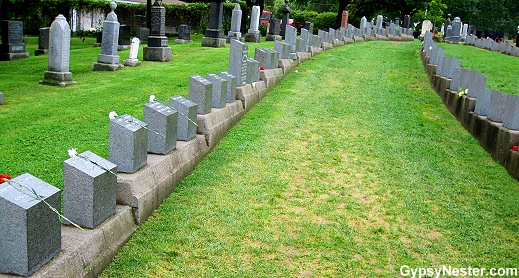 It is not certain that each victim died on April 15th, it is assumed that due to the freezing temperatures no one could have survived that kind of exposure to the elements. Therefore, each marker bears that date.
In all, three hundred and twenty-eight bodies were found, and of those, two hundred and nine were brought to Halifax to be claimed by relatives, or buried should no one come forward.
Three quarters of those were never spoken for and are buried in three of the city's cemeteries, most in Fairview Lawn.
The company that owned the Titanic, The White Star Line, had land surveyor F.W. Christie design the full plot to fit into the slope of the hill.
Click here to see our full story on Halifax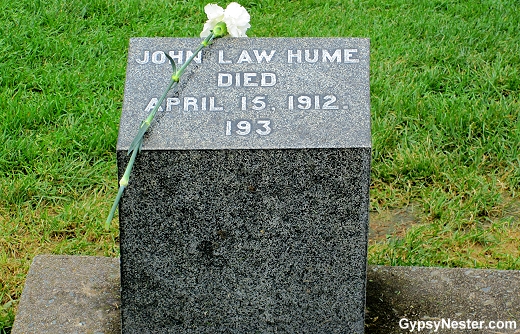 With somber hearts we walked through the Fairview Lawn Cemetery to the gravesites of the one-hundred-twenty-one casualties and paid our respects.
Many of the headstones are marked only by numbers, as the identities of the victims remain unknown.
If a person's identity was discovered later their name was engraved on the side of the stone, rather than the top.
Jenny Lovisa Henriksson was simply "Number 3" until 1991. Then, through deduction and the careful notes taken at the time of the disaster, the initials on her clothing led investigators to match her name with the remaining unknown victims list.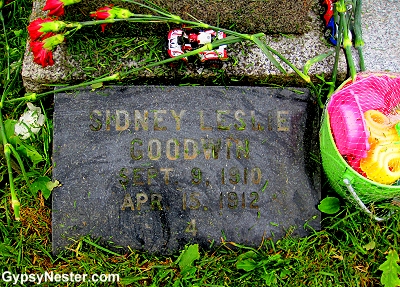 Perhaps the most poignant was the unknown grave of a two-year-old child brought back aboard The MacKay-Bennett, one of ships sent out from Halifax to retrieve the deceased from the site of the disaster.
Just recently the boy was identified through DNA samples, but his family prefers that his gravestone remain nameless as a remembrance for all of the other unknown victims. Instead, a plaque was placed at the foot of little Sidney's stone.
See little Sidney's shoes at the Maritime Museum of the Atlantic
Many of the victims of the 1917 Halifax Explosion are buried in Fairview Lawn as well. More about the Halifax Explosion here.
Click here to see our full story on Halifax
David & Veronica, GypsyNester.com
Delve Deeper:
The Victorian Public Gardens of Halifax
The Maritime Museum of the Atlantic
Our Full Halifax Adventure
Having a Merry Time in the Maritimes (Prince Edward Island, Nova Scotia, New Brunswick)
The Cajun, Canadian, Acadian Connection
Thanks to Road Scholar for providing this lifelong learning adventure through the Canadian Maritimes! As always, all opinions are our own.