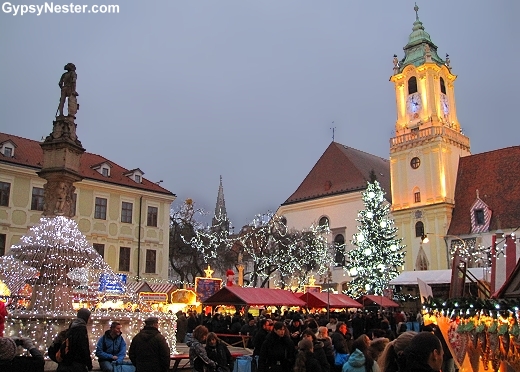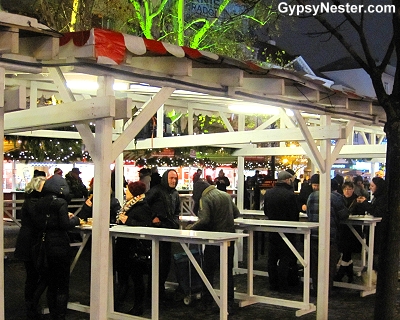 On Hlavne namestie, the main square of Bratislava, on a cold winter's night, we found the Christmas Market.
The entire plaza in front of the Old Town Hall (Stará radnica) was filled with booths, most selling food and drink, and tables under small shelters where the purchases could be enjoyed.
A very social situation that we were more than happy to jump into the middle of.
At the center of it all is the Roland Fountain (Rolandova fontána), sometimes called the Maximilian Fountain because it was commissioned in 1527 by the Hungarian king Maximilian.
This makes it the oldest fountain in Bratislava. Max's statue stands on top surveying the square.
Due to the temperatures, and the fact that it looks so downright festive, the water had been replaced by twinkling lights.
See more beautiful Bratislava!
Nearly everyone was warming themselves with varene vino, the local version of mulled wine, but in a twist we hadn't seen before, hot white wine seemed just as popular as the red. Had to give that a try.
Our verdict was that while delicious, it lacked the superior cockle-warming qualities of the red variety.
Perhaps the most popular vino vender was named "The Flinstones." Yaba-daba-do (we think)!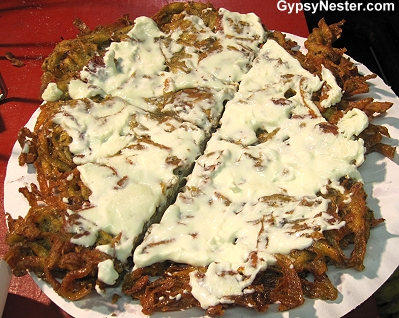 We also gave zemiakové placky a try. This is a pancake made of shredded potatoes, crisp on the outside and chewy within. We chose to get ours covered in a layer of mild, yet tangy white sheep cheese.
Very tasty and stick-to-your-ribs on a chilly December evening.
Most food offerings involved meat, lots and lots of meat.
It all looked (okay, almost all) good, but the potato-and-cheese bomb we had just devoured didn't seem to want any company, so we spent the rest of the night checking out the wares.
See all of our adventures in beautiful Bratislava!
See more about the history of Christmas markets and our explorations of these markets around the world!
David & Veronica, GypsyNester.com