Our adventure in Istanbul started in Sultanahmet Square, the heart of the Old City.
The square is flanked by The Blue Mosque and Hagia Sophia, two of Istanbul's most famous landmarks. In fact most of the city's main attractions are within a stone's throw, The Topkapı Palace, Basilica Cistern, Grand Bazaar, and Hippodrome are all nearby.
We couldn't possibly visit all of these in one afternoon, but we could start at the top. The square is named for The Sultanahmet Mosque, the official name of The Blue Mosque, so that would be first on our list.
Want more Istanbul? Click here to see our entire adventure!
Upon entering the mosque, Veronica was dumbstruck – unable to begin to take photos. She couldn't figure out where to start.
Built in 1609 by Sultan Ahmed I, the Blue Mosque features a main dome, eight secondary domes, and six minarets, and is considered the pinnacle of two centuries of Ottoman mosque development.
We saw how the unofficial blue moniker came about, the color is prevalent in the tiles adorn that the interior.
WATCH: It's impossible to show the enormity of the mosque in photos – video helps!

Want more Istanbul? Click here to see our entire adventure!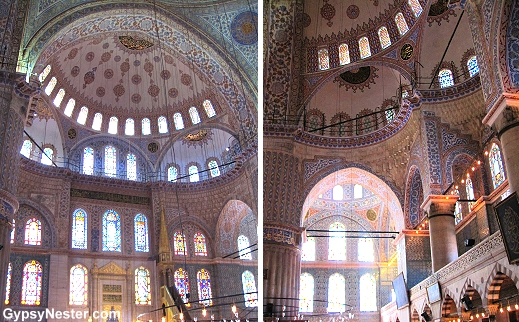 This is still an active mosque, so as the time for prayers approached, visitors were ushered out.
Back in the square, we were just in time for the call to prayer, and learned what the minarets are for.
Originally a Muezzin would climb to a balcony on each minaret and call out the adhan five times a day, but now each minaret has several loud speakers.
With half a dozen mosques within earshot of the square, the mid-afternoon call became quite an audio spectacular. In our time zone addled condition it struck us as almost surreal.

A big GypsyNester shout out to the great folks at Ottomania – they allowed us on their beautiful rooftop to take the photo of the Blue Mosque at the top of this post!
David & Veronica, GypsyNester.com
Thanks to Princess Cruises for inviting us along and providing this adventure! As always, all opinions are our own. See our entire Mediterranean voyage aboard the Royal Princess here