Upon a large hill, across The Vltava, the Prague Castle looms over the city.
The castle has been the home of Kings of Bohemia, Holy Roman Emperors and presidents of both Czechoslovakia and the Czech Republic since the first fortress was begun here in the year 870.
As we topped the hundreds of steps leading up the hill, we entered what The Guiness Book has heralded the largest castle in the world.
Inside, it felt more like a walled city than what we would normally think of as a castle.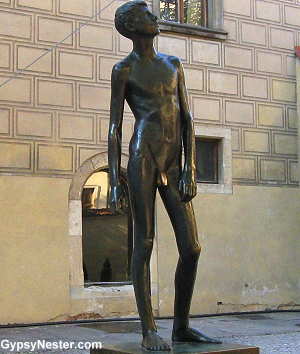 Two huge cathedrals, The Basilica of Saint George and the Basilica of St. Vitus, along with countless palaces and halls are within the ramparts. That made it hard for us to get a feel for being "inside" a castle.
Prague Castle remains the seat of government for the Czech Republic and there is a noticeable military and security presence.
Decked out in full-dress finest, the soldiers add to the overall fantasy-land feel of the place. We stumbled upon a military band, in full dress, welcoming dignitaries as we made our way out through the west gate.
While the band played, the changing of the guards was enacted with much pomp and circumstance.
Pretending it was all for us, we mingled with the dignitaries and parade waved to the curious gathering before heading down another giant staircase.
David & Veronica, GypsyNester.com
See all of our adventures in Prague!