Have you ever wondered where Route 66 ends?
Rather than dumping travelers into the Pacific Ocean, Santa Monica offered a better solution – a pleasure pier.
The pier is actually two piers side-by-side, one of which houses Pacific Park.
The longer Municipal Pier was built in 1908 mainly for strolling and fishing, but things started to really pick up when the Hippodrome was built in 1916 to house the now famous carousel.
The carousel is a true work of art. Its forty-six wooden animals have delighted riders for almost 100 years.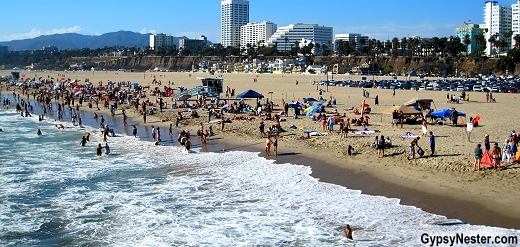 Strolling along the longer Municipal Pier we were delighted by the campy throw-back feel of place, complete with old-school pastimes, street performers, wacky businesses and odes to the old Muscle Beach days.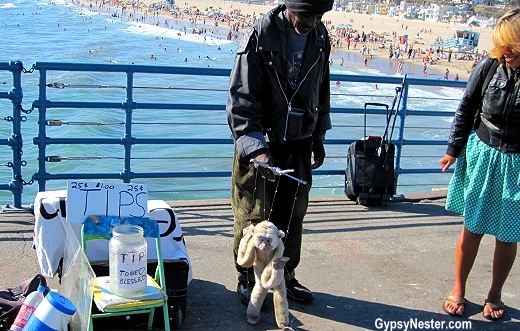 That night, we walked over to The Lobster for an incredible seafood dinner.
When a restaurant is named The Lobster, it's hardly necessary to look at a menu.
The drawn butter flowed like wine… as did the wine.
Established in 1923, The Lobster has been shelling out deliciousness to generations of pier goers.
It would have been wrong of us not partake in a tradition like that – who do we think we are?
David & Veronica, GypsyNester.com
See all of our adventures in California!
YOUR TURN: Do you love the kitschy old school, Route 66-ish stuff as much as we do?