Food is a huge part of travel for us, but even more fun is learning how to recreate the gastronomic goodies we discover in the far corners of the globe.
From classes, to demonstrations, to street vendors — who are kind enough to share their secrets — here is a taste of the knowledge we have compiled during our explorations.
Let us take your tongues on a trip around the world!
Getting our Vietnam on in Australia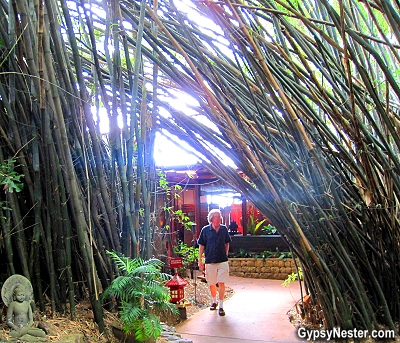 The zen vibes were pulsating as we walked through the Asian-style gardens at the Spirit House Cooking School in the Hinterlands to our lesson, Taste of Vietnam.
Queensland's geographic proximity of Southeast Asia has influenced the culinary scene many restaurants feature a chef's take on the fare.
We began the prep by slicing, dicing, and chopping the herbs, vegetables, and meats we would be using in our recipes.
Chef Kelly guided us through the process step by step as we prepared our dishes of grilled pork belly known as Bun Cha Pork; Cha Ca fish fillets served with vermicelli noodles and Nước chấm dipping sauce; Bahn Xiou, a type of savory pancakes with pork and prawns; and finally, a dessert called Kem Xio, which is sweet, sticky rice with ice cream on top.
WATCH:


See all of our adventures in Australia!
Preparing for China Before Docking in Shanghai 
While cruising along the Asian coast we experienced cooking on the high seas. For our hands-on cooking class – Chinese Cuisine – we prepared Sichuan chicken, fried rice (that didn't turn out to be our usual gooey lump of yucky), and discovered just what makes delicious soup both hot AND sour.
Under the skillful guidance of Chef David Serrano, our dishes came together beautifully and better yet, even while using razor sharp knives, no cooks were harmed in the production.
To top it off, at the end of the class our creations became our lunch.
WATCH:


See all of our adventures in China!
A Delightful Delicacy in Peru
Lima is sometimes called the Gastronomical Capital of the Americas, due to the wide variety of influences from Europe and Asia, so we were more than ready for our instruction and ingestion.
At the Señorio de Sulco Restaurant in Lima we met our chef and teacher, Ricardo, and learned to create Causa Limeña, a delicious tower of mashed potatoes prepared with lime, onion, chili and a little oil, layered with avocado and chicken salad formed in a round mold.
WATCH:


See all of our adventures in Peru!
Fish 101 in Ireland
At the Dingle Cookery School we absorbed a wealth of information in a short time, much of it involving the proper — and safe — use of incredibly sharp knives, otherwise known as Avoiding Finger Removal 101. First we sliced, chopped, julienned, and otherwise hacked up all sorts of vegetables for salads and roasting, all the while filing away the knowledge gained for future use.

Bonus points: We got to shop with Chef Mark before class!
With that information tucked away in our craniums, we proceeded to tackle the task of filleting a large Pollock.
Chef Mark demonstrated, and then allowed us to give it a try.
By cutting down the backbone and then slicing along the ribs we managed to remove some fairly nice pieces of meat.
We couldn't claim to be experts by any means, but there was enough to fill a couple of frying pans.
With a quick sear and a sizzle, lunch was ready.
See all of our adventures in Ireland!
In Italy, our Hostess Wowed us!
Our good friend Claudia certainly knows her way around an Italian cucina. She was gracious enough to let us watch as she made her delicious Pesto Rossa con Ricotta and the dessert, typical of the Piemonte region, bunet with ingredients from her mother's organic garden.
She even allowed us to share her secrets.
WATCH:


See all of our adventures in Italy!
Crepes in Paris, Yes Please!
Just walking down the street in Paris can be a culinary adventure. We had front row seats for a show watching crepes being expertly created… culinary street theater at its finest.
WATCH:


See all of our adventures in France!
Eggplant Parm has What in it? (Sicily)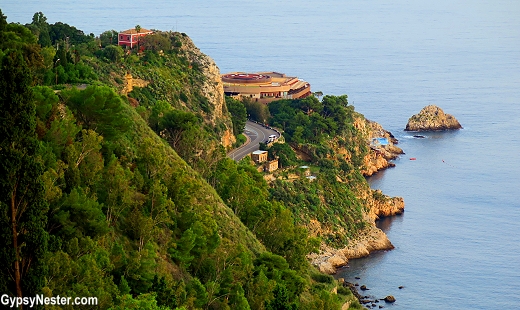 At the Kallikoros Country Resort in Val di Noto we got a taste of farm-to-table dining, and a chance to see eggplant parmigiana prepared step by step when the resort's chef, Andre, demonstrated the proper Sicilian way to make the classic Italian dish.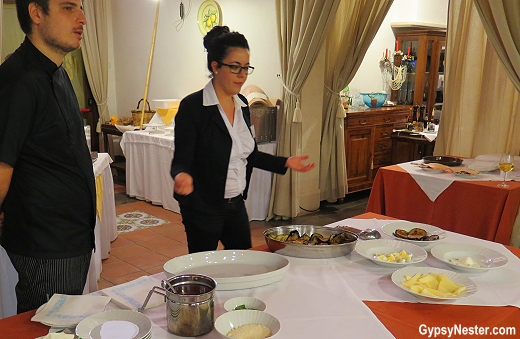 The key is in the layering of the ingredients, but perhaps the best tip he gave us was to soak and press the sliced eggplant ahead of time to take the bitterness out.
WATCH:


See all of our adventures in Sicily!
The Loaf of Life in Germany (or as we knew it – gingerbread)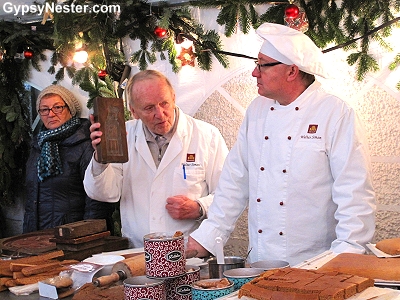 A frosty morning on our Christmas market adventure through Europe was warmed up with a stop at Confiserie Café Simon in Passau, where we sat in on a gingerbread making demonstration.
Just the smell brought a warming ember to our chilled cockles.
The baked treat is known in Germany as Lebkuchen, which means loaf of life.
A fitting name that demonstrates how our English translation is a misnomer–there is no ginger in gingerbread. The original simple recipe consists only of rye flour, honey, and spices such as clove, nutmeg, and cinnamon.
WATCH:

See all of our adventures in Germany!
Octopus Balls in Japan (we know what you're thinking – and it's not!)
Kuidaore, a Japanese word meaning "to ruin yourself with extravagant food," has become synonymous with the city of Osaka.
No food represents this more than their hot octopus-stuffed spheres of deliciousness.
Takoyaki, which translates to fried octopus, is said to have been invented in 1935 by a street vendor named Tomekichi Endo, and has become the definitive Osaka snack.
Watching the creation of the golden brown balls, we knew we had to have some!
WATCH:


See all of our adventures in Japan!
Our Favorite Dutch Treat? Stroopwaffle! (Holland)
In Arnhem, we found a little shop with stroopwaffles being made in the front window.
Our new friend and waffle master was kind enough to demonstrate the process for us from start to finish.
She began with a small ball of dough, pressed it in an iron, and in minutes created a delicious treat.
The final result is more of a cookie than a breakfast item, with caramel spread between two crispy waffle layers.
This easily puts the average sandwich cookie to shame; in fact, Oreos won't even dare to venture out of the bag in the presence of these bad boys.
WATCH:


See all of our adventures in Holland!
What's the Effin' Deal with Pizza in New York City?
If there is one food that screams New York from the top of the Empire State Building, it has got to be pizza. How did this happen? We found out by taking a tour of the history and styles of pizza in the Big Apple.
WATCH:


See all of our adventures in New York!
Italian Cookie Nirvana – Five Ingredients to Total Bliss
Perhaps the biggest difference between Casale Monferrato and other Italian towns is that the item is not wine, olive oil or cheese, but a cookie.
A special cookie that has remained unchanged for nearly a century and a half. We have been huge fans of Krumiri Rossi since our friends, Paolo and Claudia, sent us a tin for the holidays several years ago.
On our first visit to Casale the following spring, we discovered that the aroma of these treats filled the town. This time we were lucky enough to have Paolo set up an exclusive behind-the-scenes peek at the cookie cooking process.
WATCH:


See all of our adventures in Italy!
David & Veronica, GypsyNester.com
YOUR TURN: Have you experienced a cooking class on your travels? Tell us all about it! Have we inspired you to give one a go?