No food says Osaka, Japan more than these hot octopus-stuffed balls of deliciousness. Takoyaki, which translates to fried octopus, is said to have been invented in 1935 by a street vendor named Tomekichi Endo, and has become the definitive Osaka snack.
We were captivated by the expert cooking demonstration going on beneath one of the giant cephalopod signs and stopped to observe.
The chef began by pouring batter into a specially designed pan with dozens of round indentations.
Once the batter was bubbling he dropped chunks of octopus into each hole, added more batter on top, and some chopped spring onion, red ginger, and tempura for crunch.
Then, with the most skilled use of chopsticks we had ever seen, he flipped each ball in its socket for perfectly even frying. Watching the creation of the golden brown balls, we knew we had to have some, even if neither of us is that big a fan of octopus.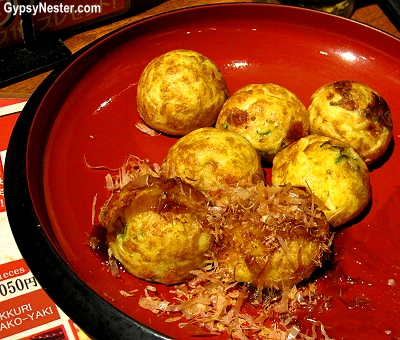 So in we went and with the first taste we understood why takoyaki is so popular, it's freakin' delicious. The nugget of tentacle in the center was tender and tasty, and the coating hot, crispy, and just plain good.
By watching the other customers we learned to add some of the smoked, shaved bonita, along with the rich, semi-sweet brown sauce that were on the tables. The combination gave the balls of eight-legged wonder an almost barbecue flavor.
David & Veronica, GypsyNester.com
See more about our night in Dotonbori – we ruined ourselves with food!
See all of our adventures in Japan!
Visit our GypsyNester YouTube Channel!