The Summer Palace lies on the northwest edge of Beijing, China by Kunming Lake, in what used to be countryside.
As the name implies, it was the imperial getaway from summer in the city, but palace only describes a part of this place.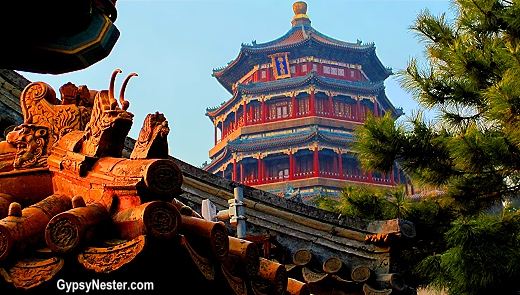 What we found was hardly a summer cottage for the emperor, there are nearly three square miles of gardens, statues, and temples surrounding the lake.
All the culmination of centuries of emperors adding to the splendor since the Jin Dynasty, when emperor Wányán Liàng chose the site back in the middle of the twelfth century.
By walking about a mile around the shore of Kunming Lake and the amazingly ornate covered walkway, we got a great vantage point for looking up Longevity Hill at the palace.
The landscape here is very flat, so the hill is actually made from the earth that was removed while digging out the lake.
Perhaps the best known of these leaders was one of the last, the controversial Empress Dowager Cixi.
In 1862 she declared herself empress by command of her six year-old son, the Emperor Tongzhi.
When her son died at only eighteen years-old, she appointed her nephew emperor and "retired" to The Summer Palace.
But she was hardly out of the picture, continuing to rule from behind the scenes.
During this "retirement" she spent what would now be hundreds of millions of dollars on refurbishing the palace and grounds, nearly bankrupting the Chinese military.
There is little doubt that this led to defeat in the Sino-Japanese War in 1895.
The fall of China's dynasty system, along with drastic changes, soon followed.
When our guide was telling us this story it was hard to determine whether he felt this was a good thing or a bad thing.
Either way,  Cixi got herself some nice digs. It's good to be empress dowager.
But we'd hate to have to keep up with the housework!
David & Veronica, GypsyNester.com
See more of our adventures in China!
Click here for our full live-blog as we traveled with Holland America aboard the ms Volendam – through Hong Kong, China, South Korea and Japan