Huge thanks to Tourism and Events Queensland and Lone Pine Koala Sanctuary for providing this cuddly adventure! As always, all opinions are our own.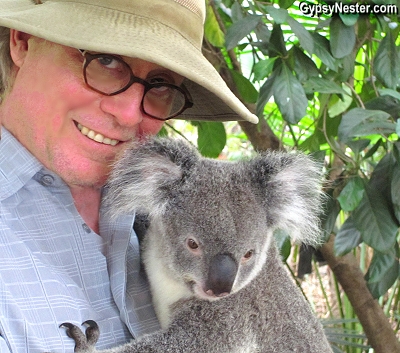 Some of the most readily recognizable Australian icons are animals, and we found more than a double dose of them in Queensland at The Lone Pine Koala Sanctuary outside Brisbane.
As the name suggests, we got up close and personal with koalas, but we also got to feed kangaroos right from our hands.
We began our trek with an easy stroll from our downtown hotel, over the Victoria Bridge, to The South Bank Parklands.
The park stretches about half a mile along the the Brisbane River with trails, pools, beaches, shops, and cafes.
But the highlight of the park is the ginormous Wheel of Brisbane towering two hundred feet above it all.
At the dock just below the wheel we caught the Mirimar Koala and River Cruise and were really on our way.
The sights along the river, beginning with the city's towering, modern skyline, then winding through swanky suburbs, made for a thoroughly enjoyable morning.
For seventy years The Mirimar and Mirima II have been making this run and we can't imagine a better way to see the city, but knowing that the opportunity to cuddle a koala awaited at the end had us eagerly anticipating our arrival upstream.
Lone Pine is the world's oldest and largest koala sanctuary. It has steadily grown since 1927 when the first pair, Jack and Jill, arrived.
Now over one hundred and thirty of the fuzzy fellows are living safely and happily on site.
It is also one of the few places in the world where visitors are allowed to hold koalas.

Click the pic for a quick introduction to Bec the Koala!
The process is very well supervised, with the care of the animals being of utmost importance.
Each koala is never handled more than half an hour a day, and the keepers are never more than a step or two away.
Holding one of these adorable animals was nothing less than an amazing experience. Koalas are generally lethargic, and often sleep up to twenty hours a day, due to the lack of energy in the eucalyptus leaves that make up their diet.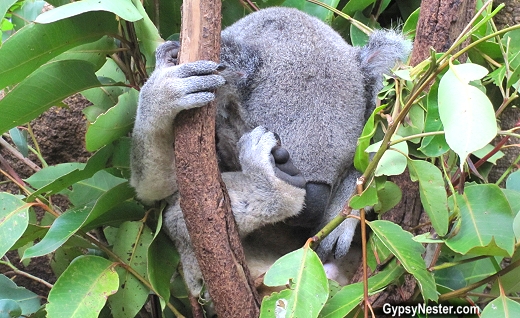 So they seemed perfectly happy to sit on our arms and take a little rest up against us.
That extraordinary feeling has drawn celebrities and world leaders from every corner of the globe. While we ate lunch we looked over the dozens and dozens of photos of those famous faces.
Over the years Queen Elizabeth, Cher, L.B.J., John Travolta, Eric Clapton, Mikhail Gorbachev, Pavarotti, and even Pope John Paul II couldn't resist the allure of the koala.
Unfortunately, with human encroachment on their habitat, the number of koalas in the wild has dropped drastically in recent years, due mostly to cars and attacks by house pets.
So the work that sanctuaries like Lone Pine are doing is imperative to the endangered little guys' survival, otherwise captivity might be the only place left to see them.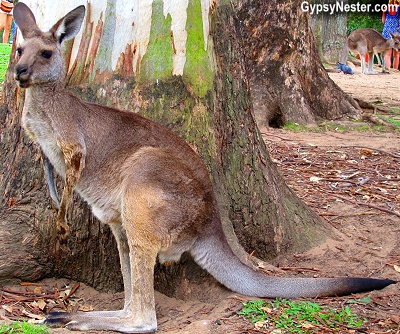 As cute and cuddly as the koalas were, there was still much more to see. After all, no trip to Australia would be complete without a kangaroo sighting, and we were about to go one-up on that and feed them.
Armed with nothing but a small bag of roo chow, we entered the enclosure.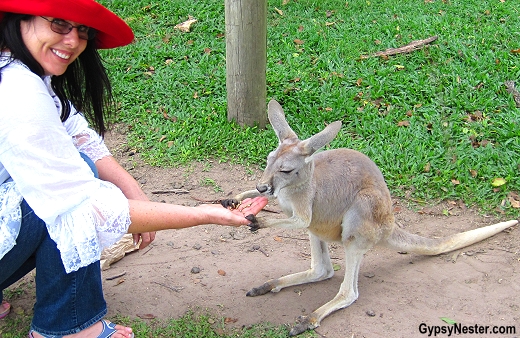 Click the pic to see this guy come to life!
We have to admit we were a bit wary at first, some of these guys were big!
A few of the roos didn't seem to want anything to do with us, but before long several were literally eating out of our hands. As powerful as some of these specimens were, they have a gentle quality about them.
Some would even rest their front paws on our hands while they ate, perhaps the ultimate Australian experience.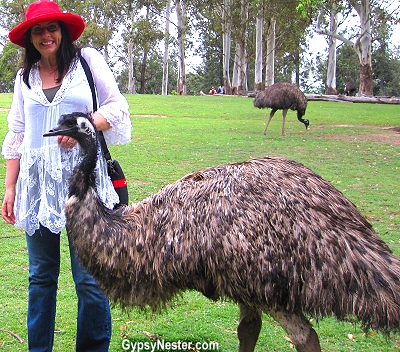 There was one more uniquely Australian animal we were hoping to get a look at.
A critter so strange that when the first specimen was sent back to England scientists were fairly certain it must have been a prank.
Aboriginal legend holds that it was created when a duck mated with a water-rat. The offspring hatched with its mother's bill and webbed feet, and the father's legs and brown fur. That could only describe a platypus.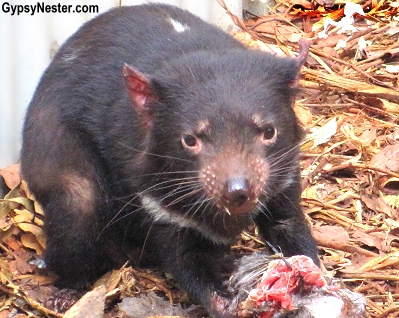 These peculiar egg laying mammals are nocturnal and spend most of their time under water, so they are hard to get a good look at.
But in 2010 Lone Pine built a special million-dollar platypus house where night and day have been reversed, so we had a pretty good chance of spotting them. And spot them we did!
WATCH: Our wonderful experience frolicking with the animals – including platypus footage!


Click the pic for some over-the-top cute mama and
baby koala action!
At that point we were feeling like we had pretty much seen it all, until right outside the platypus house we found a couple mama koalas… and their babies. Like all marsupial offspring, these little guys start off life in their mother's pouch, and go by the name joey.
Once they get too big for the pouch, many marsupial young will climb onto mama's back. At this point they are known as back joeys, and we would be hard pressed to think of any more adorable critter than a koala joey taking a little ride on mom.
Now we knew we were finished, there was no way to top that.
Back in Brisbane we were getting that growly feeling in our bellies, and by all accounts the place to remedy that situation is Gambaro.
Since opening a simple fish & chips shop back in 1953, three generations of Gambaros have been serving up Queensland's finest fresh catches, and earning a well deserved reputation as one of the city's enduring institutions.

Click the pic to set John's Prawns aflame! Fantastic!
The tradition was properly on display as our "John's Prawns" were prepared tableside, fully flaming.
Absolutely phenomenal with garlic, butter, cream, and just enough chilies to give it a kick.
Click here to see more photos of Gambaro
But we had yet another surprise in store for us.
Already famous for seafood, Gambaro has taken on the world of beef with the opening of Black Hide Steakhouse right across the street.
After our shrimp we crossed over to feast on some prime cuts from 100% Queensland Stanbroke cattle. Rather than limit ourselves to trying just one each, we decided to share a sample of both Angus and Wagyu steaks.
Click here to see more photos of Black Hide Steakhouse
We were not familiar with the term Wagyu, but learned that it is the breed of cattle best known for Kobe beef.
Tender and delicious, the only thing tough about these steaks was missing them when they were gone. Served with potato and asparagus, this was a meal to satisfy even the hungriest koala cuddlers and kangaroo wranglers.
A fulfilling finale to a day we will long look back on as our incredible introduction to Australia, Queensland, and marsupials.
David & Veronica, GypsyNester.com
Delve Deeper:
Go to the Lone Pine Koala Sanctuary website
Check out Mirimar Koala and River Cruise
Drool over Gambaro and Black Hide
Bucket list check! We snorkeled the Great Barrier Reef!
Watch us skydive above beautiful Queensland – yikes!
Follow us into the Australian Hinterland and kayak the Noosa Everglades!
Go for the Gold Coast of Queensland and watch us feed crocs!
Find out how we saw all of the bizarre Australian animals in one place!
Let Us Introdoos-ya to Noosa and Spread a Little Sunshine Coast
Huge thanks to Tourism and Events Queensland and Lone Pine Koala Sanctuary for providing this cuddly adventure! As always, all opinions are our own.
Click here to see all of our adventures in Queensland!