As a teenager, Ben Franklin ran away to Philadelphia to seek his fame and fortune. A couple of centuries later, we went to Philly to retrace his footsteps. Tracking down his landmarks was easier than we expected, because they're all within a few blocks of each other. Once we found the perfect IHG hotel near Old City, we were off.
Library Hall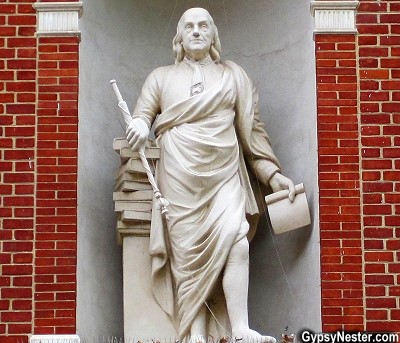 Just a few steps past the Liberty Bell, we found America's first public library, which good old Benjamin helped found in 1731. We couldn't miss it because of the classic statue of Ben over the door. It looks like he was going for the Greek scholar look by sporting a toga.
Since the library is right next to Independence Hall, he invited the Founding Fathers to use the collection for study and reference, unofficially creating the first Library of Congress.
Today, the archives feature a copy of the Declaration of Independence written in Jefferson's own hand, the original journals of the Lewis and Clark expedition, and first editions of Sir Isaac Newton's "Principia" and Charles Darwin's "Origin of Species."
B. Free Franklin Post Office
Our next stop was to check out another Franklin first. In 1775, the Continental Congress appointed him as the first Postmaster General of the United States. The B. Free Franklin Post Office commemorates that and his many other contributions to postal service in the colonies, by remaining as much like it would have been back then as possible.
They take this authenticity so seriously that there is no need to look for the stars and stripes when trying to find this post office. It's the only one in America that doesn't fly the flag, because back when it opened, the U.S. was still a British territory and didn't have a flag yet.
Franklin Court
Ducking through a small tunnel near the post office, we popped into a courtyard where the house that Franklin lived from 1763 until 1790 once stood. The original building is long gone, so now a "ghost house" of steel beams outlines its location.
Researchers excavated the site in the 1950s and 60s and installed windows in the ground to allow a peek at the foundations, walls, and even a privy below the surface. Talk about getting personal with a patriot!
Ben Franklin's Print Shop
The courtyard also includes a replica of the print shop Franklin used when he produced many of his newspapers and political pamphlets, along with his famous wit and wisdom in "Poor Richard's Almanac." The type settings and printing press are exactly as they would have been in revolutionary times.
Since this is part of the National Park Service, rangers demonstrate the 18th-century printing techniques. When we looked in, we were lucky enough to see the Declaration of Independence being printed out as a souvenir for a group of schoolkids.
Benjamin Franklin's Final Resting Place
We finished our day at Franklin's grave at the Christ Church Burial Ground. He is laid to rest here next to Deborah, his common-law wife of 44 years.
It struck us as odd to find the tomb covered with pennies, until we learned that the coins stem from a longstanding Philadelphia tradition. Tossing a cent on the tomb is believed to bring good luck.
Certainly seems as though the man who said, "A penny saved is a penny earned," would not approve of throwing money away like this, but the church doesn't mind. In fact, the church collects thousands of dollars every year from the ritual. Now that's turning some Lincolns into Benjamins!
Meanwhile, we collected a newfound admiration for the great statesman, inventor, printer, and patriot whose face adorns the C-note. The famous Philadelphian's legacy practically requires us all to visit the City of Brotherly Love.
This article was created in collaboration with InterContinental Hotels Group.