With Fat Tuesday fast approaching, we dug back in our archives for this tale of festivities, revelry, and merriment. We offer it as inspiration for anyone who might be planning an adventure of their own.
Don't get us wrong – we LOVE New Orleans. But the thought of wading into a Big Easy Mardi Gras is something better left to young whippersnappers.
We took the rural route and learned about the wonderful goings-on in Cajun Country – what they call the REAL Mardi Gras!
Let the good times roll!
THE CRAZIEST THING WE'VE SEEN YET…
AND WE'VE SEEN A LOT OF CRAZY THINGS
We discovered a long-held rural tradition of Cajun Country, Courir de Mardi Gras, in Church Point. It translates to Fat Tuesday Run and traces its origins back to medieval France and the fête de la quémande or feast of begging.
Runners, known as Mardi Gras, ride horses or wagons through the countryside stopping to beg at farms for ingredients for a communal gumbo to be made after the run. The most common offering from the farmers is a chicken which then must be chased and captured by the Mardi Gras.
At 5 AM we were awoken by the beginnings of the revelry. Horses started making their presence known and whoops and hollers filled the early morning air. The staging area was already a sea of mud.
We watched curiously while the participants – who by tradition must be male, over 14 and in costume – registered, drank, saddled up, drank, greeted each other, drank, got geared up, drank, played music, drank, danced, and oh yeah, drank some more. Costumes are imperative to the tradition in that the identity…CONTINUE READING
You've gotta watch the video to believe it…it's, well, just watch.



CLICK TO ENLARGE PICTURES (and more history, crazy goings on and what happened when Veronica became part of the proceedings!)
MARDI GRAS DAY – A TALE OF TWO TOWNS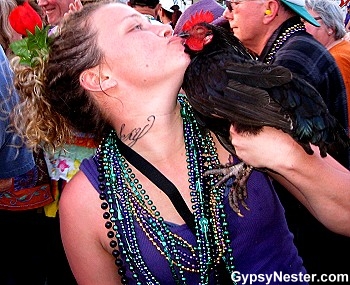 Asking around, we got conflicting answers to the question, "Where do we spend the actual day of Mardi Gras?"
We had spent almost three weeks in Acadiana, celebrating all things Mardi Gras, but still hadn't landed on where to spend the big day.
Narrowing our many choices down to two, we focused on Eunice and Mamou, because each boasted chicken chasing, a big street festival and authenticity.
We were told Eunice was both "the best – by far" and "too commercial." Mamou, on the other hand receive reviews like "the most authentic" and "just a bunch of drunks sitting on ice chests."
Like the idiots we are, we decided to visit both. And both… CONTINUE READING

CLICK TO ENLARGE PICTURES (and more!)
A CAJUN BOUCHERIE – LET'S PIG OUT!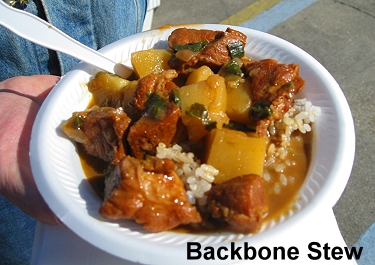 The Boucherie is not necessarily a part of the Mardi Gras celebration, in fact it most likely predates Mardi Gras activities here in South Louisiana, but in recent years many communities have included the old fashioned hog slaughter in their weekend of Mardi Gras events.
Back in the days before refrigeration families would get together to share a butchered hog because the meat would go bad before one family could eat it all. Before long this became a pretty good excuse to throw a little party.
Interesting and entertaining, not to mention tasty. After watching every part of the pig get cut for a specific purpose, we had the chance to sample… CONTINUE READING


CLICK TO ENLARGE PICTURES (and more!)
GO TO SLEEP LITTLE ONE, MAMA WANTS TO DANCE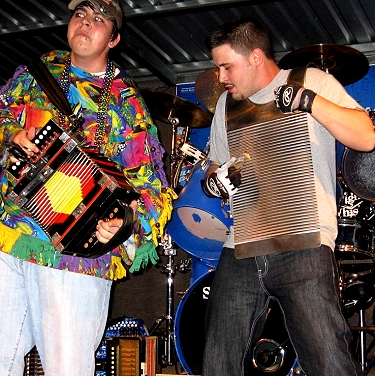 "Fais do-do" is Cajun baby talk for "go to sleep" and once the kiddies are all tucked sweetly in bed, Mamma and Daddy (and Maw Maw and Paw Paw) have the chance to "pass a good time."
We kicked off the Friday before Mardi Gras at a Fais do-do in Church Point.
We were told by a woman earlier in the day that the Fais do-do was essential for us to attend, as it was when the town "come together like family" and that we would be treated as such. And we were.
In a little town like Church Point, we normally stick out like sore thumbs, not because we're so different as much as that everyone literally knows everyone, and we – well – we don't know anyone. That changed at the Fais do-do.
The people of Church Point have never met a stranger, we were welcomed with open arms as everyone — from the Queen of The Courir de Mardi Gras, to the ladies handing out beer, to the mayor himself — took the extra time to make sure we had le bon temps!
Big shout out to the band "Straight Whiskey" – the real deal.


HOW MUCH KING CAKE CAN ONE PERSON EAT?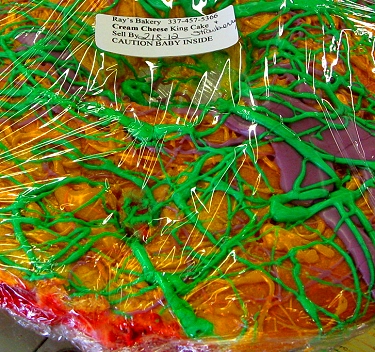 As soon as we crossed over the Louisiana border we began seeing King Cakes.
This tradition started in France in the 1100s to commemorate the Three Kings' visit to the Christ Child.
In Acadiana the King Cake is in the shape of a ring to symbolize a crown and decorated in Mardi Gras purple, gold and green.
A little plastic baby Jesus is hidden inside the cake and the person who's slice contains the baby is designated as the host of the next Mardi Gras or King Cake Party.
After asking around, we found out that there are no hard and fast rules when it comes to the flavor of the cake. Bakeries generally fill their King Cakes with cream cheese and fruit, and some fancier versions include marzipan or Bavarian cream. The only guiding principle seems to be the colors – purple for justice, green for faith and gold for power.

The King Cake can be found in this area from January 6th until Mardi Gras Day.
THE BEST BETWEEN-THE-WEEKENDS DIVERSION
THE place to be on the Wednesday night before Mardi Gras is "Taster's Choice" in Eunice. We headed down to the Acadian Center at LSU/Eunice to eat some of the best Cajun food we've ever had.
Over twenty chefs sponsored by local businesses bring their best dishes for the benefit of the Community Clinic – and a big time is had by all!
For 20 bucks each, we ate ourselves silly and were mesmerized by Marc Savoy on the French accordion playing traditional Cajun music with his family and friends – AND it was all for a great cause.
Once each guest made the rounds and sampled the food, we were encouraged to vote for our favorite dish. Here were ours:
Best sponsor name – Guidry's Dirt Service's Crawfish Chowder
Most clever name – Bayou Alfredeaux
All around favorite – Fruge Lumber Company's Crawfish Étouffée
YOU CAN GET BOOZE AT THE DRIVE-THRU WINDOW?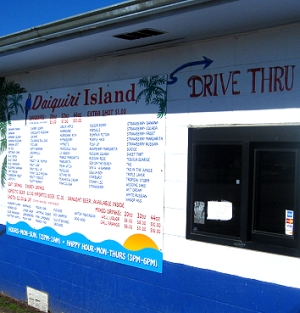 As a matter of fact, you can.
And not just during Mardi Gras season. All over Cajun Country all you have to do is drive up and order.
Being the curious types, we tried it on bikes.
It was about one in the afternoon in Marksville when we rolled up to the window at Daiquiri Island and didn't even get a reaction from our server.
The drink menu was nailed to the wall by the window with concoctions called "Stanky Leg," "Purple Haze," and "Whoop Ass," (among others we're too embarrassed to type BUT there's a pic here)!
There was no explanation as to what they might be made of, so we went with something we had heard of – a Mudslide. When asked what size, we opted to split a small – which was 20oz! Delicious and VERY potant. An adult chocolate milkshake, if you will.
Later in the day, we found another interesting establishment, The Watering Hole.
Instead of a drive-up window, we actually drove through the building. The walls were lined with refrigerator cases filled with cold beer, wine and the like. And there were daiquiris, as well. Our favorite name was "Hillbilly Suicide."
The drink we had split earlier was MORE than enough, so we opted for a pound of crawfish scooped up out of a cooler – the biggest little mudbugs we'd ever seen. Delicious!


CLICK TO ENLARGE PICTURES (and more!)
MARDI GRAS IS GOING TO THE DOGS!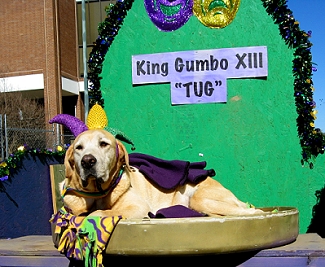 Lafayette's Krewe des Chiens Annual Dog Parade is a must-do.
This parade is geared toward children, but brings out the dog lover in all of us.
Vibrantly costumed fur babies proudly trot down Lafayette's downtown streets as both participants and spectators.
Everyone has a grin on their snout as beads are thrown, puppies are rescued and donations are accepted for Acadiana's less fortunate furry friends!

CLICK TO ENLARGE PICTURES (and to see many more cute guys!)
JEANERETTE'S KREWE OF EZANA MARDI GRAS PARADE
Some parades are focused on floats and bead throws.
Not in Jeanerette. This little town of 6,000 throws a real show. Marching bands, twirlers and dancers of all ages fill out the spaces between the floats.
They don't call Jeanerette "Sugar City" for nothing – this town doesn't mess around with the treats they throw – candy, beads, stuffed animals, candy, trickets, oh, and candy. And gum.

CLICK TO ENLARGE THESE PICTURES (and more!)
KREWE OF CARNIVALE EN RIO – all about the beads!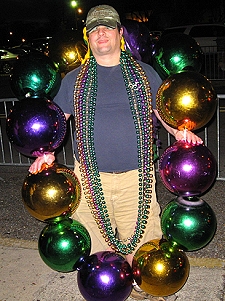 This parade IS all about the beads.
Seriously. It was insane. We had discussed ahead of time our rules of personal bead gathering, as we wanted to get a realisic idea about how many one could expect to gather.
-No picking them off the street.
-No grabbing them away from eager youngsters (think foul balls at a baseball game).
-Unless they are thrown directly to us or hit us when we weren't paying attention, they did not go around our necks.
Even so, we could barely walk back to our vehicle – madness, sheer madness.
We should have realized something was up when we saw all of the "Throw Me Something Mister" signs and fishing nets. The winner was a kid who was holding a laundry basket affixed to a broomstick, creating a target that no float rider could resist trying to make.
By the halfway point there were nearly as many plastic bags that had held the beads floating on the wind in Lafayette as beads themselves.

CLICK TO ENLARGE THESE PICTURES (and more!)
David & Veronica, GypsyNester.com
Delve deeper:
Visit the crazy Courir de Mardi Gras, in Church Point – chicken chasing!
Check out the authentic celebrations in Eunice and Mamou
Go hog wild at an old-fashioned Boucherie meat fest!
Watch dogs celebrate Mardi Gras at the Krewe des Chiens Dog Parade
Find out how to get booze at a drive-thru window
Join us at the parades in Jeanerette and Lafayette
Learn more about the Acadian, Canadian, and Cajun connection
See our thank you to the mysterious person at the Dog Parade who commited a wonderful act of kindness!
YOUR TURN: Have we convinced you to give rural Mardi Gras a shot? What would be your first stop? Did we miss anything?