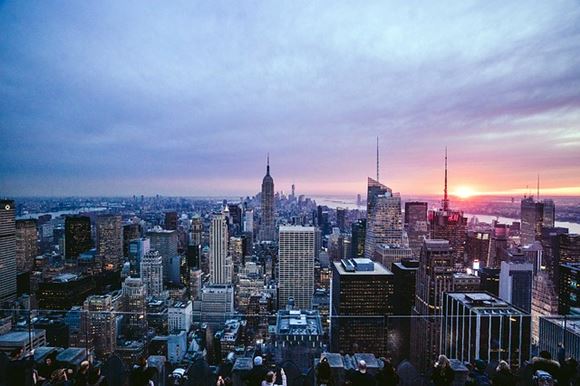 Years ago we solved the dilemma of the cost of living in New York by living miles outside of the city in Poughkeepsie. But that meant spending hours on the train and missing out on many of the things that make the Big Apple so great.
After that we ended up in Southern California for a while. So now, as we move into the grandparent period of our empty nest lives, we have been discussing some new possibilities. We are most interested in finding ways to see not only our grand babies, but also our full grown adult kids as much as possible.
As our three children set out on their own, each of them settled down in very different places. Our oldest, and mother of our two grand daughters, married a French man and lives in Paris. Her sister, the middle child, lives in New York City. And our youngest, the boy, is a pilot up in Anchorage, Alaska.
These far-flung locations are all great places to visit, but they are also all very expensive. So that has led us to start looking at options for staying close to the kids that don't involve spending hundreds of dollars a night on hotels or hoping for the best at an unknown Air B&B.
Is There an Affordable Alternative?
We are always on the look out for them, and that is why we were so excited when we found an interesting prospect in New York City with Outpost.com. The idea they call Outpost Club, is a concept of coliving New York City that makes it possible to afford living in the city without going broke.
So How does it Work?
1. The unique rental system provides a private room connected to shared spaces such as kitchens and living rooms. This allows for much lower rent.
2. When it comes to utilities or WiFi all of the worries and expense have been removed, because they are included in the rent.
3. The little essentials needed for the apartment, along with regular cleaning, are also included. This means that there is only one bill for all of the housing necessities.
Who can Benefit from Coliving?
While we became interested in Outpost Club because of our unique situation as digital nomads, the set up sure sounds like a great option for younger folks who are looking for an affordable way to get started in the big city.
The mission of Outpost Club is to build a community of people with shared passions and visions, and by working together create thriving communities that will help to make the world a better place. This makes it possible to meet like-minded creative people, such as entrepreneurs and experts from many fields, and develop professional, long-term relationships.
I can tell you that we certainly wish this had been available back when our kids first moved to New York City years ago. The savings and the networking could have been a huge boost for their fledgling careers.
But now that they are all settled, we would also love it if the Outpost Club expanded to new cities around the world… like maybe Anchorage… or Paris.
David & Veronica, GypsyNester.com