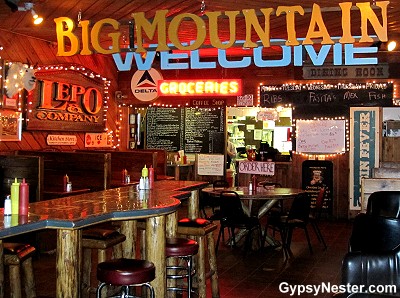 Even without going all Grizzly Adams mountain man into the wilderness, slogging through knee deep snow can build up a powerful hunger.
Folks in Whitefish have been satisfying their hungers… and thirsts, at The Great Northern Bar for nearly one hundred years, and we certainly weren't looking to break with tradition.
Named for the railroad responsible for Whitefish's existence, The Great Northern has taken on the task of keeping local history alive.
The walls are covered with signs obtained from dozens of nearby businesses that have gone by the wayside through the years, as well as relics from the old GN Railway.
After checking out the menu, for some reason buffalo seemed like the right thing to order.
To see more about the wonderful town of Whitefish, click here.
Yup, we were going plum Western.
When we washed it down with a Kokanee "Glacier Fresh" Beer, a new discovery for us that hails from the nearby neighbors to the north, British Columbia, we had some right rib sticking vittles.
Coolest of all is the square of carpet with an outline of Bruce Springsteen's shoes proudly displayed.
The manager said that the hardest thing he's ever done in his life was making The Boss stop playing when he jumped up to jam with a local band.
It was, after all, closing time.
David & Veronica, GypsyNester.com
See more:
– Sled Dogs & Snow Ghosts – Whitefish, Montana in the Winter