Due to its complicated system of canals, Fort Lauderdale—also referred to as "Venice of America"—is a bustling city located on Florida's southeast coast. Fort Lauderdale offers a wide range of enjoyable experiences for both locals and visitors because of its beautiful beaches, vibrant cultural scene, and plenty of outdoor activities. This vibrant city has plenty to offer everyone, whether they are looking for adventure, relaxation, or a combination of the two. A private sunset cruise in Fort Lauderdale stands out among the many options available and promises an amazing experience on calm waters. Let us look at some of the other tempting things to do in this lovely coastal city.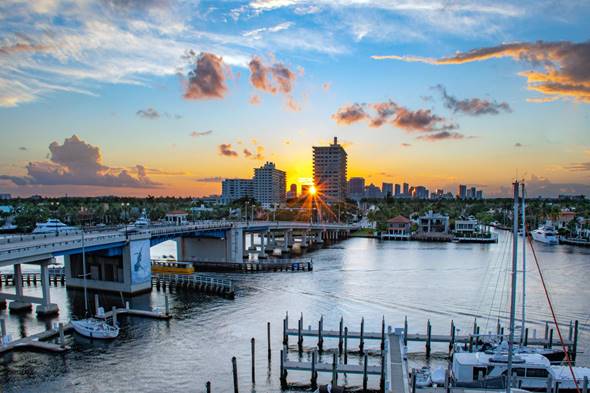 Beach Bliss
It would be impossible to visit Fort Lauderdale and not indulge on one of its stunning beaches. There is a sandy location to suit every desire, from the famous Fort Lauderdale Beach with its busy promenade to the quieter and more private Dania Beach. Enjoy the sunshine, cool off in the Atlantic Ocean, or just stroll the coastline and take in the stunning sights.
Explore Las Olas Boulevard
The place to go if you enjoy food, shopping, and a lively ambiance is Las Olas Boulevard. Numerous expensive restaurants, art galleries, and boutique stores line this busy street. Spend an afternoon perusing the interesting offerings and enjoying delectable international cuisines.
Learn about the Everglades
You can enter the intriguing Florida Everglades by venturing just outside of Fort Lauderdale. In the renowned "River of Grass," where you may see alligators, many bird species, and other amazing wildlife, take an airboat tour. It is a chance to spend time surrounded by nature's wonder and beauty.
Gardens and Museum at Bonnet House
Visitors to the Bonnet House Museum and Gardens will be delighted, especially those who enjoy history and art. This historic estate features a distinctive fusion of fine art, beautiful architecture, and the outdoors. The gardens are especially beautiful, with their verdant surroundings and tranquil lily pond.
Aquatic Extravaganza
Fort Lauderdale is a haven for lovers of watersports because of its long beach and various canals. You can take part in activities like paddleboarding, kayaking, jet-skiing etc. It is the perfect place to enjoy the sea because of the warm waters and calm waves.
Fort Lauderdale Riverwalk
Visit Riverwalk Fort Lauderdale for a pleasant bike ride or leisurely stroll. This lovely linear park offers a magnificent route through the center of the city as it follows the New River. You will pass quaint eateries, historic locations, and lovely green spaces along the road where you can stop and take in the scenery.
Private Fort Lauderdale Sunset Cruise
There is no better way to experience Fort Lauderdale's magic as the day ends than on a private sunset cruise. As the sun sets over the horizon, see as you float along the calm waters that the sky becomes ablaze with brilliant hues. Families, groups of friends, and couples looking for a romantic outing will all enjoy this intimate encounter. The private sunset cruise in Fort Lauderdale will leave priceless memories as the beautiful cityscape serves as your backdrop.
Conclusion
With its many attractions and lively atmosphere, Fort Lauderdale ensures that every visitor will have a wonderful day. There are plenty of enjoyable activities to take part in, from the beachfronts bathed in sunlight to the cultural destinations. And as you explore this lovely city, do not end the day with a private sunset cruise, which will make your trip to Fort Lauderdale special. Pack your luggage, head to this coastal treasure, and start having fun.