Staying off the beaten path in Italy has many rewards, not least of which are the less-than-touristy towns – hidden gems, completely unknown to the AutoStrada-blazing passerby.
Casale Monferrato, in the northern Italian region of Piemonte (Piedmont), the foothills of the Alps, is just such a gem.
In many ways Casale is your typical medium-sized town of Italy.
About thirty thousand souls reside around an ancient center with a wonderfully preserved medieval castle, several spectacular towers dot the skyline and at least one unique food item calls Casale home.
Perhaps the biggest difference between Casale and other Italian towns is that the item is not a wine, olive oil or cheese, but a cookie.
A cookie that has remained unchanged for nearly a century and a half.
We have been huge fans of Krumiri Rossi since our friends, Paolo and Claudia, sent us a tin of these cookies that rolled our eyes back for the holidays several years ago.
On our first visit to Casale the following spring, we discovered that the aroma of these treats filled the town.
This time we were lucky enough to have David's band mate Paolo set up an exclusive behind-the-scenes peek at the cookie production process. Apparently, Paolo knows people. We didn't ask questions.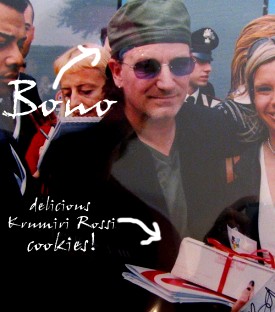 We followed our noses to meet Anna Portinaro, the current guardian of the confection tradition, who was kind enough to greet us for a personal tour of the factory"
The beautiful thing is, there is no factory here, only a couple of rooms in the back of the shop where careful artisans hand create these mouth-watering morsels in a manner virtually identical to the way the first cookie came out of the oven back in 1878.
With Paolo patiently translating, Anna explains how only five ingredients, flour, butter, eggs, sugar and vanilla, go into the giant mixing bowl.
Of course the exact amount of each is a closely held secret (the only clue that we sniffed out on our tour was that because water is not used in the batter, the eggs have to be cracked at a critical time).
Because of its history, Krumiri Rossi is protected under Italian law as a work of art. Many have tried to duplicate the recipe, but somehow they fail – no other cookie has come even close to rolling our eyes back in our heads.
After "resting," the dough is squeezed out of a machine in long bars that are then cut and hand shaped into the classic arc that was designed as a tribute to the first king of the united Italy, Vittorio Emanuele II, and his handle-bar mustache.
From there they are popped into the oven, watched, turned and set out to cool by the master chef.
In the next room the cookies are carefully hand packed into the iconic tin boxes, no conveyer belts or metal claws to break these delicate delicacies.
Paolo mentioned how the boxes have been a part of his life since childhood, noting that "you usually put something in the box after the cookies are gone."
The Krumiri Rossi storefront houses a small "museum" where Anna displayed how the original hand-cranked cookie dough squeezer-outer worked and showed us how the iconic tin boxes had changed though the years.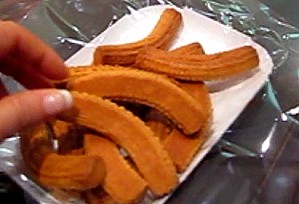 Our morning ended as Anna presented us with cookies still warm from the oven and a beautifully wrapped package of her pride-and-joys.
We left with a new appreciation for the confections and the craftsmanship that goes into creating them. To learn more go to the Krumiri Rossi website.
As the bells rung noon we thought "if this is Tuesday, we must be in Casale," and that means market day!
As with almost every village, two days a week the main square becomes a bustling market.
Most anything and everything, shoes, toys, clothing, cleaning supplies and unbelievable food offerings fill the tables, carts, trailers and trucks sprawled across the plaza.
On this particular morning a small cloudburst sent shoppers scurrying under the canopies, but no worries, it took no more than a minute or two and four Euros to procure an umbrella.
New weather protection in hand, we skipped the household items and headed straight for the food.
A vast expanse of magnificent meat, sensational seafood, fabulous formaggio, tantalizing tentacle and palate pleasing produce filled our senses.
A bountiful smorgasbord of goodies for the eyes, nose, ears, but unfortunately, not so much for the mouth. Every time we hit one of these open air markets across Europe, our first thought is "Damn, I wish we had a kitchen."
Since we didn't have our own, visiting a friend in the kitchen was the next best thing. Actually even better because Claudia certainly knows her way around an Italian cucina.
She was gracious enough to let us watch her as she made her delicious Pesto Rossa con Ricotta and the dessert, typical of the Piemonte region, Bunet. She allowed us to share her secrets:
WATCH:


Do you love cooking classes like we do? Click here to see our classes from around the world!
Claudia's cooking is light and fresh and she utilizes ingredients from her Momma Cesarina's garden. It is said that Cesarina's amazing backyard crops are much more than organic – she talks to the bugs and asks them to leave the plants alone.
And they do.
We always feel like we've done something wonderful for our bodies – and minds – when we eat at Claudia's table. Excellent food and conversation abound.
Good thing, because we had cookies for breakfast.
David & Veronica, GypsyNester.com