If you are looking for a travel destination rich in nature, astonishing views and fairy-tale like scenarios, Canada is the right country to explore! Besides the famous modern cities, Canada offers several different places for easy-to-follow mini trips you and you better-half you won't easily forget. Let's find out together which are the best Canadian romantic places and, most of all, how to make the most of this experience with some useful tips!
Niagara Falls

Niagara Falls are undoubtedly Canada's most famous natural attraction, bringing millions of visitors every year. Located just over an hour's drive from Toronto, along the American border, and often called the "Honeymoon Capital of the World" they are made up pf a series of three imposing waterfalls, with waters falling from a height of approximately 57 meters. Visitors can see the waterfalls at very short distance from their upper edges. Between mid-20th century and mid-19th there have been numerous attempts to dive above the waterfalls in various types of home-made boats and barrels. This, along with funamboli and other shows, led to the adjacent city of Niagara Falls to develop a kind of carnival atmosphere that still persists today.
GrosMorne National Park
The GrosMorne National Park of Newfoundland is more remote than many of Canada's most popular national parks, but it is worth discovering this beautiful landscape of mountains and fjords.
The park is a UNESCO World Heritage site with steep cliffs, waterfalls and interesting rock formations excavated by glacial water. Most visitors make a romantic boat ride to appreciate the landscape, but there are also more adventurous mountain trails and opportunities to go kayaking. In winter, the park receives many less visitors, but is open for mountaineering, with special huts.
Fundy Bay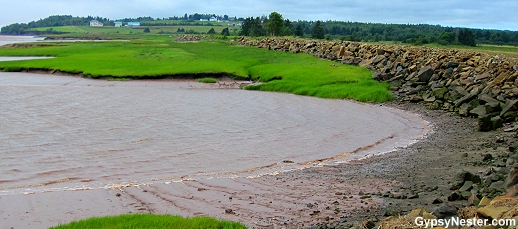 Fundy Bay, located in Eastern Canada between New Brunswick and Nova Scotia, is known for its amazing tides. The variation between high and low levels is the largest in the world, which corresponds to a maximum of 19 meters. There are many ways to appreciate this natural wonder, for example, some of the most popular resorts along the Fundy Bay, such as rocky cliffs and rock formations at Hopewell Cape, Fundy National Park, Fundy Trail Parkway and Grand Manan Island.
Hudson Bay
One of Canada's most singular romantic attractions is the polar bear's migration that sees these gorgeous creatures getting off the ground to the ice in Hudson Bay, near Churchill, in North Manitoba. This small community opens to tourists who are brought to live close encounters with polar bears within secure structures. The best time for their observation is in October or November, when the bears are waiting for the water to freeze before going out on the ice.
So, Canada will give you the chance to live the most romantic experience with incredible views and uncommon and not so touristic paths away from the cities' buzz in order to leave it all behind and live the honeymoon-like experience eloping with your partner. Are you interested in exploring these beauties? Hiring a car is the best solution to make the most of it and explore several places in complete freedom and in an adventurous way. If you are looking for the best service in car hire check out www.holidayautos.co.uk and find the perfect option to live your romantic Canadian experience in an independent, easy and convenient way!
We are happy to present this collaborative post to offer valuable information to our readers.