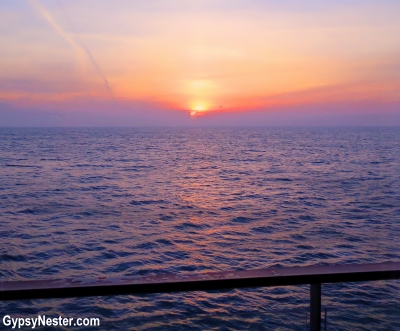 As we approached the town of Hoorn we experienced a rare occurrence on a river cruise, there was no land in sight.
We sat on our balcony gazing at what looked to be sunrise over the ocean.
No wonder, this was an arm of the North Sea at one time, but now is a freshwater lake called IJsselmeer.
As part of their never ending battle against the water, the Dutch dammed the bay in 1932 and within a few years water from the river Ijssel had replaced the saltwater.
During Holland's Golden Age, in the sixteen hundreds, the town of Hoorn had been a major port for the Dutch East India Company.
Ships laden with treasures from across the globe sailed in constantly, but now instead of naval warships and merchant vessels, the harbor is filled with cruise ships and private yachts.
When we disembarked, we noticed that these present day peaceful vessels are still protected by a semi-circular defensive tower situated so that any approaching enemy could easily be fired upon.
Feeling fairly safe, especially since no hostilities have happened here for centuries, we went in for a closer look.
The side of the stronghold facing the water is curved to deny cannonballs a flat surface to hit, nothing but glancing blows for this fortress.
If anything, the sea has caused more damage than any artillery, but now that the salt is gone we can look forward to the tower standing for another five hundred years.
After our inspection of the fortifications, a small group of us from the ship met up with the former mayor of Hoorn, Jos, for a truly inside scoop on the real Dutch way to devour herring.
Back when Hoorn was a thriving seaport herring was king around here, and the salted fish has remained a staple of the Dutch diet for a long, long time…
It certainly seemed like we should give this Dutch sushi a try, so we followed Jos to a little fish shop on the harbor for a lesson in proper consumption of raw, salted herring.
Eating a Herring Like a Real Dutchman
Jos knew everyone in the place, and the shop had just about anything that comes from the sea available, but we were there for only one thing.
He asked the lady behind the counter prepare us each a serving the traditional way, with onion and pickle, but he was having none of that.
He was ready to demonstrate how a real Dutchman eats a herring!
He grabbed a good looking specimen by the tail, threw back his head, and downed the whole fish with no accompaniments at all.
(We got the distinct feeling that Jos got into the tour guidin' business for the free "demo" fish)
Not feeling that brave, we opted for a couple of our small pieces topped with pickle and heavy on the onion, hoping to hide some of the fishy flavor.
The piscine piquancy was not that strong, and was easily overpowered by the onion, but the texture, cold, slightly gelatinous, and raw, left a lot to be desired.
Must be an acquired taste.
Living the Hoorn Life
After our meeting with the mayor, the folks at Viking had set up an interesting surprise for us for the afternoon; the chance to visit with a host family in their home.
This afforded us the opportunity to see typical Dutch life in a personal way, and get to know people who are happy to meet travelers from around the world.
It was also chance to finally get a glimpse inside one of the skinny houses that had captured our attention throughout Holland on our previous visits.
Our band of shipmates separated into small groups and went off to various houses.
Our group was hosted by Steef and Lia, and their adorable dog Lola, who welcomed us in to sit down for coffee, dog petting, apple pie, stroopwafels, and great conversation.
(Veronica gave some thought to smuggling out her new buddy, Lola the Lap Dog, but—not knowing the Dutch custom—decided that it might be considered rude.)
Our initial concerns that these visits could be uncomfortable, or seem forced, disappeared within a few minutes. In no time we were all happily chatting about our families, travels, backgrounds, and even home improvements.
Their two hundred year-old home is wonderfully remodeled, and Steef and Lia were more than happy to show off their handiwork, family photos, and an amazing collection of Christmas decorations in the guest bedroom that Lia calls "The Museum."

The view from Steef and Lia's rear balcony
Time flew by and before we knew it over an hour had passed.
Steef and Lia's grandbaby would be coming by soon, so we needed to clear out and let the couple enjoy the rest of their day.
We said our thank yous and goodbyes and got on our way with a much better understanding of what it is like to live in Hoorn.
Hoping to continue that feeling, we walked over to the town's main square, Roode Steen, to partake in the afternoon activities and soak up some sun.
On that warm spring afternoon, it seemed as though the entire town had turned out with the same idea.
Blood from a Stone
Roode Steen means red stone, as in blood red, because this was the site of public punishments for criminals.
Often those judgments included removal of body parts, up to and including the head, so the stone took on the color of the spilled blood.
The round rock marking the spot today is a replica of the original, but that didn't stop David from mimicking a criminal about to lose his hand for thievery.
Veronica was too chicken to try, just in case the authorities had caught on as to how much she was coveting Lola the Lap Dog.
It's doubtful that justice is currently dispensed like this in Hoorn.
But we weren't taking any chances.
David and Veronica, GypsyNester.com
Thanks to Viking River Cruises for inviting us along and providing this adventure through the tulips and windmills of Holland and Belgium with stops in Amsterdam, Kinderdijk, Antwerp, Bruges, Veere, Hoorn, and Arnhem.
YOUR TURN: Did Veronica do the right thing by leaving Lola with her family? Would it have been the Red Stone for her?