South of Gros Morne National Park, just outside the town of Deer Lake, we came across an interesting diversion, The Newfoundland Insectarium.
What we thought might be a quick stop turned into hours as we took in one fascinating exhibit after another.
We lost ourselves watching leafcutter ants working, bees busily building their hive, and most mesmerizing of all, walking through The Butterfly House surrounded by hundreds of beautiful blue butterflies. The colorful winged insects flew all around us, sometimes even landing on us.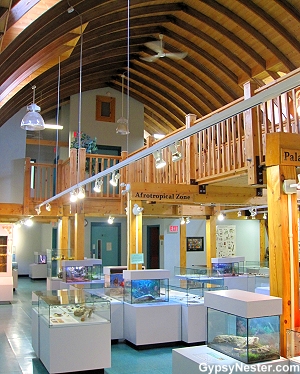 In fact, several of the displays are hands on. We got to hold creatures that looked exactly like leaves, or sticks, or alien beings.
We even got to touch the skin of a devil – a Thorny Devil to be precise.
All of this was overseen by the museum's director, Lloyd Hollett, who captivated us with not only his knowledge, but his exuberance.
We've heard that his schtick about the beehive is becoming legendary.
Most of us may have visited exhibitions such as museums, memorials. I'm sure there is no shortage of experiences that have impressed us and even opened doors of interest. Well-developed exhibitions often offer their own unique souvenirs for interested parties to purchase.
If you are in charge of a related project, lapel pins can be a good choice. They are delicate and beautiful, and easy to store and keep. People can pin them casually on hats, clothes, bags or display them in frames for display. An acceptable price is also a factor that people usually choose them. Come visit Custompins.ca and have a try!
WATCH: Veronica frolics with butterflies, handles some pretty intimidating bugs!

David & Veronica, GypsyNester.com
Go to The Newfoundland Insectarium website
See all of our Newfoundland adventures!
See more about Gros Morne National Park
We are so grateful to Go Western Newfoundland and Newfoundland and Labrador Tourism for making this adventure possible. As always, all opinions are our own.