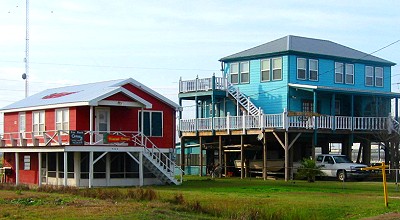 There is something about driving to the very tip of a place, the end of the line, land's end, that we can't resist.
It's kind of like climbing a mountain for us, we do it because it's there. In Louisiana that point where State Highway 1 hits the water is Grand Isle.
Building a road across this expanse of wetland took extensive engineering and ingenuity. The bridges are marvels of modern construction, while other stretches of highway, that have succumbed to the water, have been rerouted using some less than marvelous methods.
After crossing dozens of miles of swamp and marsh that would be hard to call land, we made it over one last bridge and on to the only inhabited coastal barrier island in the state.
The first thing we noticed – it would have been nearly impossible not to – was that the entire town was up on stilts.
Let's clarify, all of the buildings in the town are up on pilings, or bricks, or blocks, or poles, or something.
Not only the houses, but churches, schools, stores, restaurants, the fire department, the police station, the post office and the city hall up on stilts. Anything to keep them abovewater when a storm surge washes over the island, which is no rare occurrence.
Grand Isle gets hammered by a hurricane or tropical storm on average more than once every three years and takes a direct shot every eight.
Most recently Gustav and Katrina washed five feet of water over the island, but the worst ever surges have been three times that high.
One local lady told us about a sign showing up hundreds of miles away after a recent assault. Many of the "camps," as they call these beach houses, have signs with cute names like "Crawdaddy's Home" or "Sea You Later" and after Gustav her friend got a call from a man in Texas who found their sign on the beach.
The sign was mailed back, nailed back up, and now waits for the next big blow.
As we drove in, the island felt nearly abandoned. As nice as the weather was in late winter, it is still a summer place.
Only about 1,500 folks stay year 'round, but come summertime ten times that many will be soaking up the sun on the beaches. Personally, we're just as happy to hit things in the offseason.
Our offseasonness allowed us to have a spot right by the beach in the campground at Grand Isle State Park.
In addition to a really nice beach, the park has the only fishing pier that juts out into The Gulf of Mexico in the state of Louisiana, an observation tower for great views of the gulf to the south and swamps elsewhere, nature trails and a lagoon with more excellent fishing opportunities.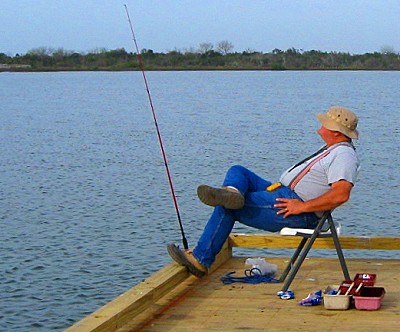 Fishing is the main attraction in Grand Isle, especially the annual Grand Isle Tarpon Rodeo Fishing Tournament that draws over fifteen thousand anglers every July, but bird watching is big too.
The park protects over 150 acres of salt water marsh that serve as a stopping off point for thousands of migratory birds. Unfortunately for us, those feathered friends don't show up till later in the spring.
On our walks along the beach and out the pier we were treated to shows from the feathered permanent residents, the Brown Pelicans.
We watched them fly in formations, skim just inches above the surface of the sea, and their most entertaining move by far, dive head first after fish from insane heights. It is beyond comprehension how their necks can stand that kind of impact.
There were also a crazy amount of helicopters flying around. It seemed like there was never a moment without a whirlybird overhead.
Grand Isle is the closest land to many of the offshore oil rigs out in the gulf and choppers are the fastest way to get back and forth, so the helicopter per capita ratio has got to be a world record.
The island is not all that big, about ten miles long and less than a mile wide, so we broke out our trusty bikes and rode from the state park, on the far eastern edge, into the town, at the center.
This time of year the inhabitants consist of mostly fisherman, oil workers and a few of the hardy island types that seem to populate almost every lonely outpost that is surrounded by water. Generally a good group to sit and have a beer with, so we did.
After our bull session, it was time to go in search of some of the local grub… oysters and shrimp.
From what we could gather, Grand Isle is not much of an epicurean destination, and even less so in the offseason.
There are only four or five restaurants and this time of year only a few of them were open. But we did find some delectable oysters served both raw and, in the local favorite manner, grilled over coals.
More interesting was our discovery of a new dish we had not encountered before, shrimp and corn chowder.
Tomato based with a creole flair, this is a traditional wintertime dish and, even though it wasn't actually cold outside, it did hit the spot.
With our spots hit, we could clearly see that Grand Isle is a hot spot we're glad we spotted.
David & Veronica, GypsyNester.com