When we heard about the fairy tale wedding of Princess Cruises and Master Chocolatier Norman Love, we just had to score an invite.
We knew from our experience aboard the Royal Princess that when it comes food, romance, and sweets, Princess does not mess around.
With our favorite princess set to tie the knot with one of the top ten chocolatiers in North America – the king of ultra-premium chocolates – the nuptials were not to be missed.
Anytime a princess marries a king, it's a big deal – and when the surname is Love, it's bound to be the social event of the season!
The reception began with a champagne toast to the happy couple highlighted by a dark chocolate, heavy cream and butter-based Love Pop Truffle.
Royal Princess' baby sister, Regal Princess will host the first Chocolate Journey in the Fall of 2014, and over the span of a year, every ship in the fleet will be featuring the decadent fare. On board, at the Captain's Welcome Reception guests will toast their sailing with a Love Pop and bubbly.
Our chocolate journey continued with handcrafted artisanal chocolates…
…and chocolate libations
Sixteen hand-crafted chocolate cocktails have been created by Mr. Love as a dowry for his Princess.
Our favorites were the Chocolate Salted Carmel Rum Shake, the Chocolate Bacon Bourbon Bliss and the Chocolate Chile Margarita.
Focus was pulled from the blushing bride, when the Black Single Origin Dark chocolates arrived, making their grand entrance with the perfect wines on their arms.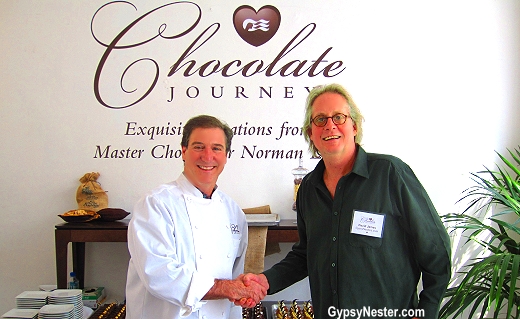 For dessert (how do you define dessert on a ambrosial occasion such as this?), we were treated to three of the groom's fifteen divine signature desserts created for the Missus.
The Chocolate Hazelnut Bar with Citrus Cream, the Chocolate Pistachio Dome with Almond and Pistachio Nougatine, and the Chocolate Tiramisu with Mascarpone Cream and Espresso Gelato.
Like any good wedding, we were sure to wake up the next day with a hangover. In this case, a choco-hangover.
We need to learn to pace ourselves!
David & Veronica, GypsyNester.com
Delve Deeper:
See our Royal Princess voyage across The Mediterranean!
Learn how Princess Cruises keeps us safe at sea
YOUR TURN: What would be the first morsel YOU would attack? And don't say Norman Love – he's still in his honeymoon phase!