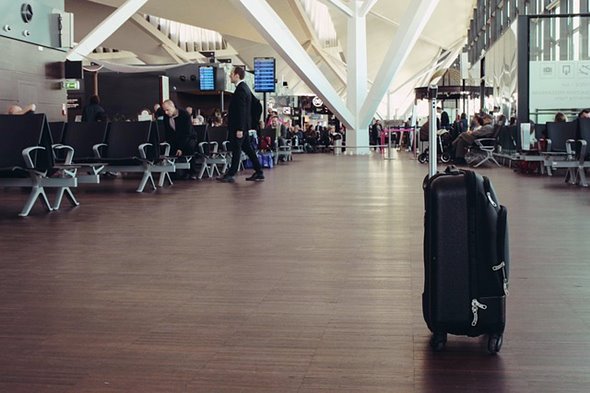 Spontaneous travel always sounds so exciting. Imagine jetting off on a whim, armed with a single bag containing the bare bone possessions you managed to sweep up on such short notice.
While this is the ultimate dream for some, the planners among us are sure to be cringing at this very scenario. It sounds liberating being able to agree to a holiday at the last minute, but the reality is it can be quite stressful.
Regardless of how much we want to be carefree and uninhibited, embracing every opportunity that comes our way, at least some thought and preparation is required to ensure you actually enjoy your trip.
If you'd rather spend a week cleaning out your sock drawer than take an unplanned vacation, we feel you. That's why we've put together our list of 8 ways to survive an unplanned vacation.
1. Always remember to take proof of identity and bank cards
If you're going to remember any of these tips, remember this. Never leave for a vacation without first packing your proof of identity documents (driver's license or equivalent for domestic travel, passport for international travel) and bank cards.
Trying to check into your room without these? Unlikely. Want to rent a car? Definite no-go. Need to buy FOOD? Impossible without access to funds. As much as we'd like to run off into the sunset with only the clothes on our back, forgetting these vital items is a surefire way to ruin your trip.
2. Pack light
Need to pack quickly? You're going to have to pack light. Now is not the time to squish half your wardrobe into your suitcase because you've dreamt up a range of 'what if' scenarios. Choose clothes that suit the type of trip and the climate of the destination you'll be visiting. The best approach is to choose a few outfits in similar colours so that you can mix and match. A piece of clothing that can be adapted to create different outfits is always better than a piece that has one purpose.
Packing light is particularly important on an unplanned vacation as you might not even know where you're staying or how you're going to get there. The last thing you want is to be stranded or delayed simply because you've packed too much. It also means it'll be easier to store your luggage with services like Bounce if your room isn't ready or your flight gets delayed.
3. Be flexible
Booking a holiday at the last minute means that things probably won't go to plan. And that doesn't mean you should let it ruin your trip! Take a deep breath and move on to Plan B. You can't expect the perfect hotel to have a room at late notice and you won't necessarily be able to get a flight at the time you'd prefer, but that's all part of the experience. Try to relax and learn to be flexible with your plans. Spontaneous experiences always end up being the best stories, anyways.
4. Be mindful of your budget
As much as we'd like to be spontaneous and care-free, responding to every opportunity with a resounding 'YES!', we need to remain mindful and remember that some things have limitations. And for any type of travel, that includes our budget.
Don't get so caught up in the excitement of an unplanned trip that you forget your financial limits. Sure, you want to enjoy your trip, but you also don't want to be stranded in a foreign country with an empty bank account because you took the YOLO philosophy a little too far.
Even if you leave quickly without much time to plan, take a moment to determine the amount of money you can spend on the trip. Make sure that you continue to live within your means, while also staying open to as many opportunities as you can.
Additionally, there can also be great last-minute deals that can save you heaps of money. As long as you have a bit of a buffer, you won't have to worry!
5. Do some research
An unplanned vacation doesn't mean that you can't do some research. We all have mobile devices that we can use to connect to Wifi in most places. One of the biggest problems with an unplanned vacation is overspending. Sometimes we find ourselves caught up in a spontaneous mindset (see above), but other times unplanned trips are simply just more expensive.
Costs of flights and attractions often cost more closer to the date, and then we're faced with unexpected costs because we haven't had the time to plan. Even a quick Google on local attractions, cheap eateries or different types of accommodation can be the difference between staying within budget or breaking it completely.
6. Ask the locals
If you feel unprepared because you haven't had the time to plan, there are other ways to get information. Don't be afraid to ask questions. Talking to the locals is the best way to get insight into a destination and you can learn a lot about what to see/do/eat during your time in their town. Getting information this way is usually better than guidebooks or online research. Who knows what hidden gems you will uncover!
7. Inform family and friends
Just because you feel like you're skipping town doesn't mean you need to act like it. Whether you're spontaneously headed overseas or going camping for the weekend, tell someone. You don't want your family and friends getting worried because you aren't home or won't return their texts.
8. Embrace it!
Finally, if you've decided to take an unplanned vacation — embrace it! It might not be your dream vacation, but it doesn't have to be. A spontaneous trip can offer things that your typical, planned vacation cannot.
Unless you're a Type-A planner, you probably won't have had time to put together an extensive itinerary so you won't be rushing from one major tourist site to the next. Without a strict to-do list, you'll be freed from expectations and able to experience your destination in a completely different way. You might have the chance to wander the streets, soaking up the brand new sites, smells and sounds of a new city, or purchase local ingredients and have a peaceful picnic in the park while observing the locals.
An unplanned trip can be daunting, but it can also be the greatest adventure. Next time the opportunity arises, do yourself a favour and embrace a spontaneous vacation — just make sure to remember these tips!
We are happy to present this collaborative post to offer valuable information to our readers.