After the year we've all had, nothing sounds better than a fundamental trip to Europe. Marvelous cities and gorgeous historical sites will welcome and relax you. If you are still in the midst of planning your European trip, check out these 7 ideas for an unforgettable one.
1. Take a Stroll Across The Charles Bridge in Prague
Built in the early 15t century, Charles Bridge is the oldest bridge in the area. It spreads across the Vltava River and connects the city's Old Town with the marvelous Prague Castle. The establishment is so well structured and planned out, that it has been declared as a UNESCO World Heritage site.
2. See an Opera in Vienna
A cultural jewel of Europe, Vienna is one of the best choices to enjoy an upper crust evening in and treat yourself to an opera. Even if you are not a fan of classical music and arts, this experience is highly recommended to get in touch with the intellectual part of Europe and, hey, maybe one evening of high quality music will open up your mind?
Keep in mind that if you choose to follow this general itinerary, there are many comfortable ways to travel around, like the Prague to Vienna train.
3. Go Wine-tasting in Tuscany
A relaxing afternoon in the finest, local wineries will only make your trip better. Discover new tastes and aromas by visiting Tuscany – a region in central Italy with many dreamy countrysides to get yourself lost in, only to end up at one of the many wine-tasting events where you will experience the magic of true Italian wine.
4. Ride a Gondola in Venice
This is the most popular entertainment in the city of 120 islands. With so many canals connecting the little islands, riding a gondola is the perfect way to see everything and it offers many various routes, depending on how far you want to go. It can also be very romantic. Keep in mind that this pastime is quite expensive, so check the prices before entering the beautiful Venice.
5. Visit The Skogafoss Waterfall in Iceland
One of the best waterfalls in Iceland, Skogafoss has a drop of approximately 60 m and a width of 25 m. A lot of drizzling will provide you with a view of the rainbow if you visit the waterfall on a sunny day and you can get really close to it! To get to the Skogafoss you will have to climb an impressive number of steps, but it can get chilly the further you go, so prepare a warm outfit.
6. Explore The Louvre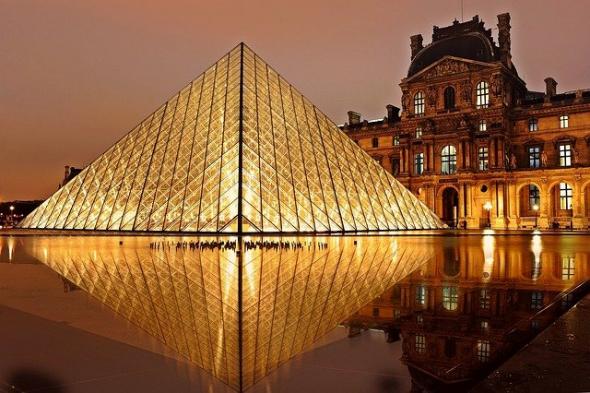 The most visited museum in the world should surely end up on your bucket list. It is filled with breathtaking pieces of art and artifacts spanning thousands of years. There are many various exhibitions among the never-changing pieces that are there all of the time. Works of da Vinci, Gericault and many others. Not to mention collections from Ancient Greece, Egypt Antiquities and other grand periods of time. The Louvre is both aesthetically and historically pleasing, so we suggest setting aside a whole day for it.
7. Admire The Views of Santorini
Set in the southern Aegean Sea, the island of Santorini is a famous location for travelers who just wish to gaze at the attractive views and soak up Greek culture. Many visit this island just after peeking at one picture, yes, the one with the dreamily blue water and pristine white roofs. But there is so much more to see and enjoy. The narrow streets and wide beaches, small cafes and romantic evenings. You can spend the entire time there just strolling around and will still bring back some impressive stories to share.
We can guarantee – this Eurotrip will be unforgettable and simply everything you could possibly look for in the most perfect holiday. Now let's not waste any more time and plan this journey!
We are happy to present this collaborative post to offer valuable information to our readers.