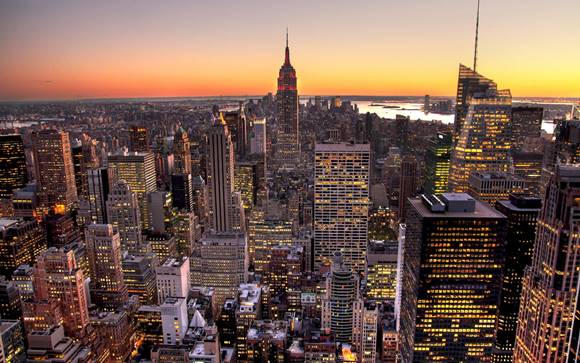 New York City is a tourist mecca that is filled with interesting places to visit. The city is big enough that it can be quite challenging to travel across different points without tiring yourself out.
For this reason, a general rule of thumb when visiting New York is to find accommodation near public transport hubs to make your commute a lot more convenient. Since trains are the most common means of public transportation in this city, it would do you good to stay in hotels that are near the Grand Central Station, like the Westgate New York Grand Central.
The Grand Central Station, which is hailed as the central hub for transit in Midtown Manhattan, offers more than just ease of travel. Since the station is located in the very heart of Manhattan, it gives you better access to the most popular attractions within NYC. In fact, a number of these famous tourist spots are within walking distance from the station. Check out what kind of places you can easily visit near the famous terminal.
1. Grand Central Market
The closest place you can visit from the Grand Central Station is the Grand Central Market. This is located between the Graybar Building and the 4/5/6 Subway lines on Lexington Avenue, which is about three minutes away from the main concourse of the terminal.
While it is nowhere near as grand as the central shopping destination that Fifth Avenue is, it does offer a generous collection of retailers with popular brands like Apple and Vineyard Vines. There are also local brands in the scene such as Central Watch, Tia's Place, and LoveThyBeast.
In addition, the place boasts a broad and diverse range of cuisines with 35 dining options, from Michelin-starred fine dining restaurants to classic cocktail bars.
2. Chrysler Building
The Chrysler Building is a skyscraper located at the intersection of 42nd Street and Lexington Avenue, which is also about three minutes away from the Grand Central Station. This establishment is not as tall as the Empire State Building, but it does catch attention because of its unique structure.
In the past, this particular building was hailed as the tallest skyscraper for 11 months until the Empire State Building surpassed its height. It also received mixed reactions and reviews from the locals due to its eccentric design. But after a few years, people have come to embrace the style and named it the paragon of Art Deco architecture. It also made the list of America's Favorite Architecture, which was created by the American Institute of Architects. In 1976, it was marked as a national historic landmark by the National Register of Historic Places. And now, it stands as the 11th tallest building in New York.
3. New York Public Library (Main Branch)
Six minutes away from the Grand Central Station, the Main Branch of the New York Public Library sits pristinely at the intersection of 42nd Street and Fifth Avenue. This particular establishment is one of the branches that make up the entire New York Library System, which has 88 branches across different boroughs.
The main branch has 8,438,775 items comprising of books, maps, and other types of resources. Some of the works stored in this building are actually exclusive to the New York Public Library, which means that you're less likely to find some of the materials in other public libraries.
Aside from the wide collection of books and artworks it houses, this famous library is also pretty popular for its impressive architectural design. It has a marble façade that is accentuated by ornate detailing and iconic stone lions that flank the entrance by the Fifth Avenue.
4. Bryant Park
Bryant Park, which is around six minutes away from the Grand Central Station, is located in between Fifth Avenue, 40th Street, and 42nd Street, just beside the Main Branch of the New York Public Library. This lovely little park that covers nine acres of land first opened to the public in 1934.
Although it's nowhere as big as the Rockefeller Center, this public park offers various types of entertainment in the form of activities. There are fitness classes, outdoor concerts, movie screenings, and many more. It is also brimming with food kiosks and restaurants that provide a range of dining options. Additionally, it offers a breathtaking view of lush green space that is surrounded by towering skyscrapers.
5. Rockefeller Center
The Rockefeller Center is a vast space located between 48th Street and 51st Street, which is about ten minutes away from the Grand Central Station. This large complex that covers about 22 acres of space houses 19 commercial buildings—most of which are iconic spots in Midtown Manhattan.
In this place, you can find the famous NYC ice skating rink, Top of the Rock, Channel Gardens, NBC Studios, Rock City Music Hall, and many others. In addition to popular attractions, the Rockefeller Center also features stores and restaurants where you can shop and eat. From time to time, this site also hosts events like art exhibits and music fests.
These are only a few of the attractions you can find near the Grand Central Station. This list was narrowed down to spots that take ten minutes of walking or less from the said terminal. On that note, there are other famous sites you can visit if you're willing to walk a little farther. These include the Empire State Building, the Museum of Modern Art, and finally the Times Square.