It's Spring, but I am already dreaming of summer. From workouts to help me feel my best, to delicious goodies that come for the hottest months, and fashions that are just so fun and whimsical, I love summer. It's a time to rest, reset, and enjoy more time with the people you love most. Summer BBQ's are always a fun way to get people together. Whether we enjoy a BBQ around the pool, at a park, or by an evening bonfire, there are so many tasty things to enjoy. Here are some of the best!
Fruit Salad
Since fresh fruit is easy to find and cheap during the summer, always make a fruit salad. It makes the best dessert and for those wanting healthier choices, you'll always have something for them. Whether you like yours with watermelon, berries, citrus, or just combine all the fruits and make a Fruit Pizza.
Fruit Smoothies
Fruit beverages are a fun BBQ menu that can make your event stand out. Set up a smoothie bar near the sink so people can wash out the blender in between batches. Offer a fresh selection of fruit like a raspberry chocolate smoothie, herbs like mint, and juices or milks to add to the mix.
Chilled Adult Beverages
When you're gathering with a group of friends, it's always fun to enjoy a chilled beer, wine cooler, cocktail, or even hard freeze pops. These can make your time together a little extra fun when you need it.
Popsicles
Speaking of freeze pops, even if you don't do the adult variety, guests love a good popsicle. They are fun, they are summer-y, they are tasty. And there are tons of varieties for any adult or kid to love!
Strawberry Shortcake
Summer strawberries are the best. Strawberry shortcake is a tasty summer dessert that almost everyone loves. What's better than a tiny cake, whipped cream, and sweet and juicy berries?
Summer Squash
This vegetable doesn't get a lot of air time. It's the perfect summer veggie. You can slice it to serve raw in a veggie tray with dip, you can grill it, you can roast it. Add just the right seasonings and it goes with any BBQ meat you enjoy.
Creative Salads
Experiment with new salads for the summer. Whether you want to update your green salad with fruit and nuts, create new salad dressings, or add bacon to your favorite potato salad, make something creative and new. It's fun to experiment with tasty combinations!
Bacon
People love bacon. It's the perfect way to add flavor to many different dishes. Whether you make a cheesy casserole, mac and cheese, cheese ball, a garden salad, or even a macaroni salad, just a little bacon adds a ton of flavor!
Pineapple
Fresh ripened pineapple is perfect for summer BBQ events. Eat it fresh, eat grilled, eat it in a salad, but just eat it. Pineapple is filled with nutrients, and add sweet and sour flavors that taste great.
Spicy Foods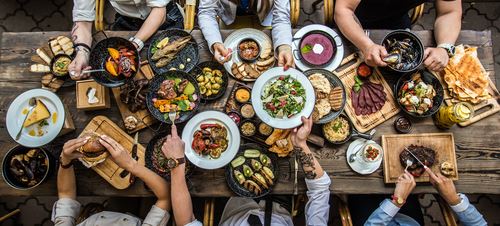 Spicy foods add so much to a BBQ menu. Whether you use a zesty BBQ sauce, serve chips with salsa, or add some pineapple habanero jam to your cheese and cracker tray, include something hot on your menu. Jalapeno poppers are another great summery BBQ item that people love!
Different BBQ Sauces
You may have a favorite, but at a BBQ, it's fun to try out different BBQ sauce combinations. Whether you take pre made ones and doctor them up or start from scratch, your BBQ sauce choices will help bring out the flavors of any meat.
Smoked Meat       
Have you watched any of those BBQ contests where everyone smokes their own meat? Smoking meat adds a new depth of flavor– more than simply grilling everything. You can smoke turkey, chicken, beef, pork, and even fish. When you add these smoked meats to your menu, you and everyone you invite will enjoy all the unique flavor combinations.
Kabobs
Meat, veggies, and fruit combinations grilled on a stick are delicious. You can even marinate them to add more robust flavor combinations. They can take time to create, so make sure you have your meat and veggies cut and ready to go when you want to put them on the sticks. Grill and serve.
Whether you're having a couple people over or just eating as a family, these are some of the tastiest things to add to your summer BBQ menus.
We are happy to present this collaborative post to offer valuable information to our readers.